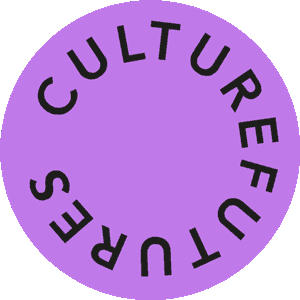 Hip hop and politics. Blind photographers. Crayons and big ideas.
In this week's CultureFutures special we're exploring creativity in surprising areas. In Rwanda, teenage girls have created its biggest media brand. In Spain, a photojournalist has set up the world's first 'special photographer' agency for people with intellectual disabilities. And in Senegal, they're rapping the news.
High five to them all.
Every fortnight we're on a mission to bring you in-depth interviews with the people behind creative and cultural projects with a social mission. As part of new storytelling project #CultureFutures, we're talking to the artists, filmmakers, photographers, illustrators, curators and collectives helping to build a better, more colourful, world. 
Beats, balls and brands… this is your Future 5.
Ever seen a newsreader rap the news? In Senegal, journalism is getting a hip-hop makeover from Journal Rappé, whose beats-based coverage is engaging a whole new audience with politics.
Inspired by a heady combination of musical legends and political activists like Public Enemy, Bob Marley, Nelson  and Winnie Mandela and Malcolm X, Journal Rappé's goal is to "bridge the gap between young people and the news, to keep them interested and engaged with politics". We're addicted.
⚡ 2. Small people, big inventions
Out of the mouths of babes… come wondrous ideas and fantastical plans. Ever seen a super fast tennis ball, a rucksack with wings or a surreal high five machine? How about a fork that cools your food? Welcome to Little Inventors, where kids' crayon drawings become real life gadgets – inspiring a generation to keep believing that the only real limit is their imagination.
Little Inventors is the brain'child' of Dominic Wilcox, the inventor behind the world's first GPS shoes, a tummy-rumble amplifier and a shelf made out ivy – amongst many, many other wacky and wonderful things. "The world has many problems and challenges", he says, "and we need to encourage more inventive thinkers to solve them."
AtlasQuiz ► Any idea what Dominic is doing in this picture? Answer at the end!
⚡ 3.  World's first 'special photographer' agency
A photographer called Jose Martínez took the picture below. He calls it 'End of discrimination'. Jose is one of the photographers represented by the world's first photography agency for people with intellectual disabilities.
Photojournalist Felipe Alonso wants to boost social inclusion, visibility and empower – by teaching skills and creating the necessary conditions needed to thrive in the photography industry. He created Nos, Why Not? as "a meeting place between photographers with disabilities and society to collaborate together in creating a real value".
"Culture will allow us to accept and be different people, and creativity will allow us to find new solutions to change a system that barely works… to create that better society."
⚡ 4. Girls built Rwanda's biggest media brand
"Culture has many influencers including music, media, art, fashion, politics, sport and we believe through creativity we can leverage these to shift perceptions positively."
Ni Nyampinga uses information, storytelling, entertainment and music to bring about widespread change in Rwanda. The magazine, radio shows, platform and all media were designed, built and run by its core audience – Rwandan girls – from the very start.
⚡5.  Fab DIY cities of tomorrow
Imagine being able to grow and make almost anything. That's what this 'Fab' global initiative is all about – a creative team of pioneers and makers who want to change everything. And they're doing it in more than one city at a time.
Fab City aims to build a more sustainable and inhabitable new world – collectively – through opening public digital  fabrication makerspaces in the hearts of cities, towns and villages. The idea is to be able to provide citizens with all the resources they need without compromising the planet's ecosystems.
AtlasQuiz answer ► Dominic wants his right ear to listen to what his left ear can hear – obviously.
#CultureFutures. is a collaboration with Goldsmiths Institute of Creative and Cultural Entrepreneurship and the British Council Creative Economy. Feel the joy and want to take part?
► Link to our Twitter and Facebook using #CultureFutures 
► Sign up to AtlasNews to get a first look at new projects