Maff Potts is the founder of Camerados – a growing social movement in the UK that has a simple, but powerful approach: "looking out for each other". 
Who would have thought we'd live in a world where hugs are discouraged, or handshakes, or spending time together? (Surely Netflix have taken it too far by creating a high concept series starring all of us that H.G. Wells could have written.)
Covid-19 will shine a light on many things in society, how we live, what we need to thrive, and perhaps the cost of social distancing. Social distancing has always been with us in seemingly invidious ways and it has wreaked invisible havoc on people going through tough times, so maybe now as we self-isolate and step away from each other the world will wake up to it.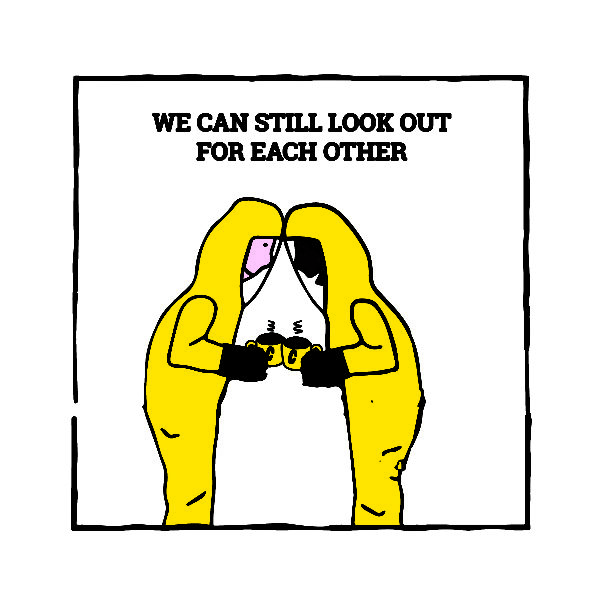 As someone who started a social movement (Camerados) based entirely on the crucial benefits of people being together, face to face I can tell you that this is a surreal moment. What do you do when your core mission is bringing people together and the goverment says "stand 3 feet apart"? The UK's Prime MInister is even using our Camerado tagline in press conferences: "Look out for each other". It's hard to when we're self-isolating. I know we have things called telephones and the internet, but is it really time to finally step behind glass screens, albeit the screens on our computers?
Srdja Popovic and scotch eggs
When I met one of my heroes, former Serbian resistance leader and respected exponent of non-violent activism, Srdja Popovic, he signed my copy of his book Blueprint for Revolution. We met in a spit-and-sawdust pub in Colchester eating Scotch eggs and drinking real ale so it was an entirely appropriate, Camerado setting for a defining moment in my life.
His book is my bible so it was a big moment when he left an inscription to me on the inside cover. It simply said: "Reducing social distance is the answer".
So to hear that phrase used again this week in response to Covid-19 was a jolt. I couldn't believe it. Social distancing was being actively encouraged?!! I understand this is an emergency public health issue and fully support it of course, but for those of us in the Camerados, it was just weird because we've been fighting it for most of our lives.
At Camerados we believe that isolation and social distancing are fundamentally damaging to people's ability to get through tough times however that manifests itself and it's not always a physical health issue. Resilience to even the slightest crisis can crumble when we are without others, without friends. A 'Camerado' was described by a member of our movement as "halfway between a stranger and a friend", just someone alongside you who has your back, doesn't fix you, isn't in your face, is just there. That can be the difference between surviving your crisis or going under. Whether through a phone-call, computer screen or whatever communication device you use in these times of Government-advised social distancing I hope we can be a Camerado because social distance can really damage us and it is with us in our daily life all the time, always has been.
Social distancing on your way to work
The person who looks rough and is struggling in silence at the bus stop might not want to be spoken to. Yet a smile or an encouraging word or better still a request for help ("what time is the next bus?") might just lift them off the bottom. A tiny scrap of usefulness, a morsel of human connection that says I'm not alone. Those tiny increments of improvement through human contact can save people from dropping off the edge of their day.
It could just as easily be the homeless person sat on the pavement too. We walk passed them because we presume that if we engage we're going to have to fix them. At least that's what I think stops many of us stopping. In the Camerados movement one of our principles is "no fixing" and this is one of the reasons why. You don't have to fix the homeless person's life, maybe just say hello, ask their name, wish them luck if you're in a hurry. If there's no rush then maybe something better still ask their advice about something. Noticing people, valuing their conversation, it matters and can set in process a chain of tiny events which sees repaired confidence lead to repaired life. No exaggeration, I ran the biggest homeless services in the country and saw it with my own eyes.
Social distance for the lonely and invisible
The acutely lonely are people who are already masters of "self-isolating". When tough times hit they disappeared into themselves and into their own living space. We always think of the elderly when we think of loneliness, but in the Camerados movement some of the most chronically isolated people we know are young: students, doctors, alcoholics, homeless people, teachers, business folk.
One Camerado has periods where he doesn't leave his flat for weeks on end. Speaks to nobody. Yet he stays connected to our movement through social media and, though not ideal, it gives him connection and a purpose. He feels part of something and he knows people are thinking of him and valuing him. Maybe this is useful in these Covid-19 times?
Social distancing at the sharp end
Then there's people at the sharp end of life, going through major problems. If they have sufficient confidence they walk into a service. What do they find? Social distancing is EVERYWHERE.
Think of any place that you might go in times of crisis? Hospital, police station, council office. What's the environment like? What's the 'service' like? Cosy, comfortable, human, chatty, personable ? I do hope so, I'm guessing not.
If you meet wonderful people working in these places do they operate in spite of the place? I suspect you use the phrase "they went over and above" or that they "went the extra mile", which suggests to me that the barriers, the social distancing, was baked into the place. The normal experience would suggest these places do not want you to relax and feel human. It would seem they want to ramp up the fear and make you feel like a piece of data.
The Camerados movement has run public living rooms in hospitals and had 110,000 visits by people who need somewhere a bit more human, where they can "escape" and chat to people as humans not patients or staff. In one of these hospitals we found that a few office dividers and plastic chairs and a sign which said "bereavement zone". It was for people to sit if they had lost loved ones. Does that feel human to you? Is that not creating social distance at just about the worst time of your entire life?!
A Bereavement Zone
I don't want to focus on the environments too much but they speak of an accepted level of inhumanity. Don't get me started on what happens when people actually speak to people – the needs and risk assessments, the jargon, the diktats, the taking away of tiny freedoms (no family visits!) the patronising, disrespectful, dehumanising sausage machine of the system. Am I being too dramatic? Nope I've run a lot of these dehumanising spaces myself. Done it and learnt my lesson. There was one death every 16 days in one service and the root cause? They had nobody.
It's a public health emergency in normal times, you just don't see it.
People mistake what we do in the Camerados movement as being a fluffy, "be nice to people" kinda thing. It's a goddamn fight I tell you. Social distancing is ingrained in society already and it drives those for whom life is more shaky right to the very edge. Some drop off and we tell ourselves it was drugs, or their mental health condition or lack of housing (WTF?). It is a chipping away at people's self worth and it happens in the services that are meant to help people; behind the closed doors of single occupancy homes; and yes even at your bus stop on the way to work. Covid-19 is going to show us what social distancing does to everyday people. We are going to feel what it's like not to have human contact, to be isolated and cut off from others. I wonder how many of us realise that this is an everyday experience for a lot of people who go through tough times in our neighbourhoods. You never know what a stranger is going through. Meet them halfway, be a Camerado.
I know you all want to just stock up on tinned guns and get through this crisis until your life can go back to normal but let's not do that. Let's see this for what it is: a big, frightening, very serious H.G. Wells kind of a story that teaches us something by revealing how we relate to each other, how we need human contact and connection and maybe when this is all over maybe we'll know that we have to "look out for each other" and not just because Boris Johnson told us to!
Read more ► Camerados are public living rooms for radical friendship