Zambia (Lusaka)
Transformed poachers trained as 'blasters' are helping keep elephants from raiding farmers' crops in Zambia – using non-lethal chilli powder blasts, not bullets, to ward them off.
Farmers in Luangwa Valley find themselves in a difficult situation. Isolated, they struggle to get their crops to market. When they do, they cannot get the prices they need to support themselves. This means they often turn to poaching in an area known for its exceptional wild game population, setting traps for elephants, lions or antelope.
COMACO helps create networks to sell produce – to encourage farmers to scale up rather than rely on poaching. It also offers them a deal.
If they abstain from poaching they receive 20% above the standard market price for their goods. If COMACO find that someone in their community has been poaching, then the price drops to market or below market price. If communities show they are managing their land and resources responsibly, then the COMACO creates further market opportunities for the communities, such as investing in infrastructure, wildlife or renewable fuel.
'Community Markets for Conservation' (COMACO) was established in 2009 to stop illegal elephant hunting and the poaching of other wildlife while working towards healthy soil, healthy food and a healthy diet in rural Zambia. Since, it has introduced agro-ecological approaches and renewable, climate-smart technologies to over 178,000 small-scale farmers through farmer support services; including training, leadership programmes, and the establishment of community cooperatives.
COMACO uses market incentives from the production of value-added products under the brand name It's Wild! to help farmers transform their communities while buying crops from farmers who sign a conservation pledge and demonstrate a commitment to protect their land. Household food security levels have increased by 78% with two to three-fold increases in household income as a result of this initiative.
This is down to a two-pronged business approach to identify economic solutions to end poverty for small-scale farmers, while working towards sustainable conservation practices. In short, COMACO makes conservation profitable and farmers do the conservation. 
Poachers, who are typically poor, unskilled farmers, are identified by local community leaders to come forward and join a process of learning improved farming skills. Other farmers who may not be poachers but also lack better-yielding farm skills and experience frequent food shortages are invited to join this process as well. As members of small training groups, they are introduced to new food crops, rotational planting, agroforestry and other techniques which return nutrients to previously overburdened soil. During this process, farmers learn how to be better stewards of their land. Over time, farmer cooperatives are created, providing leadership and development opportunities, as well as running low-cost community seed banks and locally managed farmer extension support.
COMACO purchases crops at premium market prices, turning the crops into high-value, quality food products sold under the 'It's Wild!' brand and incentivising diversity of crops. As forests recover, the product range diversifies into forest-based products like honey and wild mushrooms. With continued investment, COMACO undertakes research and development to introduce new food products that can offer better value for farmers who practice conservation farming. For communities that demonstrate a high percentile of these practices, COMACO pays to eligible cooperatives a conservation dividend to help sustain their own social enterprises.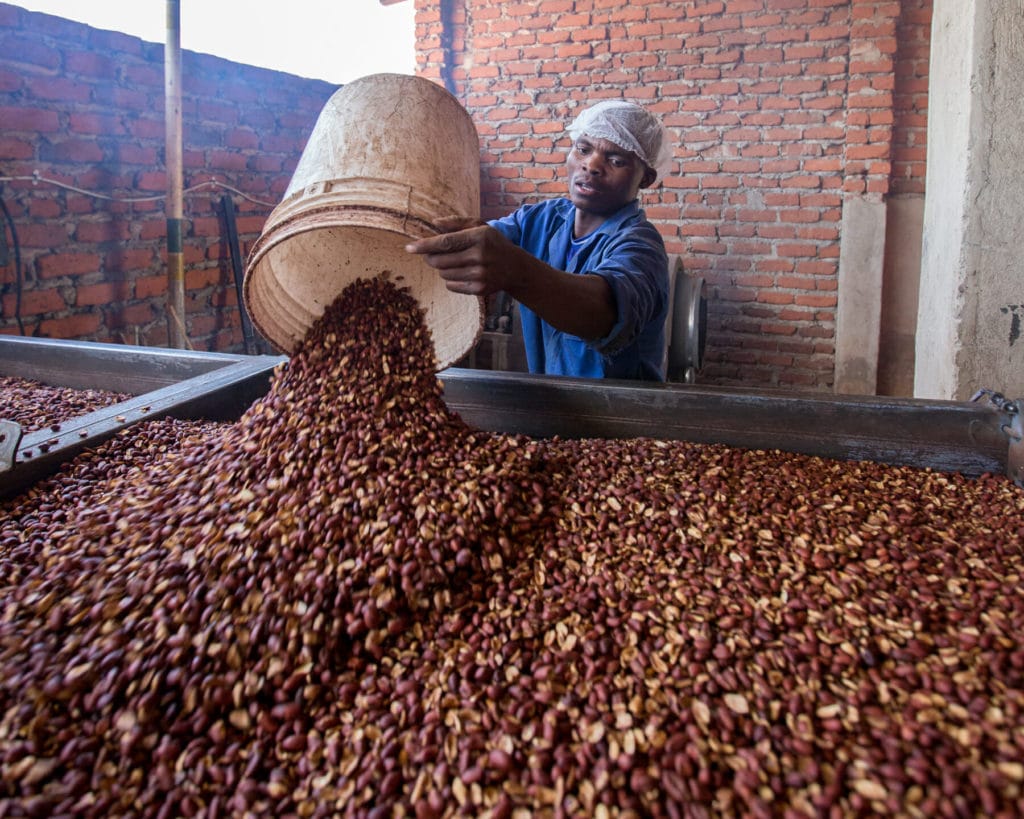 COMACO has been instrumental in the recovery of the Luangwa Valley. Healthier soils have improved yields and allowed farmers to diversify their incomes without expending much cost on expensive chemical inputs. Maize yields have increased two to three-fold, and 89% of participating households now have food security as opposed to less than 60% when COMACO began. Of the 178,000 farmers practicing conservation farming on 124,000 hectares of land, 52% are women.
Nearly 2,000 poachers have laid down their arms and taken up alternative livelihoods, and wildlife is beginning to rebound in numbers and range. Weekly radio programmes led by farmers encourage other farmers to try new skills and now COMACO is working with the Zambian government on scaling the initiative to other landscapes. 
AtlasAction: COMACO has partnered with Elephant Cooperation, a US-based charitable organisation that takes a holistic approach to conservation, knowing that to save the African elephant, the community also must benefit. Donate here.
Bio
This project is featured in a new research report called 'Beacons of Hope: Accelerating Transformations to Sustainable Food Systems' by the Global Alliance for the Future of Food.
Project leader
Dale Lewis, President and Founder, Director of Conservation and Agriculture
Partners
This project has been selected as part of NatureFutures, a new storytelling project that maps the innovations in wildlife, biodiversity and citizen science and the biologists, engineers, designers and entrepreneurs behind them. Atlas of the Future is excited to partner with the Ministry of Territory and Sustainability of the Government of Catalonia.
Support the Atlas
We want the Atlas of the Future media platform and our event to be available to everybody, everywhere for free – always. Fancy helping us spread stories of hope and optimism to create a better tomorrow? For those able, we'd be grateful for any donation.
Please support the Atlas here