Jordan (Aqaba)
This is how you grow vegetables in the Sahara – by piping seawater from the Red Sea across the sands to produce biofuels and electricity.
In Julius Caesar's time, the Sahara – which had a dramatically different climate and ecosystem – was considered Rome's breadbasket; for some 200 years, North Africa supplied around two-thirds of the city's total grain supply. This resulted in deforestation, increased salinity in the soil and loss of minerals. Now the arid, barren desert is one of the largest and driest expanses of land on Earth.
It's predicted that there will be 9.3 billion people on the planet by 2050. Ensuring there is enough land, fresh water and power for such an immense population will require more than halting the destructive effects of climate change, like desertification.
The ambition of the Sahara Forest Project is to make the world's deserts productive again, ultimately restoring vegetation. A team of engineers, architects, biologists, environmentalists and business people have come together to create a concept based on a simple, yet big, idea: Why not make use of proven environmental technologies and take what we have enough of – saltwater, sunlight and desert land – to produce what we need more of? That would be sustainable food, water and energy.
All they require is a low­-lying area of desert that is close to the ocean of which, like people, the earth has in abundance. 
Founded on the premise that we must find a more holistic approach to successfully tackle challenges related to energy, food and water security, the new Sahara Forest Project saltwater pipeline, scheduled to be finished late summer 2021, will carry water from the Red Sea – piping seawater to innovative bio­plants where clusters of solar and salt water evaporation technologies will combine to produce biofuels and electricity, as well as food crops and purified water. 
"We can't solve problems by using the same kind of thinking we used when we created them." – Albert Einstein
The system is designed to harvest technological synergies while minimising and reusing waste – and is amazingly not too good to be true. It's already happening in the desert outside the city of Aqaba, Jordan.
"Using saltwater and sunlight as the main input factors, we're combining existing environmental technologies in new ways to produce food, water and energy in desert areas while at the same time revegetating the land around the farms with vegetation," explains Magnus Borgen, the Director of Institutional Relations and Communications at the Sahara Forest Project. "The 'heart and soul' of the concept is the positive synergies that are created when the different technologies are connected in new ways."
Saltwater-cooled greenhouses provide suitable growing conditions that enable year-round cultivation of high-value vegetable crops, even in desert conditions. "By using seawater to provide evaporative cooling and humidification, the crops' water requirements are minimised and yields maximised with a minimal carbon footprint."
Other core technologies include a reverse osmosis desalination system, solar panels to produce heat to drive a steam turbine, computer controlled indoor climate and irrigation control, biological pest control, outdoor crops for land restoration and agrivoltaics.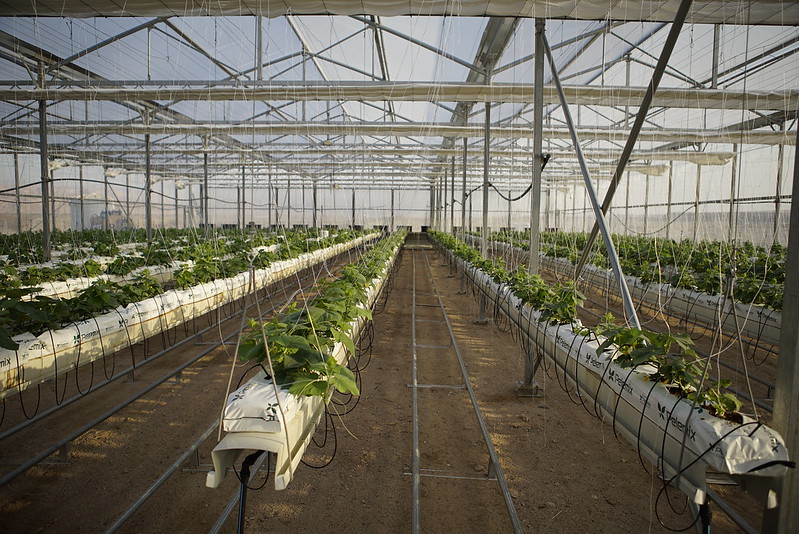 By rethinking traditional production systems, the restorative approach is also sustainable commercially. The idea was first launched at the UN Climate Summit in Copenhagen in 2009. Former state leaders representing Club of Madrid, such as Gro Harlem Brundtland, stated that "with public and private funding, the concept has all the right elements in place to unlock the revegetation of the desert".
In 2017, the Sahara Forest Project Launch Station in Jordan was inaugurated under the patronage of His Majesty King Abdullah II of Jordan and His Royal Highness Crown Prince Haakon of Norway. The demonstration centre is located just across the border from Israel, just a few kilometres from the border with Saudi Arabia.
In 2020, a new partnership with Aqaba Development Corporation will establish the saltwater pipeline from the Red Sea to five-kilometres inland. 
Magnus tells us that the key game-changer is being able to provide consumers with climate-smart choice of vegetables, produced in an innovative climate and water efficient way. A business deal with BAMA, the largest vegetables importer in Norway, means they are exporting high-end vegetables from the desert to sustainabillty-oriented Scandinavian customers; starting with peppers and sweet potatoes. 
"This demonstrates large-scale business interest and enables desert countries to reach new markets with new products. The vision is to also create revegetation and green jobs through profitable production of sustainable food, freshwater, biomass and energy," Magnus says. "We call it 'Restorative Growth'."
The project is also collaborating with Al Hussein Technical University on a training programme for female engineer trainees to support modern agricultural technology in Jordan, as supported by the Norwegian government and the Costa Crociere Foundation. 
Magnus adds that 12 of the 17 most water-stressed countries in the world are in the Middle East and North Africa region, and Jordan is the fifth poorest country in the world when it comes to freshwater resources, according to a recent 2019 study by the World Resources Institute.
"An increase in traditional agriculture to serve both local and foreign markets would create a detrimental and unsustainable effect on groundwater levels. For our customers, the Sahara Forest Project allows them to obtain high-end food crops without straining the local fresh water supplies. Using solar power in the process and greening deserts outside, we reduce the CO2 footprint dramatically compared to other traditional greenhouse operations in the region."
Having been a part of the Sahara Forest Project for years, Magnus says he always believes in the saying 'Never let a good crisis go to waste'. Once the pandemic is under control, there needs to be a clear global acceleration towards greener practices, solutions and technologies that are already here.
"Although it is fair to claim the pandemic is not a 'good' crisis, I think we should use the next years to act much more rapidly about climate change and environmental issues. Leaders on all levels in societies, but especially leading politicians, CEOs and investors, have a huge responsibility to follow-up on the Paris Agreement from 2015 this decade." 
As the agriculture sector is a big part of the problem, including CO2 emissions, water scarcity, environmental degradation, Magnus hopes that the Sahara Forest Project can contribute. "Tackling issues related to the water-energy-food nexus is absolutely imperative to achieve political and social stability, food security and climate-smart development."  
The project urges us all to think about the agricultural products we consume. Are you a part of the problem or a part of the solution for the next decades? Are farmers using fossil energy or renewable energy? Are water resources in your region managed in a good, sustainable way? How is the land used, and is the agriculture industry helping or tiring the local ecosystem? 
AtlasAction: The Sahara Forest Project is currently looking for strategic investors with vast experience from operations in dry countries and with international networks. Learn more here.
Project leader
Mr. Kjetil Stake, CEO
Partners
This project has been selected as part of MedFutures, a new content channel that maps the most innovative and inspiring solutions to the water and climate crisis in the Mediterranean and the people behind them. Atlas of the Future is excited to join forces with Aigües de Barcelona.
Support the Atlas
We want the Atlas of the Future media platform and our event to be available to everybody, everywhere for free – always. Fancy helping us spread stories of hope and optimism to create a better tomorrow? For those able, we'd be grateful for any donation.
Please support the Atlas here