Japan (Tokyo)
Meet the new magical FutureHero of super-gardening… the black soldier fly.
A group of University of Tokyo students have developed a new method for recycling food waste in bins– using fly larvae to turn it into food for animals. Inspired by a trip to Phenom Penh,  Cambodia, Munetomo Takahashi and Ryo Kawamoto noticed a large amount of sprawling piles of rubbish rotting by the roadside. This waste is not only unsightly, but can create health problems.
"Phnom Penh is exciting. The art scene is growing, there's an amazing combination of old and new buildings, and there are many young, motivated people with great ideas. But throughout the city, you can smell it or see it– there is garbage rotting along roadsides," explains medical student Munetomo.
"Living so close to rubbish is not just an aesthetic problem – it can create serious health concerns," adds Ryo, also a medical student at the University of Tokyo.
To solve this, the students came up with the idea of Grubin, a waste bin filled with black solder fly larvae (Hermetia illucens) that eats organic waste such as chicken, which can then be feb back to chickens, for example.
Maggots are potentially dangerous pests, while soldier fly larvae are magical creatures from the land of super-gardening who can perform incredible feats of composting in record time.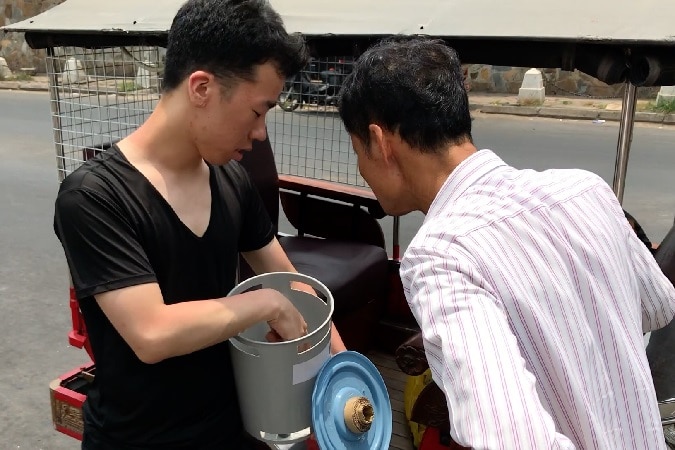 Once the larvae are fully grown, they are collected from a special compartment inside the bin and then dried and ground into pellets, to be used as a sustainable source of animal feed for fish or chicken.
Large-scale projects to produce black soldier fly larvae as food for pet reptiles or other industrial purposes do exist, but small-scale projects using the larvae for waste management are uncommon. The challenge is getting adults to mate in small-scale captivity.
Having won various awards, including the Hult Prize, an international student social entrepreneurship competition "for-good, for-profit startups", the students' bin is now a commercial reality and the the team is now working with local mentors in Cambodia on ways to attract wild adult flies naturally and on how to ensure the larvae can grow healthily in the bins.
Their current vision is that Grubins on balcony gardens in Tokyo could support Grubins in Cambodia, creating cleaner, healthier streets and putting kitchen scraps to good use everywhere.
Grubin demonstrates how ideas for new environmental and social innovations can come from anywhere. University of Tokyo Associate Professor, Takashi Matsuo, who is helping the students from the Graduate School of Agricultural and Life Sciences, explains that although the students' goals are ambitious, he is helping them, in part, because, "I believe they may achieve something big in the future, either with this project or something else."
AtlasAction Contact Munetomo and Ryo Kawamoto here to learn more about their soldier fly methods.
Project leader
Munetomo Takahashi, Ryo Kawamoto and Riku Yamada
Support the Atlas
We want the Atlas of the Future media platform and our event to be available to everybody, everywhere for free – always. Fancy helping us spread stories of hope and optimism to create a better tomorrow? For those able, we'd be grateful for any donation.
Please support the Atlas here