Germany (Berlin)
Forget Google! Ecosia is a search engine that uses profits to fund reforestation projects in the world's most threatened biodiversity hotspots.
Six million trees are cut down every day. A new search engine wants to show that with a sustainable social business model and community engagement, it is possible to reverse the tide of deforestation: Ecosia lets people all over the world choose to turn a daily habit, that of searching the web, into a force for good.
Ecosia uses 80% of its profits from search ad revenue to fund reforestation projects in the world's most threatened biodiversity hotspots, helping the environment and empowering local communities at the same time.
The tree counter acts as a simple and constant reminder to all our users that even the smallest actions and choices can have a real impact. What is innovative about Ecosia does not lie in the development of any new products or services, but rather in that it applies a social business model to an existing market (the search market is worth $70 billion a year) and thus turns searching the internet into a means to a greater end rather than an end in itself.
With something as unrelated to the environment as a search engine, Ecosia can plant millions and hopefully soon billions of trees, without asking for a single donation from any individuals, organisations or governments. All this just from choosing to do something good with your profits for the benefit of the whole planet.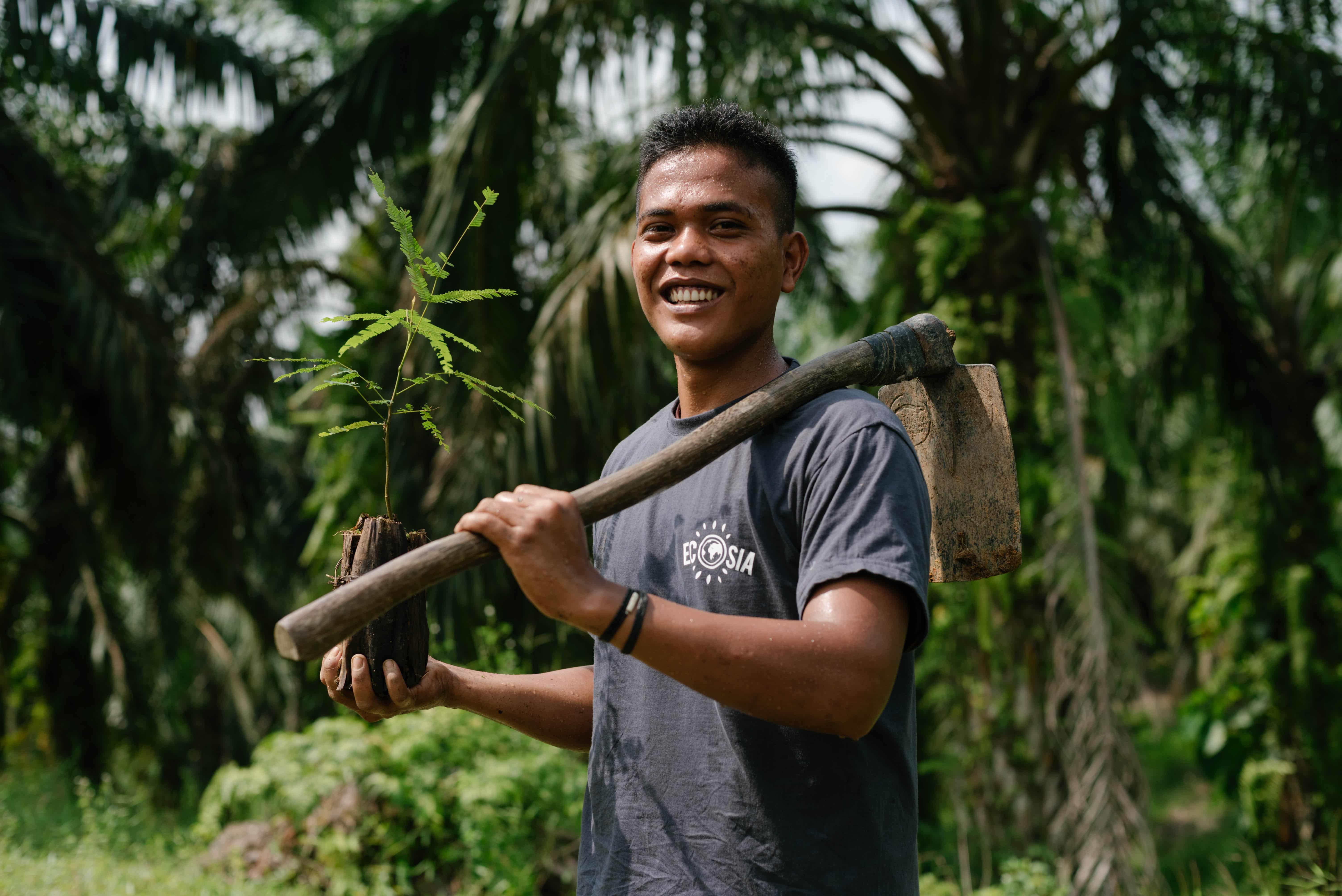 Ecosia was initially founded by Christian Kroll, Ecosia's CEO, in December 2009. He was travelling the world for some inspiration on a business model with a positive social impact. He visited India and Thailand and finally decided to stay in Nepal for a while to establish 'Xabbel', a local search engine that was supposed to help generate funds for local NGO projects.
With an average of only four hours of electricity per day, Christian soon had to abandon it, but the idea for a search engine with a positive impact stayed with him, as he realised he wanted to engage in forest preservation to help the environment: "We hope to become recognised as an alternative search engine by all the major browsers including Chrome, Firefox and Safari. This would be a huge step in propelling us forward to reaching that one billion trees financed milestone."
Since servers used to run the web need a lot of power, in 2017 Ecosia decided to build its first solar energy plant to ensure that its servers would be run on 100% renewable energy. By 2020 they had already planted over 111 million trees as millions more people switched to Ecosia to take action against the climate crisis.
Growing trees in a nursery is just one way to bring forests back. In Brazil, for instance, Ecosia are paying firefighters to keep human-made fires at bay. In Burkina Faso, they  dig half-moon-shaped seedbeds.
In Malawi, meanwhile, they are using radio to grow trees – no nursery required. Twice a week, their partners at Farm Radio Trust broadcast a radio show about why and how to grow trees.
"The broadcast helps us plant trees while encouraging social distancing during the COVID-19 pandemic. Since the show promotes Farmer Managed Natural Regeneration (FMNR), farmers can grow trees without attending a crowded nursery. And radio is a great way to communicate with millions of farmers without risking infecting any of them."
This programme is also easily scalable. As more people start using Ecosia, millions more farms in Malawi could benefit. And that, in turn, would help us all.
AtlasAction: Make Ecosia your default search engine here.
Project leader
Christian Kroll and Tim Schumacher
Support the Atlas
We want the Atlas of the Future media platform and our event to be available to everybody, everywhere for free – always. Fancy helping us spread stories of hope and optimism to create a better tomorrow? For those able, we'd be grateful for any donation.
Please support the Atlas here