Kenya (Lamu)
"There is no question that plastic pollution is one of the most pressing problems of our time – and it's also one of the problems that we can fix." Dipesh Pabari
Ever seen an old sandal set sail? How about 10 tonnes of discarded plastic? Behold the FlipFlopi: a colourful feat of engineering, made entirely out of old plastic flip flops, toothbrushes, bottles and bags. It's a powerful symbol of the plastic crisis, and a joyful reminder that we can solve it.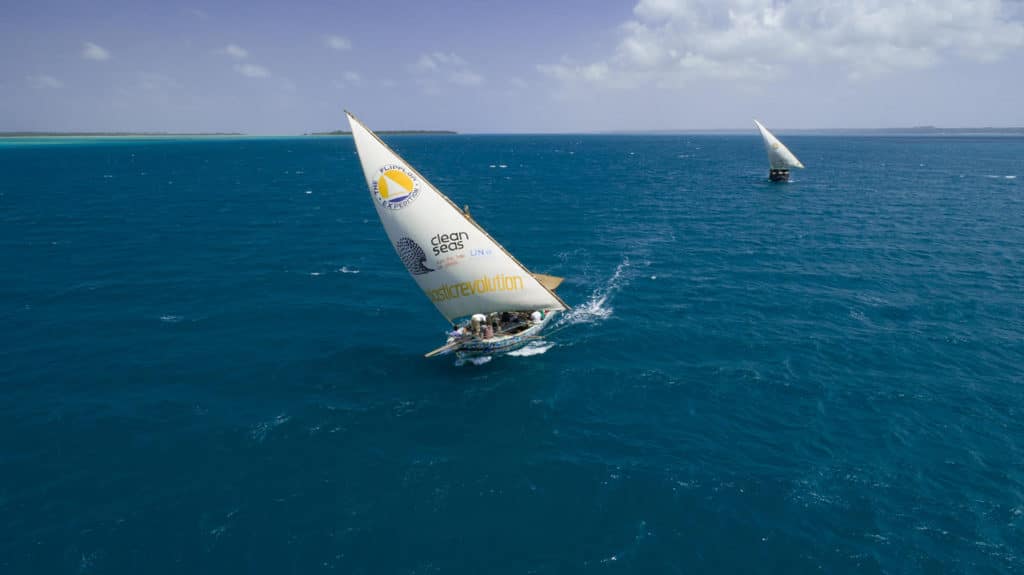 Seeing the damage that plastic was doing to the Kenyan coastline near his home, Dipesh Pabari spent many years campaigning against plastic waste – creating turtle sculptures and community centres out of trash. The idea to build a boat from waste plastic came from a chance meeting with an old school friend, Ben Morison. "I thought, this is the most insane and wonderful idea I've ever heard," Dipesh says, "and I want to be a part of it".
Growing up in Kenya, both Ben and Dipesh had seen the damage plastic was causing to their local area and its ecosystems. "As Ben worked in tourism, he realised that these glorious white sandy beaches aren't really white and sandy anymore, they're covered in plastic," Dipesh says.
 "We wanted to do something very moving, very big, and very positive, and very rooted in our African heritage." Dipesh Pabari
It was important that this wouldn't be just any boat – it would be a traditional dhow. These boats have been built in and sailed from East Africa for thousands of years, connecting the African continent to the Middle East and Asia for trade. "As a symbol it's embedded with so much: cultural exchange, cultural heritage, and mixing of people," Dipesh explains. "It was hugely important it was a dhow and nothing else."
Who better, then, than renowned dhow builder and 'master carver' Ali Skanda to build the boat. His family have been building dhows in Lamu, Kenya since the 1300s – though none, yet, from plastic. Ali met with Ben and was immediately inspired to take the lead on construction. He joined the team alongside design engineer and plastics expert Leonard Schürg, who led the technical side of processing the recycled plastic to create a material fit for purpose.
Collecting discarded plastic from beaches and local towns, the team melted down 10 tonnes of plastic to build the dhow. All but the mast of their 9 metre long creation is made from unwanted plastic bags, bottles, containers and cups, and the outside is finished with the boat's namesake: 30,000 repurposed flip flops.
"We wanted to do this in a way that was so grand that people would say, my goodness, if you can make a boat out of a bunch of old toothbrushes that can sail across the Indian Ocean, then surely this stuff is not to be used once and thrown away." Dipesh Pabari
In February 2019, the Flipflopi took to the water. She sailed the 500km from Lamu, an island off the coast of Kenya, to Zanzibar off Tanzania. The crew co-ordinated with local grassroots organisations, local governments and schools, to arrange six stop-off points to run plastics workshops to teach kids about the problem of plastic and come up with ideas to solve it.
The expedition was funded by the UN Environment's Clean Seas project, and after docking in Zanzibar the rainbow-coloured dhow was transported to the Fourth United Nations Environment Assembly in Nairobi, Kenya. The impact of its voyage was far-reaching: it prompted historical commitments including the official closing of the Kibarani dumpsite in Mombasa and pledges from 29 businesses to reduce their plastic waste.
"There's been a tremendous amount of pride in the Flipflopi," Dipesh says. "It's been recognised as a national symbol". The President of Kenya, Uhuru Kenyatta, stepped aboard in 2019 ­– where captain Ali Skanda handed him the recycled plastic wheel and said "where there's a wheel, there's a way. I want you to steer this wheel for the whole of Africa towards the problem of plastic pollution".
The playfulness and positivity of the Flipflopi have been a huge part of its success. "We've become so blasé to images of turtles with straws up their noses – we've been so bombarded by them that they've lost their meaning. Of course, these things are very important to make us aware – but at the same time, how do you get people to engage? We wanted to do something positive, fun, eye-catching". And in doing so, the Flipflopi also disrupts the stereotypical narrative associated with Africa. "A lot of things that are coming out of Africa are often negative," Dipesh says. "We wanted to show that, hey, we are as innovative as anybody else around the world – we have so much resilience, probably even more because of the amount of hardships that people have to go through here. Innovation is just a form of survival. We wanted to catch the world's attention and show what can be achieved in a really low tech, low budget environment."
Next, the Flipflopi will take to the waters of Lake Victoria: the second largest freshwater lake in the world, the source of the Nile, and what Dipesh describes as "a cesspit of plastic". The goal of the Flipflopi's 2021 expedition will be to promote circular economy principles, and advocate for a regional ban on specific single use plastic items in the areas surrounding Lake Victoria.
Meanwhile, the team will be continuing their work to improve waste management and recycling at the three hubs that they have set up across Kenya. They are helping to build the capacity of local organisations to create waste segregation schemes in their towns, and building recycling machines so that local people can create and sell products made from recycled plastic.
As the Flipflopi crew continue on their mission to rid Kenya's towns, beaches, rivers and forests of harmful plastic, Dipesh highlights the importance of both individual decision making and top-down change. "There are really basic things that anyone can do in their lives to reduce their own plastic footprint. We don't need plastic bags: Kenya banned plastic bags over two years ago, and life is very liveable without them. These individual actions are very important, but so is the bigger picture: we need to start holding the industry accountable for their own waste."
And we must not wait for technology to save us – we already have the solutions we need. "We don't need to see recycling as something new, that needs a big machine in a factory that comes out of the US or China. Recycling is a value that was upheld by our mothers and our grandmothers. The idea that everything has value is being eroded so quickly ­– but we need, as a society, to really place importance in this and see the simplicity of the solution in front of us".
AtlasAction: Donate to help get a bigger boat afloat, that will take the Flipflopi's message further round the world. And sign the petition calling on governments in East Africa to lead the way in banning all non-recyclable single use plastic.
Project leader
Dipesh Pabari, co-founder
Support the Atlas
We want the Atlas of the Future media platform and our event to be available to everybody, everywhere for free – always. Fancy helping us spread stories of hope and optimism to create a better tomorrow? For those able, we'd be grateful for any donation.
Please support the Atlas here