United Kingdom (London)
Is this the clothes shop of the future? Imagine walking into a space on your local high street, selecting a design for a new dress, shirt or skirt and then cutting the pattern there and then from sustainably sourced, locally produced fabric. You might customise an existing pattern (by adding, for example, bigger pockets). Then you'll stick around to sew your garment on in-store machines, receiving help and advice and making new local friendships – or take it home to complete with the support of online tutorials. 
This is the vision of Pattern Project, an initiative to get more people involved in making their own clothes locally, speeding up the time taken and adding value throughout the process. Countering the fashion industry's increasingly complex, global supply chains, they have found a way to make zero-km clothing.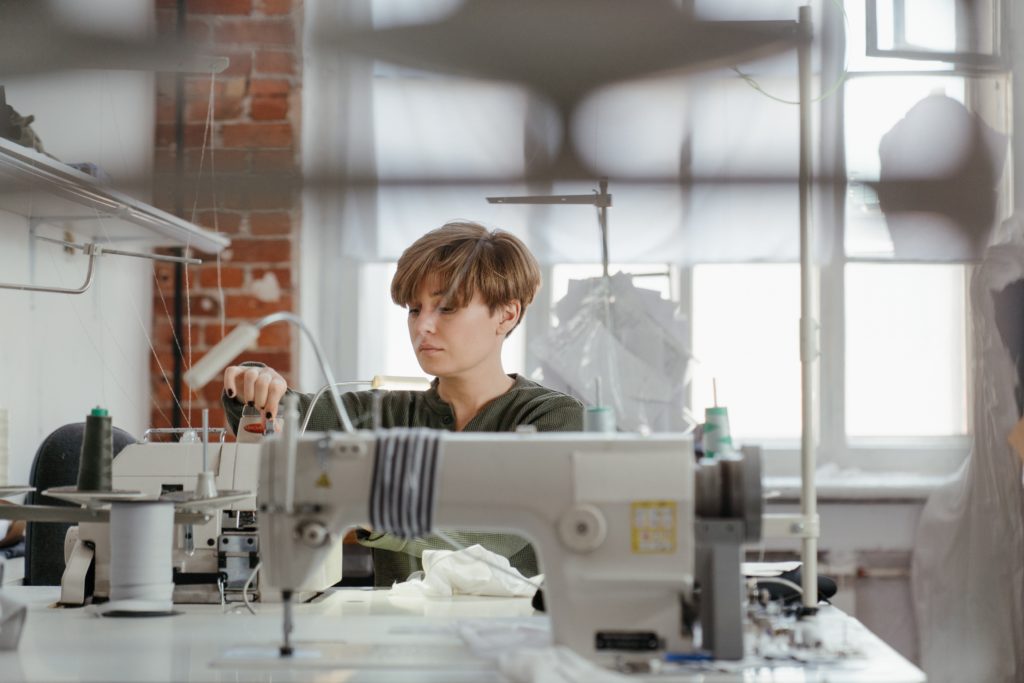 "We call this human-centred manufacturing", says Simon Johnson, one half of the life-and-business-partners behind Pattern Project, alongside Shruti Grover. "We are thinking about how we can manufacture in the UK and have clothes made locally, and how can we make it a really enjoyable experience, not just automated and low wage-paying". The duo's vision is an alternative to mass produced fashion, in which sewers – from novices to skilled seamstresses – can enjoy the fast-track satisfaction of crafting their own clothing. 
After watching The Great British Sewing Bee TV programme, Shruti – who grew up in India where it was common to have clothing made by a local tailor – was inspired to start sewing: but she was surprised by how challenging it was. "There's a lot of work laying out patterns and cutting fabric; it's difficult for a beginner to get into", she reflects. By combining her and Simon's skills in both human- and tech-centred design (through their consultancy, HetCo, based at Makerversity in London, they work with the likes of Wellcome Trust, Doctors Without Borders and the BBC), they set themselves the goal of designing a process that would allow anyone to complete a garment in fewer hours – and for less investment – than is typical. 
The approach is to provide pre-marked and cut fabric that can be easily constructed at home with IKEA-like instructions and tutorial videos. And the aim is to reduce the average time taken to create a dress, from choosing the fabric to cutting the pattern out and sewing, from eight hours to a two or three hour process.
The first two garments – have been designed by Miranda Stanford, a childrenswear designer, maker and lecturer.
They are keenly aware that it's quite expensive to sew at home right now, but "by providing a pattern created and constructed by an established designer, that is sewn at home, the saving on assembly is transferred to the end customer. Combine this saving with economies of scale achievable in sourcing the fabrics and it may be possible to tackle one of the current challenges," Shruti tells us. 
Pattern Project will also offer transparent pricing, something increasingly demanded but still rarely offered in the fashion sector. And while the emphasis is on fostering a local system of clothing production, the designs can be global, with no negative environmental impact. "We are pro diversity of design," says Simon. "A sewer in the UK can create a garment conceived by an Indian designer and vice versa, but importantly, materials don't need to be transported." The idea is global but the physical engineering of the garments is local.
The ambition is to reduce environmental damage throughout the process: by offering just two or three fabrics per design, waste can be managed efficiently. Currently the fabrics offered are organic and natural, and though the fibres are imported, the weaving is done in the UK. 
They have got the project off the ground with initial funding from Innovate UK, with the support of Future Fashion Factory, and are shortly to enter their second phase of user testing. First results from users showed that even those who don't see themselves as sewers are motivated by the idea of saving money on a designer item by taking on the last part of the creation – the sewing – themselves. Users also showed a clear interest in the sustainability aspects and a strong interest in crafting their own clothes. 
"For the younger generation, it's about the closer relationship to their clothing. So we heard things like okay, even if it's got all of these imperfections, it's still mine and I'd be really proud to wear it," Shruti tells us. 
"That closer relationship has two sides to it," continues Simon. "They feel emotionally closer because they made it, but also they will know it technically better as they made it – and therefore they are able to fix it. We hope that will give clothes a longer life in the cupboard." 
One user tester commented: "I found it challenging at times but I am very new to sewing. I enjoyed the challenge and I have definitely improved my skills. Many aspects of the kit made it possible to make a garment that I would have thought to be beyond my capabilities. I'm very pleased with what I have achieved." The plan is to offer a project each month, so that sewers can develop their technical skills, progressing, say, from box pleats to zips.
Next up for the project, in addition to continued testing, is to develop androgynous patterns to appeal to all genders as well as to finalise the model for launch. The objective is to remain true to the vision of transforming how clothes are designed, manufactured, sold and used in order to encourage sustainable wardrobes. That's a pattern of behaviour we all hope to see.
AtlasAction: You can get involved by signing up to test Pattern Project's easy-sew garment and augmented reality filters here.
Project leader
Shruti Grover
Partners
This project has been selected as part of FashionFutures, a new  content channel that maps the work of people transforming the fashion sector: the designers, craftspeople, social innovators, educators, community leaders and communicators. Atlas of the Future is excited to partner with Makerversity, with the support of The J J Charitable Trust and their network of fashion friends.
Support the Atlas
We want the Atlas of the Future media platform and our event to be available to everybody, everywhere for free – always. Fancy helping us spread stories of hope and optimism to create a better tomorrow? For those able, we'd be grateful for any donation.
Please support the Atlas here