United Kingdom (London)
Take a cup of old coffee grounds, a handful of mussel shells, and a dash of green tea, and what have you got?
Well, all sorts of useful stuff – alternative ceramics, planet-friendly plastics and fermented fabric. Not bad for a couple of hours in the kitchen.
You've entered the culinary world of Materiom, the circular design experts who are sharing recipes for materials that are useful, natural and simple enough for those of us who are less than blessed in the cooking department. "Our recipes use locally abundant natural ingredients and life-friendly chemistry. Plastics and composites you can cook on the stove, laser cut and 3D print."
For billions of years, terrestrial and marine habitats have thrived in producing vast quantities of materials, all without landfill or waste. Alysia Garmulewicz and Liz Corbin think it's time we took notes.
The pair met at Ellen MacArthur Foundation's Disruptive Innovation Festival in 2016. Their previous studies (in Management Science and Materials Culture respectively) had revealed to them nature's power as a master architect and engineer – able to create high performance materials out of simple nutrients that then break down and can be used again.
Liz and Alysia broke down some stats for us: "Since the industrial revolution, the majority of the materials and products we use every day are manufactured through highly extractive, closed systems with complex global supply chains. And after a short period of use much gets relegated as waste. Today 86% of all plastics packaging and 85% of all clothing materials are either ending up in landfill, being incinerated or leaking into natural systems. We saw this as an opportunity to cultivate an alternative materials economy: one that is regenerative rather than extractive, restorative rather than destructive, and empowering rather than alienating."
And so, in 2016, Alysia and Liz created Materiom: nature's recipe book, "to empower everyone, everywhere to participate in the next generation of materials". They started working with maker friends and fellow scientists to source their first recipes, as well as exploring YouTube for some DIY guidance. They spent their time bubbling bioplastics over their own kitchen stoves and running workshops in Valdivia, Chile, to grow their collection of recipe ideas. Now, with the support of the Ellen MacArthur Foundation, they work from London, UK, and Santiago, Chile, building up their online cookbook and spreading the word to budding material chefs everywhere.
Importantly, the ingredients in Materiom's recipes are the kinds of things that can be found on your doorstep – so will (and should) vary depending on where your doorstep happens to be. If you live in Nunavut, in the high Arctic, for example, there's not much around except ice and animals. Local hunting practices mean that gelatin is a readily available byproduct – which can be used to make bioplastic.
The Materiom team are now working with a schoolteacher who needs educational materials to teach children the native language, Inuktitut. Using 3D printing, the gelatin bioplastic will be made into stencil molds to cast out Inuktitut letters – so that local materials can support local culture.
Meanwhile, in Chile, local making is driving the local economy. The seaweed that is harvested along the Chilean coastline is typically dried and sent to China, at a low cost that offers little value to the community. Instead, Materiom are developing ways to turn the seaweed into bioplastic packaging materials that can bring more money to those farming it, while also tackling the problem of plastic pollution.
This focus on local sourcing and making helps balance out the bigger global systems that tend to dominate how things are manufactured and sold. "In today's world, material supply chains are predominantly global, which limits the potential for more adaptive material solutions to come to market at local and regional scales. For us, it's not about local versus global. It's about finding a better calibration between the two so that materials can be sourced and cycled in a way that is context-appropriate and environmentally-responsible."
The shift to local is fuelled by a growth in makerspaces. "We see the exponential growth of community-scale centres of production like Fab Labs, makerspaces, and hackerspaces creating the opportunity to build more local and regional supply chains that source abundant, natural materials." Materiom have partnered with academics, makers, and designers in universities and Fab Labs in Chile, Spain, the UK, and the Netherlands to discover ingredients and develop recipes.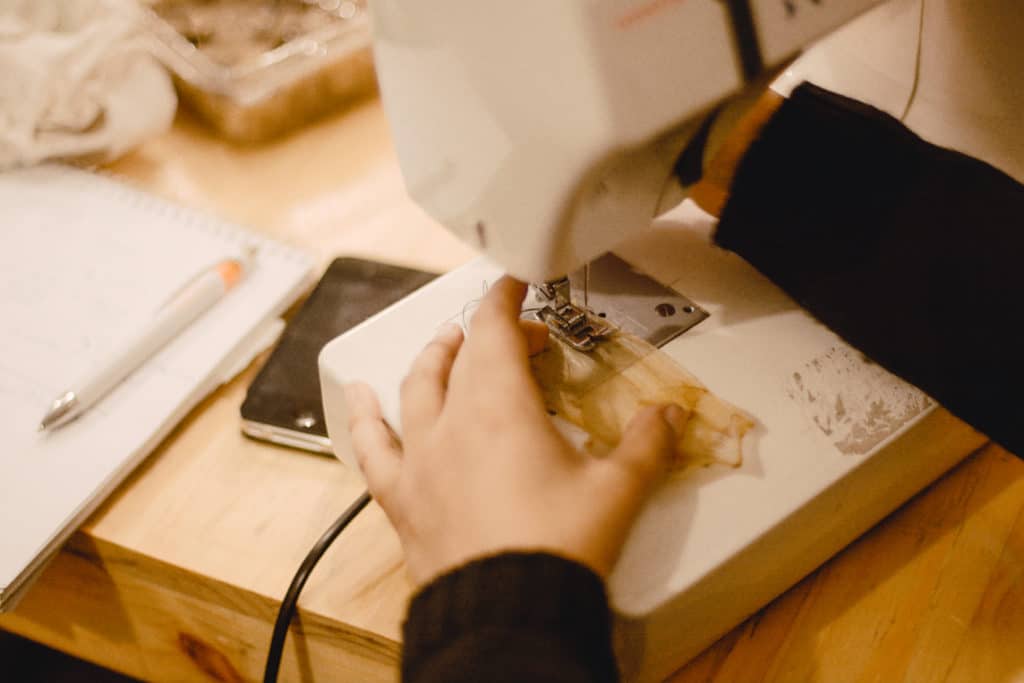 Looking ahead, Liz, Alysia and their team will be focusing on growing the Materiom community through global design challenges, community workshops, and an ever-growing list of open source recipes – "to reach a critical mass, so that anyone, anywhere can be part of the new circular materials economy by using the abundant nutrients around them".
As the community grows, so too will the need to connect people from different disciplines. "An ongoing challenge and opportunity for us is bridging the gap between the world of designers and artists, and the world of material scientists and engineers. Bringing these communities together holds promise for generating knowledge about materials that can accelerate circular product design and participation in the next generation of fabrication."
Because while ingredients and materials can be found and made locally, it is the wider, shared bank of knowledge that Materiom creates that can drive us towards a more positive future. "We are taking inspiration from the natural world, and using it to empower collective ingenuity and creativity, with the hope that in turn, that collective intelligence can work together to nourish the planet we all call home."
AtlasAction: Get cooking! Visit Materiom's website to browse recipes galoreor email the team to get involved in the community as a recipe creator, community ambassador, materials tester, artist or researcher.
Bio
Nature-geek, urban forager and all-round wordy sort. Freelance strategist and copywriter for mission-driven organisations. Often found reading while walking.
Project leader
Liz Corbin and Alysia Garmulewicz
Support the Atlas
We want the Atlas of the Future media platform and our event to be available to everybody, everywhere for free – always. Fancy helping us spread stories of hope and optimism to create a better tomorrow? For those able, we'd be grateful for any donation.
Please support the Atlas here