Ireland (Donegal)
Young people are unleashing their creative brilliance by creating high end couture from everyday junk.
At a time when the whole world seems hell-bent on throwing away, the pioneering souls behind Junk Kouture are doing the opposite. The fashion competition is all about using recycled materials – challenging young people to design, create and model high end couture from everyday junk. It takes in elements of fashion, design, engineering and environmental sustainability and transforms them into a creative contest.
Imagine a phoenix rising from the ashes. But it's made from 12,072 homemade paper feathers, painted, cut out and trimmed to appear as realistic as possible – and designed by a 16-year old…
This couture might have been inspired by fashion designer Alexander McQueen, but it was made from IKEA mattress packaging, dust sheets and garden canes. Like a phoenix, everyday junk has been reborn with a new purpose and destiny.
Hitting its 11th year, Junk Kouture has already captivated over 40,000 students, 8,000 teachers and 100,000 audience members. It has established itself as the premier recycled fashion competition for teenagers throughout Northern Ireland and the Republic of Ireland, has expanded to Scotland, and is getting a global reputation.
Second-level pupils aged from 13 to 18 are invited to create wearable art and outrageous couture trash fashion. The challenge is to rework 'junk' like vinyl records, cattle tags, orange peels, old computer hard drives and other already used materials that are beyond their intended purpose and to craft them into eye-catching bespoke fashion designs.
Created in 2010 by entrepreneurs Elizabeth Curran and Troy Armour to encourage people to create art, Junk Kouture is really a subtle education in the importance of collecting rubbish: "Junk Kouture doesn't just inspire outstanding creativity in young people, but also highlights the importance of environmentally aware behaviour and mindfulness of how much we consume and how much we throw away," Elizabeth explains.
Encouraging school kids to take responsibility by reusing, recycling and refashioning junk is the right way forward for a cleaner future. Plus, each year Griffith College awards one grand-finalist a scholarship for a BA (Hons) in Fashion Design.
And the finalist might just turn up the next Alexander McQueen. 2019's Junk Kouture Overall Winner Maxim O'Sullivan paid tribute to Lady Gaga.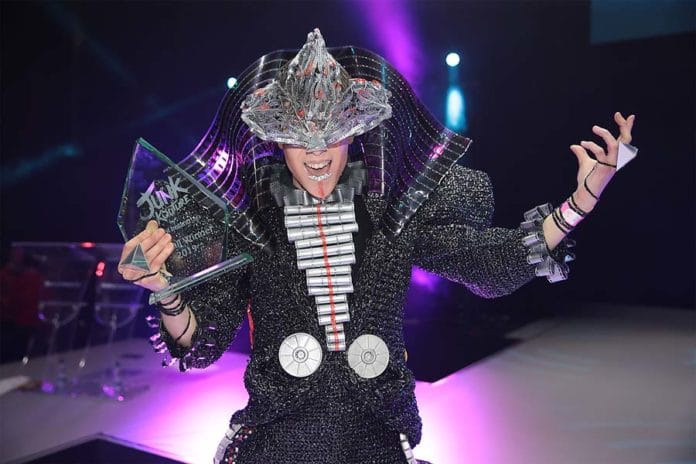 In 2020, the overall winners were SYNERGY, the trio Robyn O'Donnell, Orlaith Doherty and Brónach Harkin, who designed an Elie Saab-inspired dress made of sea glass, plastic milk cartons and smashed jam jars (pictured below.)
"I'm never going to look at a milk carton the same way!" – Judge Michelle Visage
Months of sewing, cutting and smashing glass paid off for three Donegal students.
2021 sees Junk Kouture go digital as the competition runs across six cities. In 2022, they plan to go global, launching the country in 13 cities throughout the world.
Currently, Junk Kouture are running a 'Springing into Summer Headpiece' challenge for the budding designers of the world. The mission for them is to create a springtime themed headpiece or hat.
Read more: Junk Kouture was mapped by Fashion Revolution's Carry and Orsola in their  AtlasChart Top 5 – a journey through the founders' favourite projects from Ireland to Bangladesh.
Project leader
Elizabeth Curran and Troy Armour, Co-founders
Partners
This project has been selected as part of FashionFutures, a new  content channel that maps the work of people transforming the fashion sector: the designers, craftspeople, social innovators, educators, community leaders and communicators. Atlas of the Future is excited to partner with Makerversity, with the support of The J J Charitable Trust and their network of fashion friends.
Support the Atlas
We want the Atlas of the Future media platform and our event to be available to everybody, everywhere for free – always. Fancy helping us spread stories of hope and optimism to create a better tomorrow? For those able, we'd be grateful for any donation.
Please support the Atlas here