Ireland (Co. Donegal)
Imagine a phoenix rising from the ashes. But it's made from 12,072 homemade paper feathers, painted, cut out and trimmed to appear as realistic as possible – and designed by a 16-year old:
This couture might have been inspired by fashion designer Alexander McQueen, but it was made from IKEA mattress packaging, dust sheets and garden canes. Like a phoenix, everyday junk has been reborn with a new purpose and destiny.
At a time when the whole world seems hell-bent on throwing away, the pioneering souls behind Junk Kouture are doing the opposite. The fashion competition is all about using recycled materials – challenging young people to design, create and model high end couture from everyday junk. It takes in elements of fashion, design, engineering and environmental sustainability and transforms them into a creative contest.
Hitting its tenth year, Junk Kouture has already captivated over 40,000 students, 8,000 teachers and 100,000 audience members – and has established itself as the premier recycled fashion competition for teenagers throughout Northern Ireland or the Republic of Ireland, has expanded to Scotland, and is getting a global reputation.
Second-level pupils aged from 13 to 18 are invited to create wearable art and outrageous couture trash fashion. The challenge is to rework 'junk' like vinyl records, cattle tags, orange peels, old computer hard drives and other already used materials that are beyond their intended purpose and to craft them into eye-catching bespoke fashion designs.
Created in 2010 by entrepreneurs Elizabeth Curran and Troy Armour to encourage people to create art, Junk Kouture is really a subtle education in the importance of collecting rubbish: "Junk Kouture doesn't just inspire outstanding creativity in young people, but also highlights the importance of environmentally aware behaviour and mindfulness of how much we consume and how much we throw away," Elizabeth explains.
Encouraging school kids to take responsibility by reusing, recycling and refashioning junk is the right way forward for a cleaner future. And the finalist might just turn up the next Alexander McQueen. 2019's Junk Kouture Overall Winner Maxim O'Sullivan paid tribute to Lady Gaga.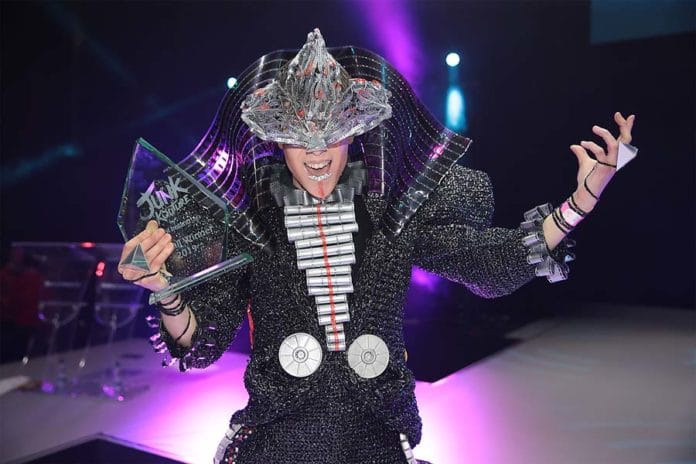 While The Grand Final 2020 and JK events are postponed, people can vote for the 80 finalists online. Plus, each year Griffith College awards one grand-finalist a scholarship for a BA (Hons) in Fashion Design. (Apply here before Sunday 17 May 2020.)
Junk Kouture are also diversifying into film – calling for students interested in creative media to produce a five minute long video of a current Junk Kouture entry. You can find more info on their social media pages.
Read more: Junk Kouture was mapped by Fashion Revolution's Carry and Orsola in their AtlasChart Top 5 – a journey through the founders' favourite projects from Ireland to Bangladesh.
Project leader
Elizabeth Curran and Troy Armour, Co-founders