United Kingdom (London)
Flowers, vegetables, tea plants, fragrant herbs and fruit trees blossom next to the train platforms used daily by hundreds of thousands of commuters thanks to Energy Garden.
"If you want to be Che Guevara, stop walking around pointing to what's bad. Want to be a true revolutionary? Rip up the paving slabs, plant a garden and cover your roof with solar panels." Agamemnon Otero, Founder
For ten years now, Energy Garden has supported communities across London as they've transformed 34 Overground train platforms and stations into thriving gardens and veggie plots. Solar panels provide on-site renewable energy for lighting, water pumps and other small scale station amenities.
Energy Garden is now taking its model to scale by launching the first city-wide community energy / community garden bond offer. The proceeds of this offer will be used to install up to 10 megawatts (MW) of solar on London's rooftops. The revenue generated by those solar panels will be used to fund the Energy Garden programme and provide investors with a financial return.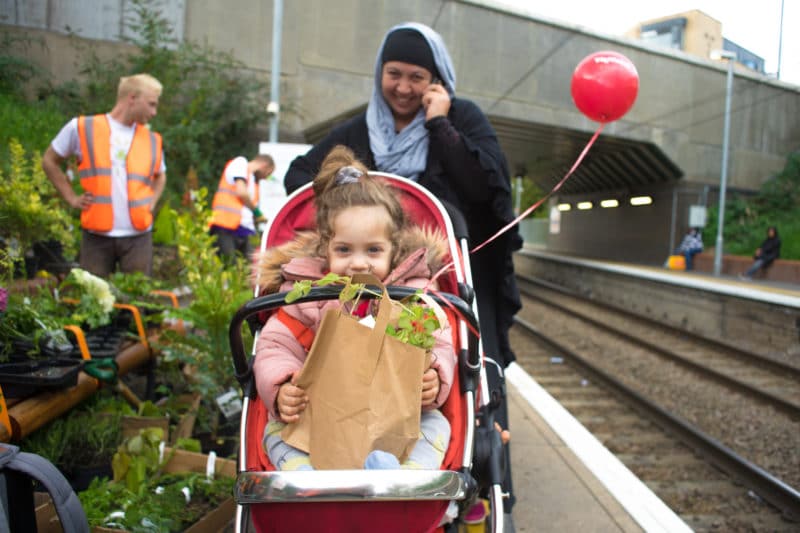 This offer is designed to give all Londoners the opportunity to participate in: a London-wide energy and gardening Community Benefit Society; acquiring and owning renewable energy assets; greening London's transportation infrastructure; empowering communities to take positive action; educating and training young people in food growing, healthy living and energy; improving air quality and biodiversity, and earning a projected 4% per annum return
"Energy Garden is really about building resilience in communities. So it's not just garden or energy. It's about how do we directly address the climate change issue which everyone feels powerless over", says Agamemnon Otero.
There are more than 300 regular volunteers that grow their own food in the green spaces next to the platforms, and the project bore fruit during lockdown, as still more volunteers joined up.
The gardens also shelter honeybees and bumblebees, which are under threat in London. There are beehives, bat huts, swift nests, hedgehog houses… "These are corridors for biodiversity to come in and so it's very important that a section of every garden is still wild."
Check out this map of all the Energy Gardens.
With thousands of square metres of grey space turned green and millions of megawatt-hours of renewable electricity set to be generated, Energy Garden is helping offset emissions from the transport sector, which is responsible for nearly one-third of all net greenhouse gas emissions in the UK. But the most important thing is that the Energy Gardens are making London a better place to live.
AtlasAction: Whether it's looking after the existing gardens or helping to build new ones, find out how to get involved on the Energy Garden website.
Read more ► Meet the FutureHero Agamemnon Otero: Dynamo of renewables.
Watch ► Patagonia's film "We the Power" featuring Energy Garden and more citizen-led projects.
Project leader
Agamemnon Otero, Founder & CEO
Support the Atlas
We want the Atlas of the Future media platform and our event to be available to everybody, everywhere for free – always. Fancy helping us spread stories of hope and optimism to create a better tomorrow? For those able, we'd be grateful for any donation.
Please support the Atlas here