Togo (Lomé)
Africa's first space for democratic technology has now produced over twenty 3D printers made from e-waste.
Over one billion computers are in use worldwide. In developing communities, once they are no longer in use or beyond repair, more than half are illegally shipped to dumps. This gives Africa a massive electronic waste problem, as reusable components mix with toxic materials, polluting poverty-stricken areas.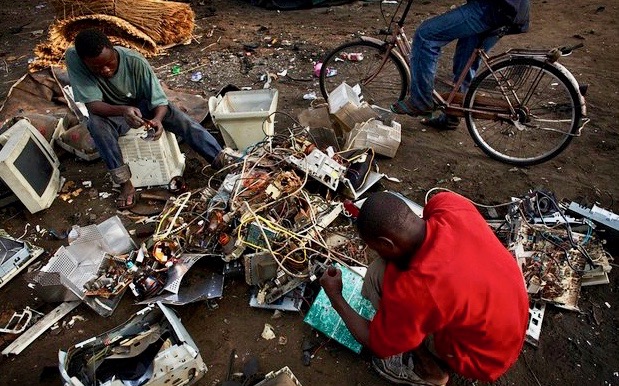 Within hacker space WoeLab, Africa's first space for democratic technology, Togolese inventor Afate Gnikou (pcitured in the header above) and its 30+ young residents have been turning imported e-waste into an economic asset. Known to many as a "street-level FabLab", in 2013 the community lifted designs found online to collectively construct the first 3D printer made from dumped scanner parts and an old diskette drive scavenged from a scrapyard.
The W.Afate printer, which takes its name partly from Afate's (with the W standing for the WoeLab headquarters) was inspired by the Prusa Mendel, which is known as "the Ford Model T of 3D printers". The machine is easily reproduced and was based entirely on reusing discarded materials, mainly central processing units, printers, scanners, Arduino boards and lead wires.
Now well known around the world, the printer won 'Best Innovation' at the Global Fab Lab Awards 2014 and has since led to the development of more than 20 other 3D printers made from unwanted electronics dumped in the West African nation of Togo. Plus, the WoeLab itself has helped create and incubate 11 collaborative startups working around waste management and resources. It has aso inspired the development of other makerspaces, fab labs and creativity centers that manufacture disruptive technology, like Tanzania's Buni Hub, who also built an e-waste 3D printer.
Woelab founder and arcitect Sénamé Koffi Agbodjinou created the innovative hub in the Togolese city of Lomé as a safe haven for technological democracy. It will always remain the first free laboratory of social and technological innovation in Togo to divert the use of discarded electronic material by creating sustainable technology. The next step is to set up a network of 3D printer cafes to make environmentally sustainable manufacturing technology more widely available in Africa. Woelab, whose philosophies are low high tech and technology democracy, compares the impact of 3D printing to that of the steam engine in the 19th century. 
Sénamé stresses that all projects are collectivist and based on sharing: "This machine, like everything developed in WoeLab, is a collaborative initiative," he tells us. "The W.Afate is one of the very first African symbols of this contemporary movement of 'Commons' which is being developed around the world and is the intuition behind everything we do in Togo-echoed in our African traditions."
AtlasAction: Read more! W.Afate is featured in: An African AtlasChart: 4 magical citizen initiatives.
Project leader
Afate Gnikou, Woora Make and Sénamé Koffi Agbodjinou, Founder, Woelab
Support the Atlas
We want the Atlas of the Future media platform and our event to be available to everybody, everywhere for free – always. Fancy helping us spread stories of hope and optimism to create a better tomorrow? For those able, we'd be grateful for any donation.
Please support the Atlas here