Within a hidden mad professor's lab in Berlin-Kreuzberg, one team is on a mission to feed a rapidly expanding population, while consuming less resources and reducing environmental impact. They are doing this by building ultra-efficient indoor 'vertical farms' in the heart of cities. Supermarkets – and hipsters – are loving them. Who wouldn't want endless kale and coriander?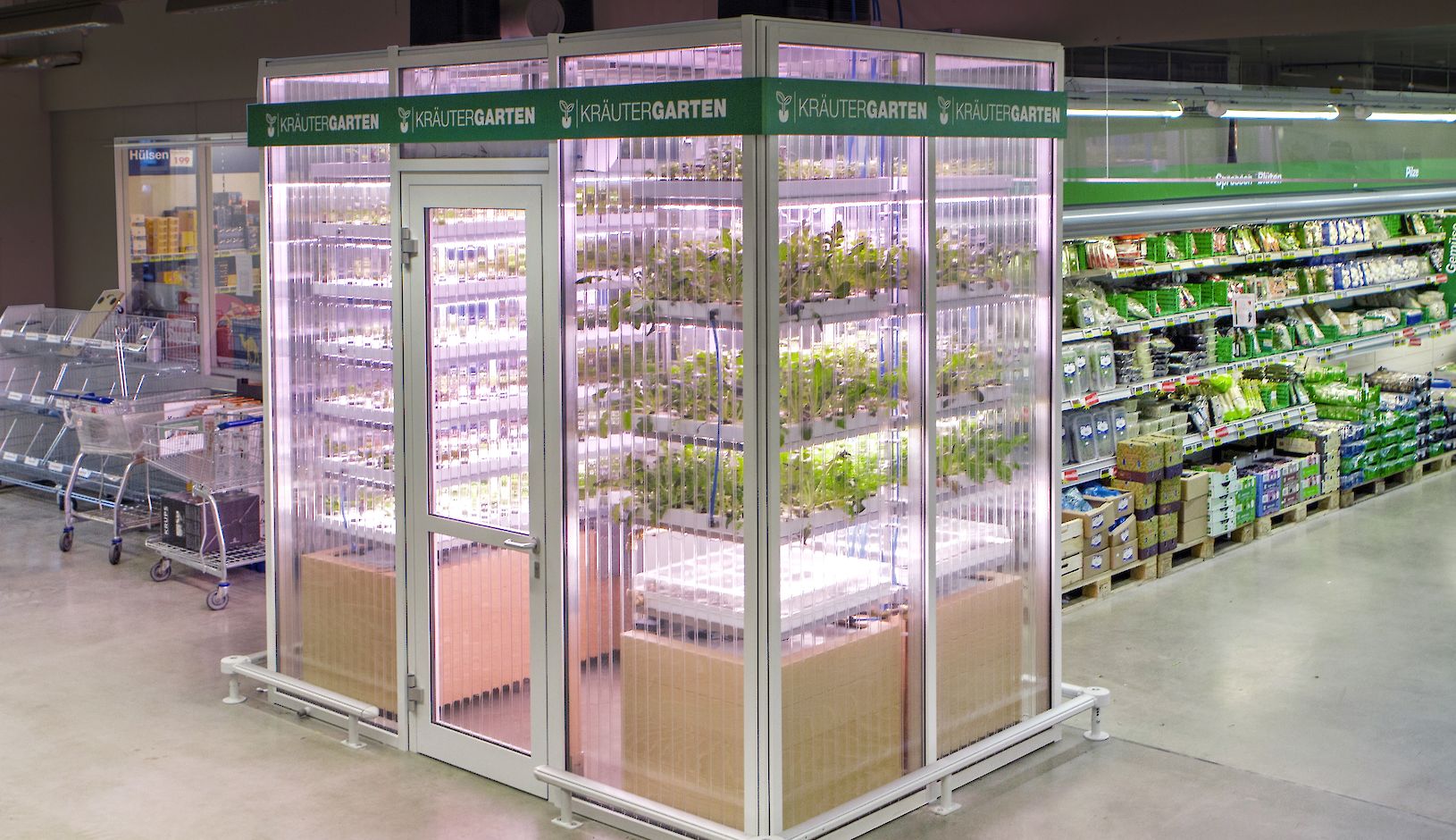 Responsive to the urban community's growing demand for a local, transparent and dynamic food system, INFARM's vertical farms are upright micro-farms that allow the growing of pesticide-free, premium quality produce at competitive prices year round in any given space. They have the environmental advantage of eliminating transportation, storage, refrigeration and can greatly reduce waste.
INFARM was founded by Osnat Michaeli and brothers Erez and Guy Galonska when they came to Berlin in 2014. When the trio started out, they were motivated by what they wanted from their own lives – to be more independent, to eat more healthy and to experience the excitement of growing their own food: "I think most people look at the world around us and see the same problems, but it's easy, even natural, to write it off as the way things are," explains Michaeli.
Their first hydroponic system was built in their living room in Neukölln, Berlin as "a way to achieve that feeling of freedom and freshness without having to move to the countryside." They were surprised with the results. "I recall it was a cold snowy February and we had fresh vegetables inside. From this first pipe hydroponic garden, INFARM was born."
Michaeli was hooked as soon as she tasted their very first harvest. "As a passionate cook and foodie, I was intrigued by the virtually endless supply of exotic herbs and fresh vegetables that were suddenly available. There are so many unique and delicious varieties that are not available in markets because they're too delicate to survive the supply chain."
They had planned to travel through Europe that summer in an old renovated Airstream trailer. "Instead we parked it in the PrinzessinnenGarten and built a vertical farming installation in it. The interest and success of this project gave us the validation we needed to pursue this as a business."
It was then that they realised they could tackle the highly inefficient, unsustainable and archaic food system. "We were lucky enough to get involved with something we really enjoyed and we hope, has the potential to help address the environmental problems we all face – making real change, for ourselves and our global community."
In 2015, the team launched their first in-store farm at the end of the produce aisle in Metro Cash & Carry supermarket in Berlin, as that is where the chefs like to shop. Since then, dozens of rare varieties of plant species have been flourishing in a space of about five square metres, for customers who value fresh nutritious products.
The self-contained agricultural centre is a transparent greenhouse where shoppers can peek into the growing process. The plants grow on a thin layer of water enriched with oxygen in INFARM's patented 'growth trays'. Lighting algorithms enhance taste and boost nutritional value. Micro sensors monitor every parameter to ensure that each and every plant gets the best conditions to thrive.
And the press (and hipsters) went wild.
Following their success in Metro, INFARM is pursuing their mission to build intelligent city-farming networks. "This removes the need to have our food shipped in from thousands of miles away and ensures access to fresh, premium produce, at affordable prices, 365 days a year," explains Michaeli.
When they started out, INFARM was operating within a relatively new market. The team's most pervasive challenge was to communicate the reasons why a business like INFARM was needed. But today they have found that consumers have become more conscious and are demanding transparency from their food suppliers. They want food that is both better for them and better for the planet. INFARM is meeting this demand by developing advanced technology to supply highly nutritious produce that is grown closer to consumers than ever before.
When asked whether she believes INFARM is an idealistic concept or purely focused on business goals, Michaeli replied, "A good entrepreneur has to be a synthesis of the dreamer, the inventor and the economist. If you want your idea to manifest in the real world and to make a profound difference, then you must build a solid profitable business."
AtlasAction ► Become an INFARMer.
Editor's update:
INFARM is now Europe's urban farming leader. Only three years after introducing the concept of in-store farming to the world, they are now operating more than 300 farms across Europe in supermarket aisles, restaurants kitchens and distribution warehouses.