Spain (Elche)
These low-cost wooden drones can reforest burned forests ecologically – and fast.
Sowing 100 seeds per second using drones may seem the stuff of science fiction, but it is already possible thanks to Dronecoria, a nonprofit project led by software engineer and interdisciplinary artist Lot Amorós (pictured above and below). The drone-lover started by asking himself a key question: "What is the most important thing a drone could carry?"
His answer was 'life' – "and what gives life?' Seeds!"
According to Lot, one of the most decisive ways to fight climate change and help our ecosystems is reforestation. To accelerate the process, he decided to create a set of low-cost, open source tools designed precisely for large-scale reforestation, trying to reverse the destruction of forest ecosystems worldwide.
Dronecoria offers everything from automated seed processing to drone planting.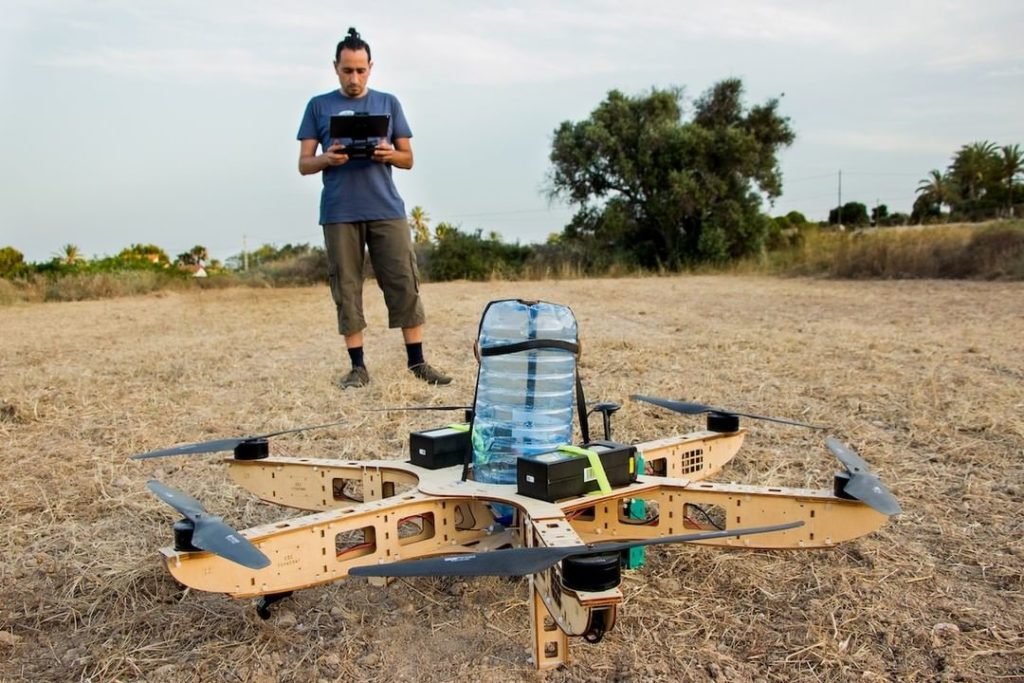 The system is ten times cheaper than manual methods used for reforestation, as well as faster and less destructive than other methods. The reforestation drone is also cheaper than other similar drones, and you can download the files and do it yourself.
"Creating a drone with a wooden structure and getting it to fly and spread seeds is one of our greatest achievements," says Lot. But it has not been his only challenge.
Plants cannot grow anywhere. Lot had to work out how he could make the seeds sprout in soils that are too saline or not ideal. However, by coating the seeds with a combination of nutrients, plants can create their own fertiliser and grow in places where they could not otherwise. Enter the Dronecoria seed coating machine…
"In 2020 we have made progress in improving the chances of success of seeds, and we are proud to have won the Conservation X challenge in which we presented and developed a machine to automatically pellet seeds", explains the engineer.
The mission of the Conservation X digital makerspace is to end the sixth mass extinction. Humans have driven it and humans have the power to reverse it by creating tech solutions for conservation's greatest problems. Dronecoria know that large-scale ecosystem restoration can be enabled with a combination of seed priming and pelleting techniques – and the aerial seeding of native seeds – and with its open source seed coating machine, millions of these 'seed balls' can be produced efficiently.
In 2020, Dronecoria participated in the restoration of the ecosystem of the Sierra María-Los Vélez Natural Park in Almería, Spain, sowing more than 140,000 tree seeds in an hour's flight with its aerial seeding machine.
Now they are reforesting part of the Sierra de Lújar in Granada, Spain, where they have managed to replant seven species: Aleppo pine, juniper, genista umbellata, two types of lavender, 'vinagrera' and digitalis. They can get the seeds to germinate with a single rainfall.
This year, they want to continue advancing the research of seed treatments, carrying out experimental plantings to test the methodology in specific places on the Iberian Peninsula.
Lot tells us that the effects of COVID-19 were bad, at least at the beginning of the pandemic, so Dronecoria launched a crowdfunding in March 2020. It was difficult to get contributions, possibly because of the "informational and emotional bombardment that people were suffering". But the pandemic has also had a positive effect on raising awareness. "We could say that, perhaps indirectly, people are giving more importance to their relationship with nature and the consequences of their behaviour on the environment."
Dronecoria' long-term goal is to encourage more people around the world – and they hope that the projects that use the knowledge generated by Dronecoria in other countries are consolidated, enriching each other's methodologies by applying them to other ecosystems and contributing their discoveries. They also hope that in 2021, the new European legislation on drones will allow them to continue flying and reforesting mountains.
AtlasAction: You can follow the discussions and contribute your vision on their Discourse forum. If you want to collaborate more actively, join their Telegram group. And if you can make a donation, click here.
Project leader
Lot Amorós, Founder
Partners
This project has been selected as part of MedFutures, a new content channel that maps the most innovative and inspiring solutions to the water and climate crisis in the Mediterranean and the people behind them. Atlas of the Future is excited to join forces with Aigües de Barcelona.
Support the Atlas
We want the Atlas of the Future media platform and our event to be available to everybody, everywhere for free – always. Fancy helping us spread stories of hope and optimism to create a better tomorrow? For those able, we'd be grateful for any donation.
Please support the Atlas here