Morocco (Agadir)
Rain might be rare in the Moroccan desert, but there is no shortage of mist. Thanks to North Africa's largest fog harvester, drinking water is being produced from thin air.
Between 2011 and 2014 one of Morocco's most forward-thinking NGOs, Dar Si Hmad for Development, Education and Culture, established a ground-breaking means of harvesting water from fog for Amazigh communities living on the edge of the desert in Aït Baamrane – one of the poorest regions in Morocco. 
Using a unique technology, 600 sq metres of fine webbed nets – which look a little like baseball nets – called CloudFisher are spread across the region's biggest mountain, Mount Boutmezguida. Part of the Anti-Atlas range that gets less than 5.2 inches of rainfall a year, it is engulfed in fog drifting from the Atlantic, about 35 kilometres away, for six months of the year.
The system was designed by a German industrial designer, Peter Trautwein, who spent more than two years developing it for the Wasserstiftung Water Foundation in Munich, Germany.
Since the year 2000, the foundation has been active in bringing clean drinking water to disenfranchised rural areas around the world, and creating meaningful cross-cultural exchange. The ground-breaking CloudFishers installed in South West Morocco are now the biggest system of its kind in the world, with sister projects in Eritrea and Ghana.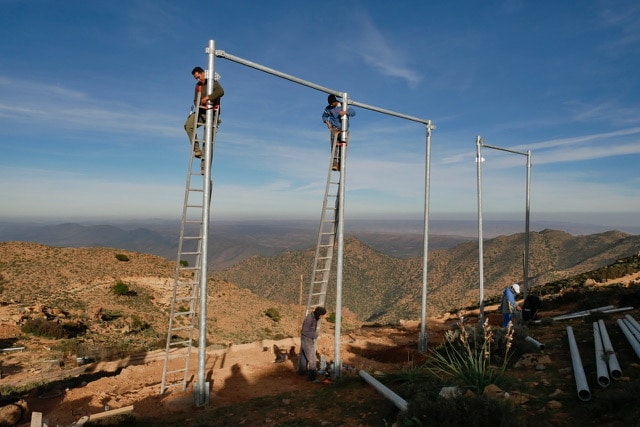 The system works by capturing water particles in the form of a dense fog, which provides approximately 600 litres of drinking water, per net. That's enough to supply 16 local villages, which together have around 1,000 inhabitants, plus the various nomadic people who come in to harvest argan nuts and prickly pear cactus during their respective seasons.
Other agricultural areas benefit too, thanks to an increased water supply for crops and another Dar Si Hmad project, Agdal Ibrahim Id Aachour, an educational farm that teaches agro-ecology in dry and semi-dry region regions, established in 2019.
Until the arrival of the CloudFishers, villagers and rural dwellers in the region relied on hand-dug wells (not always potable) and rare rainwater catchment for drinking and washing. It was a precarious existence to say the least, with women and children spending up to three and a half hours a day just fetching and carrying the precious resource. Now, the latest generation of CloudFisher technology has an infrastructure that allows water to be piped directly into homes in a sustainable manner that, in particular, supports women's role in society – since they are primarily the ones who are trained in operating and managing the system.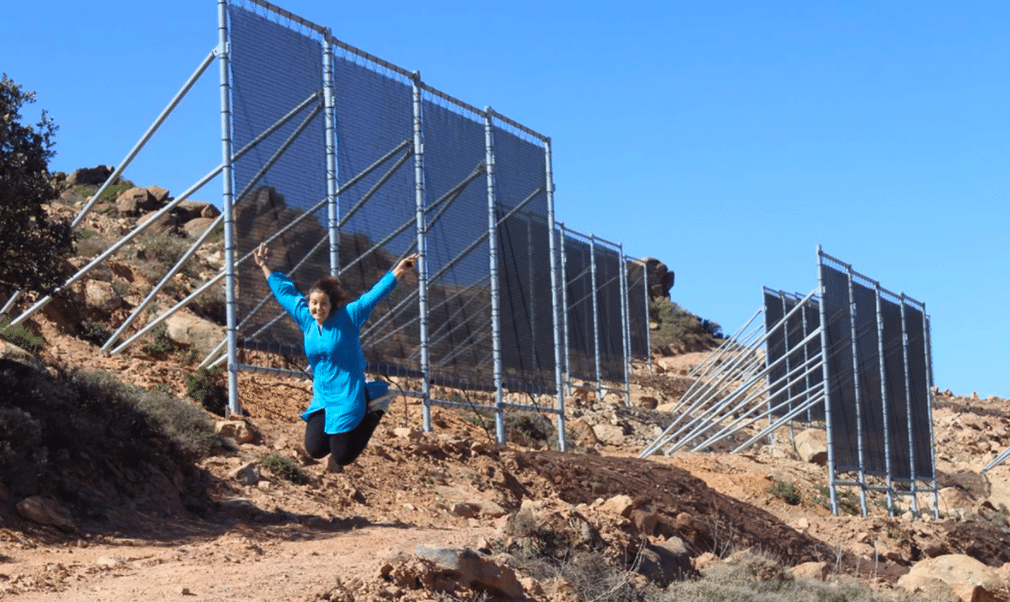 "That we were able to have water available to the communities we service during the height of the pandemic was one of the things we were most proud of during 2020," says Jamila Bargach, PhD, Executive Director Dar Si Hmad for Development, Education and Culture (pictured below).
"Everyone had sufficient water to meet their hygiene needs related to the Covid-19, which was quite extraordinary. Heading into 2021 we plan to expand to another mountain to service 16 more villages," adds Jamila.
Jobs and knowledge aside, the benefits are infinitely more far-reaching. With the task of collecting water significantly reduced, these women are in a much stronger position to contribute positively to life within their community, whether it's as fog harvesters and managers themselves, raising livestock and growing food, or creating handicrafts. Perhaps most significant of all, it ensures their children, in particular girls, spend more time at school, which paves the way to a brighter future for all. 
As a blueprint for sustainable, humanitarian development in regions hard hit by water shortages, the CloudFishers offer unprecedented opportunities. 
"We are today in the throes of a radical upheaval to our environment, and every effort must be made to not only understand, but also imagine a future that works differently, a future that engages us not only as individuals, but as a group and a community," says Dar Si Hmad President, Aissa Derhem.
"Our region's ecosystem is incredibly rich, from the shores of the Atlantic Ocean to the Atlas Mountains and the plains teeming with life and beauty. We must act so that progress and technical advancement do not mean destruction of this wealth. Indeed, these forms of life and all their diversity are the only true wealth, and we are all obligated to protect and honour this ecosystem."
AtlasAction: To contribute, go to Dar Si Hmad's website.
Bio
Roving food and travel writer based in Fez, Morocco.
Project leader
Jamila Bargach, Executive Director, Dar Si Hmad for Development, Education and Culture
Partners
This project has been selected as part of MedFutures, a new content channel that maps the most innovative and inspiring solutions to the water and climate crisis in the Mediterranean and the people behind them. Atlas of the Future is excited to join forces with Aigües de Barcelona.
Support the Atlas
We want the Atlas of the Future media platform and our event to be available to everybody, everywhere for free – always. Fancy helping us spread stories of hope and optimism to create a better tomorrow? For those able, we'd be grateful for any donation.
Please support the Atlas here