Israel (Beit Yizhak)
The algae-based bio-company
Algaeing
not only produces dyes, their patented technology allows for the creation of coloured fibers, changing the way garments are pigmented from the inside out.
Renana Krebs spent years working in some of the most well known fashion houses. She saw first hand how detrimental the industry could be and vowed not to be an accomplice in such destruction. She knew "there had to be a better, more sustainable way to make fashion." After researching sustainability in adjacent industries, she noticed algae had a number of uses in cosmetics and food and wondered if it could also be used to create fibers and dyes. 
This is how Algaeing entered their fashion future. First, by combining the properties of algae with cellulose, Algaeing spins 100% biodegradable hued fibers. These fibers can then be knitted or woven into already-coloured textiles. Alternatively, textiles can be coloured with Algaeing's algae-based dye which uses 80% less water than traditional dyeing processes. 
According to Algaeing, using biodesign in the fashion industry will not only help curb pollution, it will stimulate and invigorate the industry and offer safer working conditions. They say customers will benefit from wearing nutrient-rich algae. Algae-based biofibers naturally release antioxidants, vitamins, and minerals which your skin absorbs, which could make the practice of garment wearing a holistic experience.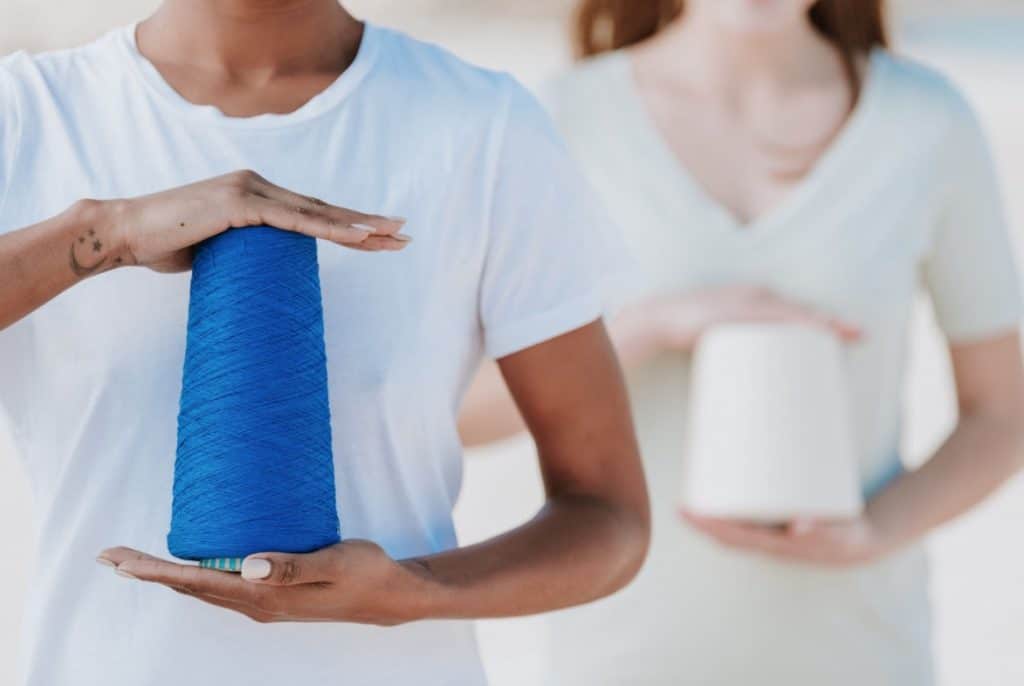 Renana is now challenging the barriers that prevent big fashion houses from reaching their sustainability goals. She notes a "disconnect between big brands and corporations that want to reach sustainability goals, and the innovative startups that offer the solutions to do so." After years in the fashion industry, she knows it is hard for large scale companies to shift business models. Her products are "ready to use so that big brands can manufacture easily." Making green products easy for companies to use is an often overlooked part of the battle of sustainability.
Renana is inspired by the amount of people asking questions about where their food comes from: What am I eating? Is it healthy? She hopes the conversations around biodesign cause people to start asking the same questions about their clothes. Who made my clothes? What material is it made of? Is it good for me? Is it being made in an honorable way?
These types of questions are "the only way to create a holistic shift within an entire industry",  she tells us. And she's not stopping there. Algaeing will soon be releasing The Good Mask, a three-layered face mask powered by algae with 98.2% filtration. Soon, you can experience the holistic benefits of algae on your face and your body.
AtlasAction: Discover here the unlimited potential of algae.
► Algaeing was mapped in Katrina Orsini's AtlasChart: 4 companies cleaning up colour
Bio
Lover of lipstick and leopard print. Design historian focusing on biodesign and speculative design. Uses her own apartment as a lab to try to replicate biodesign. Fails repeatedly.
Project leader
Renana Krebs, founder
Partners
This project has been selected as part of FashionFutures, a new  content channel that maps the work of people transforming the fashion sector: the designers, craftspeople, social innovators, educators, community leaders and communicators. Atlas of the Future is excited to partner with Makerversity, with the support of The J J Charitable Trust and their network of fashion friends.
Support the Atlas
We want the Atlas of the Future media platform and our event to be available to everybody, everywhere for free – always. Fancy helping us spread stories of hope and optimism to create a better tomorrow? For those able, we'd be grateful for any donation.
Please support the Atlas here