United States (New York)
Testing is not a motivator. But immersing yourself in a paper on civil movements,
a
climate change project or a fishy experiment can be. 
"Kids tend to be motivated by curiosity, something they are interested in or passionate about. Freedom from tests means you can go deeper and richer." – Ann Cook 
Two decades ago, a coalition of New York State public schools was founded on a simple belief… that instead of basing a kid's future on a few exams, there was a system that could reflect what they actually know and can do. Learning is complex and important, so assessment should be too.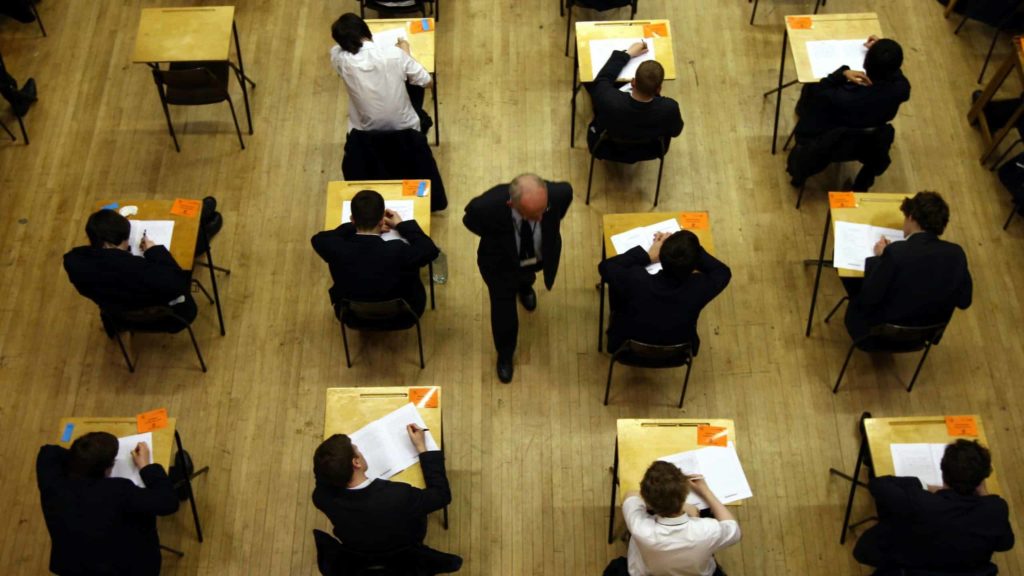 Since then, the New York Performance Standards Consortium has abolished standardised testing in 38 schools and initiated an alternative, nationally-recognised system of 'performance assessment', proving that test-takers can be transformed into active learners. 
Behind the NYC Consortium is exam-buster Ann Cook, who believes that "children are not test scores". Ann is a bit of an education badass, having also founded the Urban Academy High School, a public school in NYC known for a way of teaching that helps kids to develop their own perspective based on evidence.
Excitingly, she is also the author of three series of children's books, including the Monster Series, which is illustrated by the legendary Sir Quentin Blake. So Ann has been listening to schoolchildren since the seventies.  
The beginnings of the Consortium were formed in the mid-90s when the state education commissioner agreed to grant a waiver to a group of schools that had been using 'performance assessments' instead of the state's standardised Regents Exams, in four or five core high school subjects. Schools awarded diplomas to students who can demonstrate what they know and can do in the form of projects, papers, performances, experiments and experiences known as Performance-based Assessment Tasks, or PBATs.
All across the US, educators and parents have long decried the excessiveness of pre-packaged, top-down, standardised testing and the limitations it has placed on curriculum and school culture. Ann wants us all to be skeptical of this testing: "It is very important that we develop a different approach to accountability and assessment," she tells us. "Testing is limited and very much determined by zip codes, where you live and whether your parents have financial backing. Your resources determine to a great degree how you do on the tests, because students can get coaching."
She explains that high stake testing crowds out the opportunity for kids to pursue topics that they are really interested in. "I'm not talking about turning the curriculum over to the kids! But we don't need a paper and pencil test (or on a computer) to know if young people are learning. We can tell that by what students can talk and write about, and what questions they raise. That's much more likely to produce a positive educational system."
A dynamic education is win-win as students get a real chance to have proud ownership of their work and teachers learn more about their student's academic needs and can teach a more creative, socially just and culturally relevant curriculum. Meanwhile, students are more engaged and interested in their choice of deep dives – such as writing a paper on 'Why did the Civil Rights Movement happen when it did?' or conducting an experiment on 'The Effect of Tank Volume on Goldfish Growth'.
Ann stresses that going heavily into testing shuts down creativity, or even worse. "With standardised testing, if something like climate change is not important to the people making up the tests, it won't be taught and then kids won't be able to learn how to save the planet. You want people to question what people are doing to contribute to the destruction of the earth using all kinds of evidence and history and science."
She adds that the 2020 US election is a good example of how important it is that education does not ignore these things. "One of the reasons Biden was successful was young people. Biden is talking about issues like science to deal with the pandemic, treating immigrants in a way that is much more humane and these are all issues that concern young people." 
Today, nearly 30,000 students attend the Consortium's 38 public high schools in New York City, Rochester and Ithaca, and with strong results: a higher percentage of Consortium students are enrolling in colleges than students from other New York City public schools. 
But it is the success with the most vulnerable students that makes the outcomes of the New York Performance Standards Consortium so impressive. As a whole, Consortium schools serve a higher percentage of African American, Latino, English language learner, special needs and low income students than the city's public schools – and have a lower dropout rate than the city schools.
This opens up an institution-wide conversation about admission criteria, racial and economic equity and academic success worldwide. 
If we want to fix the future, kids really need to learn how to use their minds well. As we move into an unsettled time ahead, a collaborative culture, flexible education and nimble response can only be a good thing.
AtlasAction: Here is an example of some curriculum that is collaboratively developed by Consortium teachers, in an effort to teach better during the pandemic.
AtlasEvent ► Ann will be talking at 'Fixing the future: Education edition' on Thursday 19 November. Watch LIVE here.
Project leader
Ann Cook, Executive Director and Co-founder of the New York Performance Standards Consortium and the Urban Academy Laboratory High School
Support the Atlas
We want the Atlas of the Future media platform and our event to be available to everybody, everywhere for free – always. Fancy helping us spread stories of hope and optimism to create a better tomorrow? For those able, we'd be grateful for any donation.
Please support the Atlas here