United Kingdom (Brighton)
Described as "The Glastonbury of business" (minus the wellington boots, silent disco and huge clean-up operation), Meaning is an edgy one-day conference held in Brighton, UK that connects and inspires the people who believe in better business. 
Director Louise Ash explains: "At Meaning you'll find bold ideas from unexpected places. You'll find thinkers and do-ers from business, activism, academia and the arts. You'll find the pioneering purpose-driven businesses innovating to disrupt not only their sectors but whole systems."
The self-professed accidental ethical business geek is careful to always bring together speakers with unique stories to tell – because the boldest business innovators aren't always found in boardrooms or tech start-ups. "They're in street markets, prisons and refugee camps."
It's true that if we were to put together the ultimate 'dinner party' guest list that means business, it would read much like Meaning's lineups. This year includes Atif Choudhury. He co-founded Zaytoun, which uses trade, not aid, to enable Palestinian farmers to create a sustainable income from their olives. There'll be an appearance from the creators of 'The Map of Meaning' too. Marjolein Lips-Wiersma is a world-leading authority on meaningful work, having spent decades researching and working with people from all walks of life to discover what factors contribute to truly meaningful work lives.
Meaning participants will also be introduced to the concept of 'mental health first aid' by Poppy Jaman, one of the UK's greatest advocates for giving mental health an equal priority alongside physical health. Plus Helen Taylor, the CEO of the greenest football club in the world Forest Green Rovers will explain why she believes that putting values and purpose at the forefront of any organisation's agenda can lead to success, no matter the industry context.
Louise counts herself lucky that meeting her heroes is a perk of the job. "These pioneers are not just walking the talk" she adds. "They are living and breathing it in the most fundamental way; standing up to governments, rejecting the status quo, risking the bottom line for their principles, showing that it can be done. I find that incredibly inspiring."
In 2017 we discovered there is a company run by chocolate criminals, a unique retirement home where old and young live together and one of the UK's top schools was once its worst. Plus, renegade economist Kate Raworth blew everyone's minds with her break down of 'Doughnut Economics'.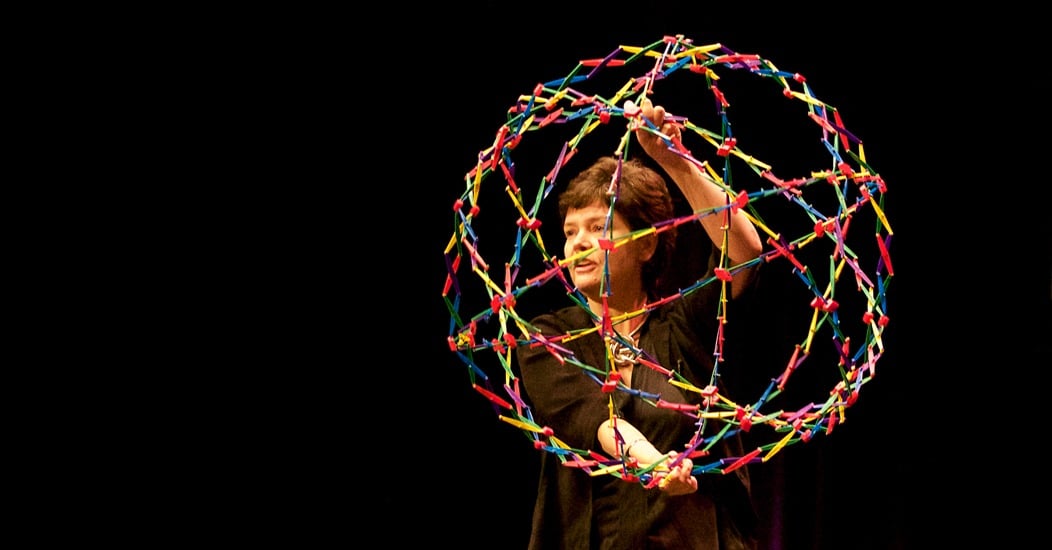 That year Louise collaborated with futurist, author and comedian Mark Stevenson. As the road to better business should always end in a good party, the 'after' was brought to you with his partner in bromance, sustainability guru Ed Gillespie. It included the Atlas Futurenauts' interactive cabaret show, 'Power, Death and Money'.
"Meaning Conference is like a live version of the Atlas for the business world," explains Mark. "It's a much needed meeting place and melting pot of ideas and people who understand that we can't save the future without business on board. It demonstrates that a better future is possible. Being surrounded by 400 enlightened business people is a cynicism smasher. The calendar would be much duller without Meaning as annual beacon of pragmatic optimism."
As well as a combination of inspiring speakers on the big stage, there are smaller groups gathered beyond the auditorium to go deeper into the big themes of the day. Meaning Fringe is a collection of smaller events happening in the hours and days either side of the big conference. Think workshops, walks, sea swims, meditations and house parties.
"There's more to Meaning than just turning up and listening." says Louise. "It's the community that makes Meaning special. All these opportunities to share our stories and learn from each other."
Meaning's ultimate purpose is to provide a gathering point for purpose-driven business innovators and to mainstream the ideas from the edges that will create change at the heart of business. This year it's taking place on Thursday 15 November at the Brighton Dome, Brighton, UK.  
AtlasVideo ► Hear from the people who came together to make Meaning 2017 in our meaningful three-minute video:
Buy tickets ► Don't miss this opportunity to meet your tribe
AtlasChart ► We asked Louise for five delicious projects with Meaning: featuring the most political food in the world and the real Willy Wonka
Watch  ► Our other event videos on the Atlas of the Future YouTube channel
Project leader
Louise Ash
Support the Atlas
We want the Atlas of the Future media platform and our event to be available to everybody, everywhere for free – always. Fancy helping us spread stories of hope and optimism to create a better tomorrow? For those able, we'd be grateful for any donation.
Please support the Atlas here