Uganda (Kampala)
A self-trained robotics engineer is sparking creativity and accelerating science learning in Africa – with a strong focus on rural regions and equitable inclusion for girls.
Assembling and programming a robot from scratch may come across as a strange concept to most pupils in elementary schools across Africa, but new generation is ready to take control of technologies at hand to build a different Uganda.
Science education in the East African country has been reduced to teaching enough theory to simply pass exams, but Solomon King is on a mission to foster STEM education in Africa by taking the technological process of building robotics into the classrooms of Uganda. He created Fundi Bots to create and inspire a new generation of students and innovators who are better prepared for careers in the technology sector and who can become changemakers in their communities. The technologist and businessman is changing the mindset of a generation of young students by inspiring them to build robots that can solve some of the immediate problems of society.
"We are empowering and challenging students to be forces of change in their communities and to use technology to create solutions for a better world." – Solomon King
The first robotics teaching programme in Uganda is designed around the national curriculum, introducing students to robotics and hands-on skills.
By showing students as young as six how robots can solve real-world problems, Fundi Bots enables them to learn the school science curriculum better, retaining more knowledge to pass better. The learning model inspires young people to develop a creative skill set they can apply to solve issues specific to their lives.
Solomon  has devoted his youth to building robotics and teaching students how to use them in learning Sciences in class, but he is more than determined to make a difference in the lives of these children.
The Fundi Bots School Outreach programme takes place across three main regions in Uganda and provides access to practical, modern technology concepts: physics, biology, engineering, mechanics and computing. The schedules are primarily determined by the school's timetable and includes speaker presentations, video presentations and study of real-world problems solved through robotics; hands-on robotics training; Fundi Bots Robotics Clubs, which mentors and trainers coming in once or twice a month, and Robotics Camps, which are an intense, hands-on learning experiences in STEM.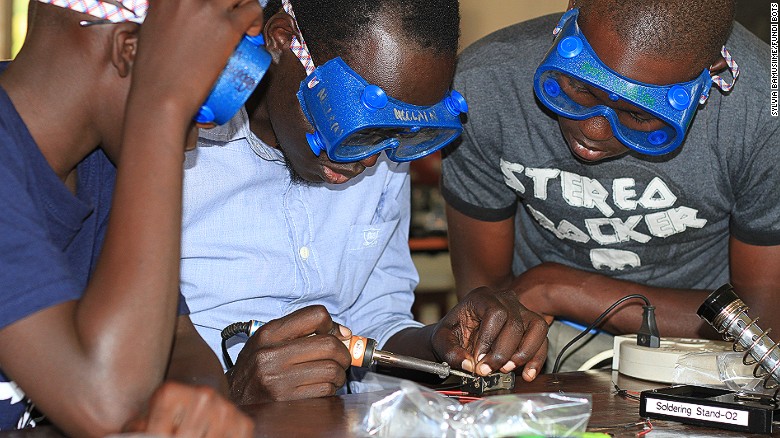 The Fundi Bots Integrated program is a version of their science curriculum that's deeply integrated within the official government or school curriculum. It addresses the same topics and subjects that the school is following, but adds more layers of practical lessons, projects and deeper immersion within the sciences. It becomes a core part of the school timetable during normal school hours.
The Fundi Bots After-School program acts as a special science club for students who are interested in pursuing science beyond the classroom. Alternatively, it's for parents who want their children to explore practical, hands-on science education beyond the standard curriculum material.
Fundi Bots has also created Fundi Girls for getting young girls into STEM. Most girls in Africa think that pursuing a career in STEM is for boys, but Fundi Girls is there to inspire them to become scientists or engineers, to provide equitable access to practical learning opportunities, career guidance and life skills to create the next generation of leading African female changemakers.
"I always wanted to be an engineer as I was growing up. Sciences have always been my favourite. I ended up becoming a doctor", says Pearl Mugala, Fundi Bots Curriculum Lead.
Mary Helda Akongo, Fundi Girls Lead, believes that technology has the power to positively influence the social, political and economic development of women in Africa: "Girls CAN. We want girls to know that they can be anything they want to be. We are introducing them to the magical, fun and exciting world that is STEM. Whether they choose to do sciences or not is really up to them, what matters is that they have the choices, believe in themselves, know that whatever they choose to do, they CAN," says Mary.
Fundi Bots is certainly improving the overall quality of STEM education in African schools, accelerating innovation so that youth can improve their communities and countries.
AtlasAction: Contact Fundi Bots here and sign up for the Fundi Girls monthly newsletter to receive information about the latest opportunities, fun and educative quizzes, event news from Fundi Girls or Women in STEM-related activities.
Project leader
Solomon King, Founder
Support the Atlas
We want the Atlas of the Future media platform and our event to be available to everybody, everywhere for free – always. Fancy helping us spread stories of hope and optimism to create a better tomorrow? For those able, we'd be grateful for any donation.
Please support the Atlas here