United Kingdom (London)
Do you know who made your clothes; who grew the cotton, spun the threads, dyed the fabric and sewed them together?
Two fashion entrepreneurs are making sure you ask those very questions by bringing the hidden people behind what we wear into the public eye.
Carry Somers and Orsola de Castro are responsible for the world's largest fashion activism movement. Today, Fashion Revolution throws light on fast fashion from Bolivia to Haiti in over 90 countries as people ask difficult questions and campaign to stop bad practices. 
"Fashion Revolution has the solutions. We can engage you with your wardrobes, with your principles, with your gut feelings and show you something you can do." – Orsola de Castro
Yes, fashion and ethics can go hand in hand.
The co-founders (pictured below) were inspired to act after the deadliest garment factory accident in history on 24 April 2013. In the Rana Plaza catastrophe in Dhaka, Bangladesh, 1,134 people were killed and 2,500 injured when, despite warnings, the building collapsed. They were working for familiar global fashion brands.  Seven years on from the factory collapse, human rights abuses, modern slavery and environmental degradation remain rife within the industry. 
To mark the disaster's first anniversary, in 2014 the duo sparked thousands of people worldwide taking to the streets for Fashion Revolution Day, wearing their clothes inside out and asking 'Who made my clothes?'
Now with an entire week dedicated to Fashion Revolution, each year the pair works seamlessly to reach more people, as brands, retailers and governments are asked pivotal questions: "We need to re-establish the broken connections in the supply chain," they say, "because greater transparency is a prerequisite to improving conditions."
"We love fashion. But we don't want our clothes to exploit people or destroy our planet. We demand radical, revolutionary change."
2016 was the first majorly successful year for Fashion Revolution in terms of their work to encourage the fashion industry towards greater transparency. During Fashion Revolution Week (which takes place every April), over 70,000 fashion lovers around the world asked brands #whomademyclothes and they saw an increasing number of brands connect with their customers by telling stories about their makers and materials.
2020 sees Fashion Revolution Week move online, as the coronavirus pandemic amplifies the fashion industry's broken model of extreme waste and overproduction, bringing into question the way the entire system works.
The Covid-19 crisis has led to major brands and retailers shutting up shop and cancelling supplier payments and orders, without taking responsibility for the workers in their supply chains who mostly lack sick pay, paid leave, adequate health care and have no savings to fall back on.
Meanwhile, Fashion Revolution's Fashion Transparency Index – now in it's fifth edition – is their biggest to date, ranking 250 of the biggest global fashion brands and retailers on what information they are sharing publicly about their social and environmental policies, processes, practices and performance. It shows where there is more work to be done, especially when it comes to approaches to preventing micro-plastic pollution.
The 2020 report found that while brands are increasingly disclosing their policies and commitments on environmental and social issues, ten brands scored zero. The H&M Group, C&A, Adidas/Reebok, Esprit, Marks & Spencer and Patagonia are the world's most transparent major fashion brands. (In case you're wondering: Max Mara, Pepe Jeans and Tom Ford are some who fall flat.) Note that it is not an examination of how ethical or sustainable the brands are, but their transparency.
"In the midst of this pandemic, the need for citizens to hold brands and retailers to account is more pressing than ever before," adds Carry. "Over the past weeks, we have seen the devastating impact of brands' buying practices on some of the most vulnerable workers overseas. Now, more than ever, we need to keep asking #whomademyclothes and hold these brands, many of whom have made immense profits in recent years, to account for their actions."
Whilst people are in isolation, they are more able and willing than ever to join the online community of fashion revolutionaries and amplify their voices by speaking up together. A new hashtag has also been launched for Fashion Revolution Week: #WhatsInMyClothes?
"With changes to its systems and structures, the fashion industry has the potential to provide millions of people with decent and dignified livelihoods and conserve and restore our living planet."
As an amazing one in six people worldwide work in fashion, the impact has been staggering. Governments are paying attention as responsibility in garment supply chains moves up the regional and international agenda. The hope is to see the EU adopt a similar piece of legislation to the UK's Modern Slavery Bill, which holds to account businesses that subject workers to enslavement. A tragedy like Rana Plaza never need happen again.
Since 2017, Fashion Revolution Week has included Fashion Open Studio: an online showcase of designers and other trailblazers who are transforming the world of fashion for good. The world is invited to step into the studios of designers and makers who are prioritising transparency and longevity in their creations. 2021's Fashion Open Studio will digitally showcase 60 designers across 20 countries, including Community Clothing and About A Worker. Attendees will have the chance to discover the details of experts' design processes, connect with good people and great ideas, and even learn how to turn waste into a work of art. 
On 20 April Fashion Open Studios and Atlas of the Future are hosting an event on the future of fashion media: a chance to hear and meet speakers including Brynn Heminway, founder/creative director, Display Copy Magazine; Terna Jogo, photographer/fashion editor, GUAP Magazine; Daniel Peters, founder, Fashion Minority Report; and Cathy Runciman, co-founder, Atlas of the Future.
AtlasAction:  There are many ways you can be a Fashion Revolutionary. Learn how to get involved and use your voice and power to make positive change.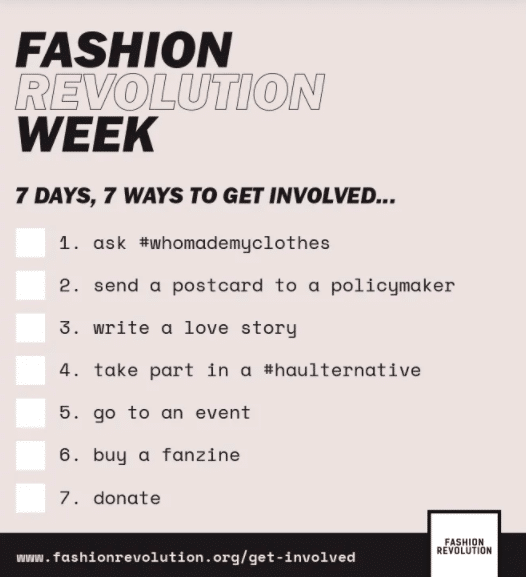 More from the Atlas: Read Carry and Orsola's AtlasChart Top 5 journey through the their favourite projects from Ireland to Bangladesh.
Project leader
Carry Somers and Orsola de Castro, Co-founders
Support the Atlas
We want the Atlas of the Future media platform and our event to be available to everybody, everywhere for free – always. Fancy helping us spread stories of hope and optimism to create a better tomorrow? For those able, we'd be grateful for any donation.
Please support the Atlas here