Tunisia (Tunis)
A new meeting place is weaving a culture of cycling into the fabric of everyday life in Tunisia – with women cyclists challenging gender norms.
"Riding a bike is still an unfulfilled childhood dream for so many people in Tunisia."
While the lavish palaces Dar Hussein and Dar Lasram speak of Tunis' glorious past, the slightly humbler Dar El Bisklette (Bicycle House) offers a window into the city's greener future. Located Downtown, this hub for bike enthusiasts is just one of the initiatives run by nonprofit Vélorution Tunisie – because the struggle against pollution and climate change is real.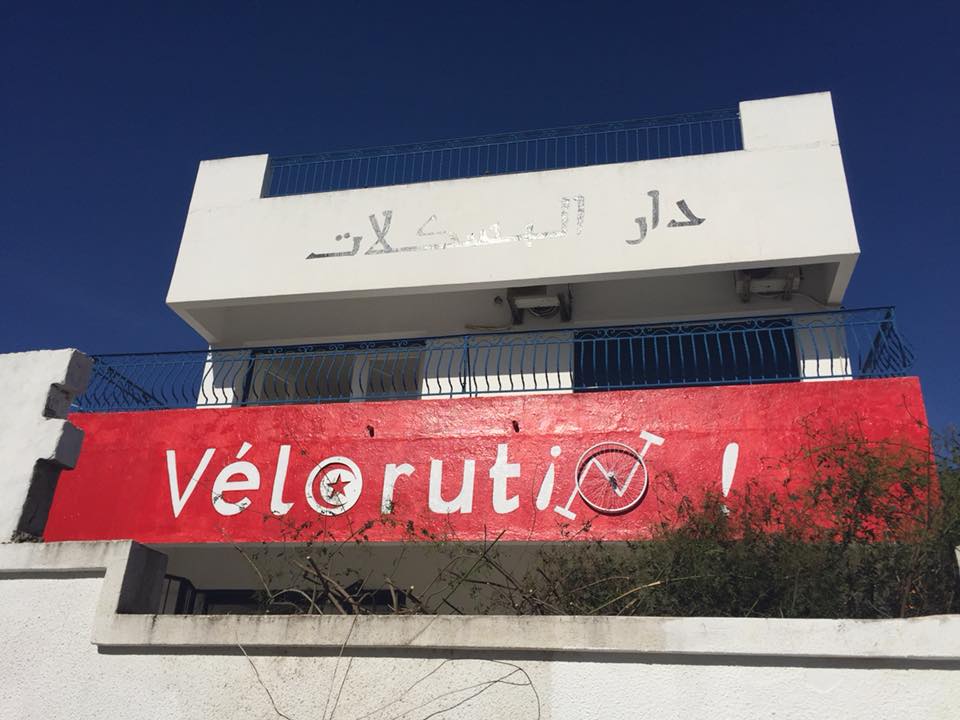 Since 2017, Vélorution Tunisie has been raising awareness about cycling's benefits to the public by staging Critical Mass protest rides and petitioning local authorities to protect cyclists on Tunisia's chaotic roads. The response has been overwhelmingly positive, from the country's tightly packed alleys to the government's corridors of power.
The organisation was created just after the democratic revolution that overthrew dictator Ben Ali in January 2011. Unfortunately, after some group outings, the association came to a standstill. But in 2017 a new group took over and relaunched Vélorution Tunisie, which now has hundreds of members.
Tunis' long list of transport failures loomed over them. "Moving around the city should not be a daily challenge, or even torture," said Stephanie Pouessel, co-founder of Vélorution Tunisie. "But we Tunisians are overwhelmed by traffic jams, with their noise and harmful pollution." Science backs up these observations — decades of rapid urbanisation has increased traffic congestion across Tunisia's major cities, spewing unsustainable amounts of gas pollutants into the air. This destructive trend will continue until urban Tunisians have a viable alternative to car travel.
Vélorution Tunisie protests Tunis' woeful infrastructure for cyclists and pedestrians by holding monthly Critical Mass demonstrations. During these events, large groups of cyclists ride down a city's main streets together, providing each other with "safety in numbers" from cars and other motor vehicles. Stephanie was pleasantly surprised by the public's reaction to Tunisia's first Critical Mass rallies. "As soon as we launched the movement, literally hundreds and hundreds of Tunisians joined us," she remembered proudly. "It was truly amazing!"
Since then, Vélorution Tunisie has channelled this excitement into a dizzying array of projects that promote cycling. A bike school opened up, which has already taught more than 500 Tunisians how to ride bicycles. Dar El Bisklette provides a headquarters for Tunis' cyclists to meet up, store their bikes, and get running repairs.
Several initiatives directly involve public authorities to ensure that Vélorution Tunisie's activities have a lasting impact. The team is working with l'Ariana municipality to design a 2.5 kilometre bicycle path around the Tunis neighbourhood. Volunteers are also running outreach programs in high schools across the country, showing young Tunisians how to ride — and why riding is a good idea.
For its large-scale projects, Vélorution Tunisie has received funding from UNDP, the Institut Français de Tunis, the Goethe Institut, and the Canada Fund for Local Initiatives. The team already generates income from bicycle tours and riding lessons, while other business ventures for Vélorution Tunisie remain in the pipeline for now. All profits, of course, are re-invested into the group's cycling advocacy projects.
Financial gain does not enter the equation for the passionate members of Vélorution Tunisie. According to Stephanie, the greatest reward is witnessing how cycling can expand people's range of possibilities. With support from Vélorution Tunisie, a group of disadvantaged youth have adopted a "cycling way of life," offering cycling and road safety lessons. Increasing numbers of women can now avoid harassment on public transport by traveling around on two wheels.
For many others, an introduction to cycling may not be quite so transformative, but it is incredibly satisfying nonetheless. Stephanie remarks: "One of the things that we have learned is that riding a bike is still an unfulfilled childhood dream for so many people in Tunisia."
While the pandemic offered a welcome boon to the Velorution movement, maintaining forward momentum will remain a challenge in 2021.
AtlasAction: Learn more about Vélorution Tunisie through the website, Facebook and Instagram.
Bio
David Wood is a freelance writer and researcher based in Beirut. He previously worked in Cairo.
Project leader
Stéphanie Pouessel, Mahmoud Ben Moussa, Bochra Mensi, Oussama Tangara & Antoine Tissier
Support the Atlas
We want the Atlas of the Future media platform and our event to be available to everybody, everywhere for free – always. Fancy helping us spread stories of hope and optimism to create a better tomorrow? For those able, we'd be grateful for any donation.
Please support the Atlas here