United States (Los Angeles)
"In the 20th century, we learned to read, so we could read to learn. Now, we're learning to make so we can make to learn. The problems we'll have in the future can't even be imagined today. In order to solve them, the next generation is going to have to work together and think creatively." – Brent Bushnell
A self-professed "big band of nerds" from a Los Angeles-based experiential entertainment company has created the world's first 'micro-amusement park'. Call it a theme park on acid, a 21st-century carnival painted with pixels or a thrilling techie entertainment utopia, there's nothing 'micro' about this 37,000 square foot immersive VR park in the DTLA Arts District. 
Having opened in September 2018, Two Bit Circus Micro-Amusement Park is blowing people's minds, 800 thrill-seekers at a time. Forget the arcades, roller coasters and saccharine theme parks of yesteryear, this brand new type of social play space may just be the future of fun.
"We're smashing together everything we love about old school carnival games, circus performance, vintage video games, arcades and future-tech to create a place where people can get together and have elbow-to-elbow fun," Circus CEO and co-founder Brent Bushnell tells us.
With sets fit for Hollywood, the trippy park boasts 21st-century immersive social games, high production value escape rooms called Story Rooms, high-tech interactive theatre with touchscreens, live interactive game shows, collaborative puzzle cracking, multi-player VR arcades and free roam VR, a steampunk carnival midway, flirty robot bartender, interactive game shows and theatre productions with secret rooms and rewards. There are hidden 'Easter eggs', interactive elements, like a bubble gum machine that dispenses clues. Now it's feeling very Ready Player One.
"Behind-the-scenes is a gaming platform meant to bring all kinds of concepts into reality, virtual or otherwise. With this, we're getting people out of the traditional acceptance of passive entertainment and putting them in the middle of the action."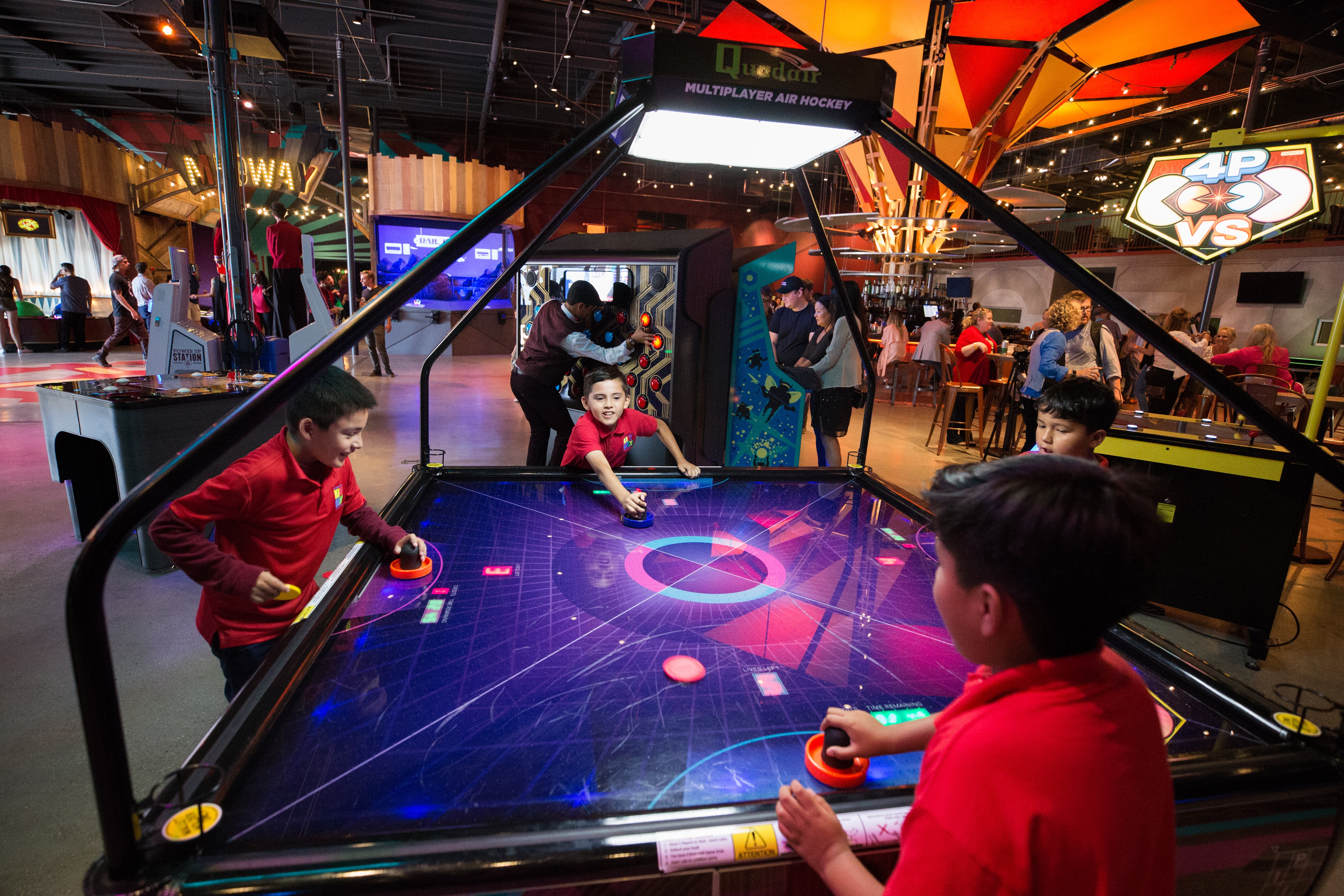 Brent is the son of Atari and Chuck E. Cheese founder Nolan Bushnell. Last year we chatted with his father about his love of theme parks at Warner Brothers Studios in Los Angeles, but that's another adventure story. Just know that Brent comes from gaming royalty. And that he rocks 3D printed bow ties.
Two Bit Circus's flagship high tech attraction is the brainchild of Brent and 'mad inventor' Eric Gradman, who created STEAM Carnival to inspire kids about science, technology, engineering, art and math. He can list circus performer, roboticist, clown, aerialist, acrobat, fire dancer and even professional whistler on his CV. 
The playful pair met a decade ago while working together at Syyn Labs, an art and engineering collective that specialised in fantastic creations like the epic Rube Goldberg machine in OK Go's 'This Too Shall Pass' music video. And they're not clowning around. They are motivated by the power of group games and interactive media to bring people together in fun and meaningful ways.
"Eric and I were both engineers, and around 2008 we were also both pretty frustrated with our jobs. This was a really special time for tech, because it was becoming readily available and way easier to use. So we'd meet up at a loft in the Brewery Arts District of LA and build things on nights and weekends. We started bringing our creations (light boards, robots, interactive art) to parties and things like that just to see how people interacted with them. Eventually the events got bigger and bigger until one day, we had our own. And now we've made that into a permanent park, which we can hopefully build off and replicate all over the country."
Two Bit Circus was founded originally in 2012 to create experiential marketing that combines virtual reality and physical elements in pieces for the NBA, the Super Bowl and brands like Intel. "Experience is a currency of its own today and traditional forms of media are very passive," Brent explains. "We wanted to change that. We wanted to make you part of the story, to put you in there and see what you do, how you interact with the storyline."
"We take old school and throw pixels at it." – Eric Gradman
The Micro-Amusement Park is designed to get people playing side-by-side, with a reason to come back. It's free. You can walk in and just watch people play, grab a board game and a cocktail from a robot that bleeps away mixing drinks with dry ice, liquid nitrogen and fire. You can come in here a hundred times and have a hundred different experiences.
Bringing people together is what gives Brent joy. "Our games are made to get friends and strangers having fun and interacting in real life. The last real progression in immersive entertainment was laser tag and, don't get me wrong, I LOVE laser tag, but people want more! There is nothing more immersive than real life. Bringing the future of fun to people is the most rewarding part for me."
The park is built as an ecosystem of constantly-rotating content, coming from developers, creators, storytellers and artists from all over. Next, they want to open a 'Secret Inventor's Lab' to cultivate creators, so it works as a platform for third-party developers – to give them a way to test and market their interactive products.
Meanwhile, their nonprofit, Two Bit Circus Foundation, aims to provide access to STEAM education for youths across the country. "Through our foundation, as well as through the park, we're trying to encourage people to create, to interact with society and to have fun by providing access to the tools, spaces and mentors who will help. To create a more meaningful future, you just have to go out and make it. Whether that means making new friends or making new technology is up to you."
Brent stresses that it's important to connect the arts and sciences. "Only focusing on technology is intimidating. There is an aura around it that makes it seem very complicated and boring – almost impossible to understand. But when you bring in art, it becomes one gigantic sea of possibilities." That's why they are big proponents of transforming STEM to STEAM.
"Incorporating the arts is a big step and invites a much wider array of people to participate. Bringing down this barrier is a great way to encourage both creativity and logical skills. And when those two skills are combined, you usually get some pretty amazing results." Like a circus.
AtlasAction: Run away and join Two Bit Circus! They're open to any fun collaborators: "That chemistry, built from creative networking, can be truly inspiring and powerful."
Two Bit Circus was chosen to be part of #CultureFutures by Beakerhead: the world's greatest arts-science smash-up. 'Pay it forward' by submitting project that give you joy here.
Project leader
Brent Bushnell and Eric Gradman
Support the Atlas
We want the Atlas of the Future media platform and our event to be available to everybody, everywhere for free – always. Fancy helping us spread stories of hope and optimism to create a better tomorrow? For those able, we'd be grateful for any donation.
Please support the Atlas here