Brazil (Poá)
The non-profit Social Skate gets social change rolling on skateboards for vulnerable children and young adults.
In the 1980s, skateboarding was considered a sport for troublemakers in Brazil, and at some point, it even became illegal in São Paulo. Fortunately, things have changed and now it's not only a popular activity but an opportunity for young people considered at-risk to roll out of trouble.
In a city with high crime rates and few free leisure opportunities, former skate pro Sandro Soares 'Testinha' and his wife Leila Vieira dos Santos decided to offer kids the chance to get into skateboarding and out of vulnerable situations. Together, in 2011 they founded Social Skate, a non-profit based in São Paulo's Poá which gives free skateboarding lessons to about 150 kids between the ages of 4 and 17, using the sport as a tool for inclusion.
Besides skating, Sandro — who worked as a social worker in juvenile detention centres before starting Social Skate — and education specialist Leila also teach values such as respect and personal responsibility, teamwork, discipline and self-confidence.
"It's so much better to prevent kids from going down the wrong path from an early age instead of starting when they're already in jail."
Classes are run in an old play area in the Calmon Viana neighbourhood, a place that used to be a drug spot. To be able to settle in, Sandro had to negotiate with local dealers who eventually agreed to leave the space to the non-profit. "I offered them free skateboarding lessons for their children. I guess that's what convinced them", said the skater.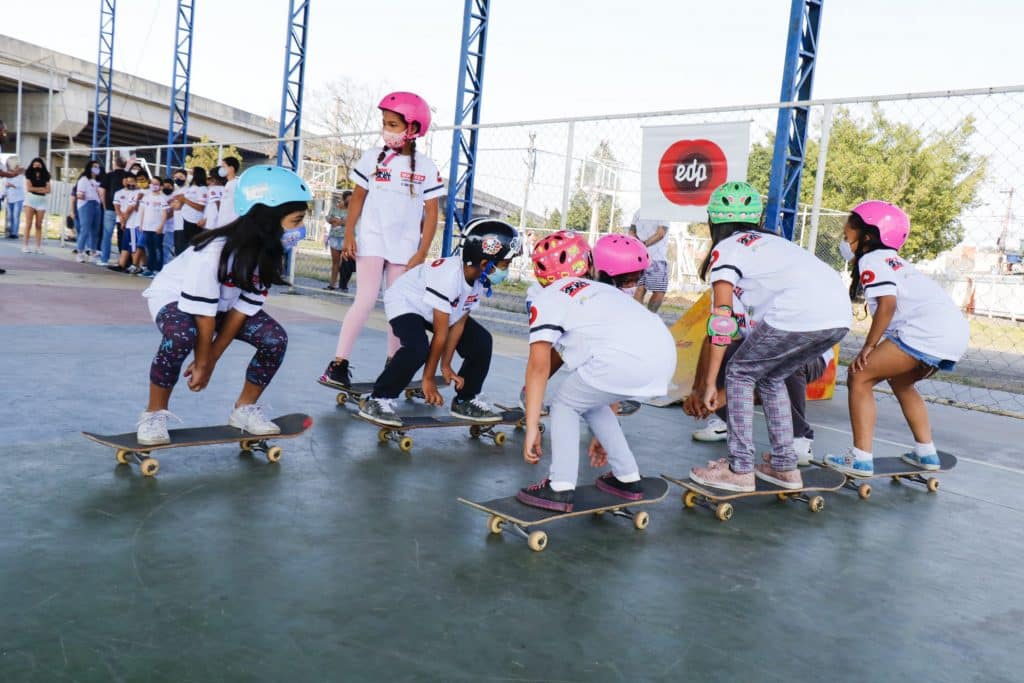 Until recently, skating was considered an activity for boys and there were few role models to inspire young girls to go out and enjoy the sport. That's finally changing also thanks to athletes like Brazilian Rayssa Leal who snatched a silver medal at the 2020 Tokyo Olympics. 
Every Wednesday, Social Skate runs sessions that cater exclusively to girls. Many show up attracted by Rayssa's popularity, eager to follow in her footsteps. And when she received the International Visa Award for her display of sportsmanship, she decided to give the $50,000 donation prize to Social Skate so that the organisation could "keep transforming the lives of boys and girls through skateboarding."
Social Skate's commitment to social transformation is clear. Some learners have now become instructors and others went on to university. During the long pandemic months, Social Skate volunteers delivered food and facemasks around the neighbourhood and rolled out stories of hope on social media. In June 2021, in-person training sessions resumed and a new project was launched: a community garden to teach local kids how to take care of the environment.
According to the Abrinq Foundation, 45.5% of Brazilians under the age of 14 live in poverty and the public sector rarely manages to reach them. That's why Sandro thinks that Brazilian NGOs need to take over and offer services that would otherwise be a government responsibility. With Social Skate, 'Testinha' has already helped over 4 thousand children and he intends to keep skating with them "until I'm old."
AtlasAction: You can check out the Social Skate website for more information and help the kids of São Paulo with a donation.
Project leader
Sandro Soares 'Testinha' and Leila Vieira dos Santos
Support the Atlas
We want the Atlas of the Future media platform and our event to be available to everybody, everywhere for free – always. Fancy helping us spread stories of hope and optimism to create a better tomorrow? For those able, we'd be grateful for any donation.
Please support the Atlas here