Catalonia (Barcelona)
This art collective serves society through the revival of inner city spaces and creates community spirit reflected in urban art.
"Each person has something special amongst us. When we're together… it increases everyone's inspiration. You can be inspired by your friend, and your friend can be inspired by you, so together you're going to do something extraordinary."  – El Hadj Bailo Bah
El Hadj is describing his experience as a participant in a project run by Rebobinart – an organisation dedicated to using public spaces and urban art for the social and cultural revitalisation of areas. Marc Garcia, its founder, explains that what is innovative about the project is "that the artistic intervention is not the goal but the consequence. Through our projects we seek to resolve a conflict, a social situation or a failure of the value system." El Hadj had taken part in 'Arte Urbano', a course for unemployed young people – often without papers – with creative flair and an interest in the arts.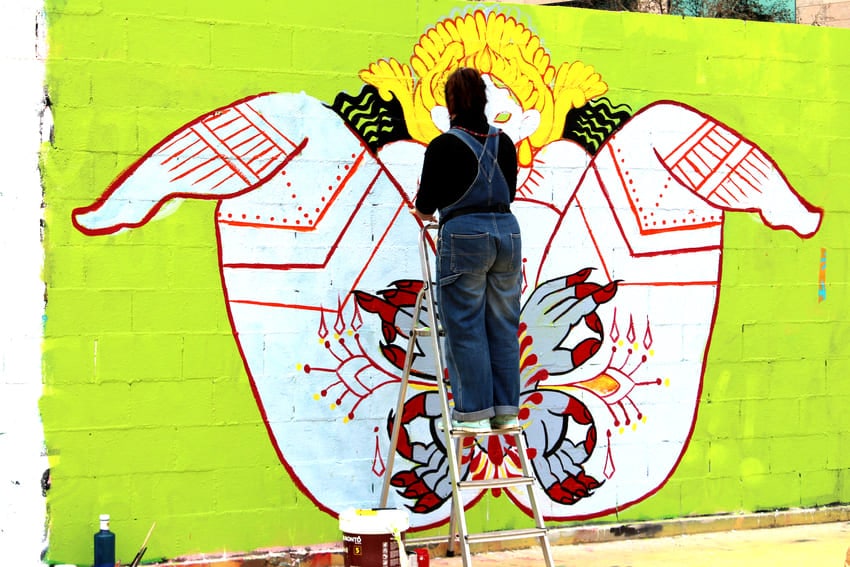 The Rebobinart team trained them to become urban artists in their own right. They also provided Spanish language classes and jobseeker training, teaching participants how to write CVs and prepare for interviews. The aim was to give them the tools to become commercial artists – and at the end of the course, Rebobinart reached out to business owners and secured jobs painting the shutters of store fronts. 
Otoxo Productions chronicled the participants' journey in their documentary Nuestro Muro. Moussi (another artist who took part) describes how important art can be for others like her: "I forget everything because I am happy… it's a very important thing because it helps obliterate your problems and your situation. You pay full attention to what you are doing – it helps you dream more."
These young artists were able to experiment with their new skills in Parc de las Tres Ximeneies – named for the three large chimney towers (remnants of an old power plant) that loom over a uniquely designed park created in 1995. This mostly concrete space has large walls, raised platforms, and a stage for electronic, hip hop, and break dance performances. Locals, renowned artists, and travellers from all over the world come to paint on these walls. This square of land in the Poble Sec neighborhood is always bustling with painters and skateboarders, gliding around the park's curves and objects. The abundant street art makes the perfect backdrop to their films and photos. 
This area was the site of one of Rebobinart's first projects. Marc founded the organisation in 2012 with the goal of bringing value to urban spaces. At that time in Barcelona all artistic activity in public spaces was banned. Despite being a city well known for its street art, a law had been passed in 2006 that made any form of graffiti in public spaces illegal and subject to heavy fines. But Marc had a goal and through the use of street art, he wanted to revitalise areas with social messages and inspire community spirit. 
The same year the organisation was created, he worked with Barcelona City Council to create Murs Lliures (or "Free Walls") to create legal spaces for anyone to paint without having to look over their shoulder. The idea was conceived in 2011 by Marc and his brother, who at the time was racking up fines as a graffiti writer. While the laws created many obstacles, they were an impetus for Marc: "The fundamental difference of Rebobinart is that we did not give up in the face of the refusals and difficulties that arose with the public administration. We have a tireless intensity for creating, reformulating and adapting urban art projects to the local reality."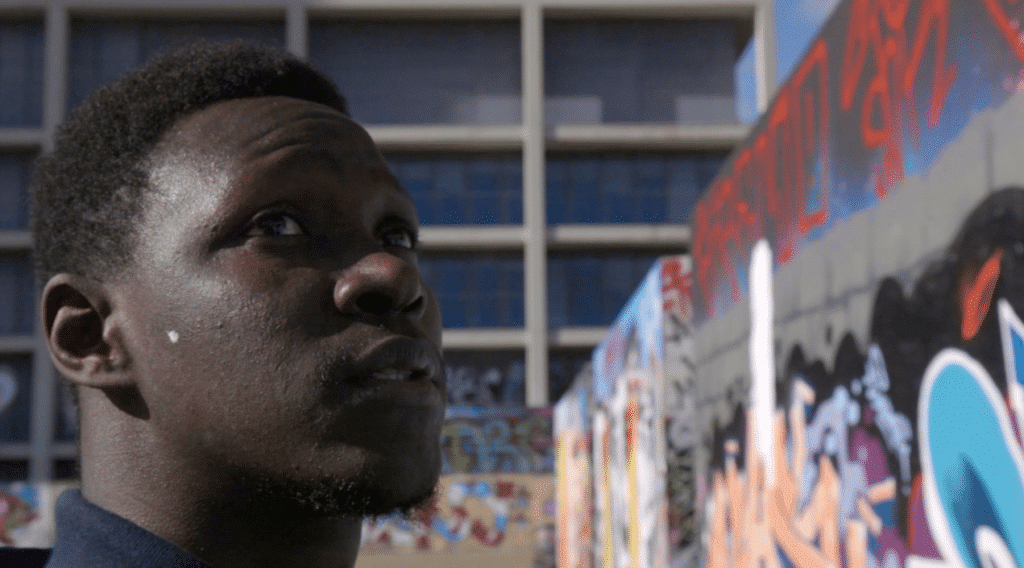 Murs Lliures has spread to over 20 countries including the Philippines, Netherlands and Canada, launched in Madrid in 2020, and has more than 8,000 active users worldwide. Rebobinart manages the walls through the web platform and app they developed called Wallspot. "It started as an online system for the management of legal walls," explains Marc, "and has ended up becoming a system for promoting and accelerating urban artists."
He emphasises just how important access to space is: "Free walls are where the urban artists of the future are created and where all muralists and writers are equal. In most cities, there is only curated urban art or permanent muralism. The Free Walls project is the only free and egalitarian formula for urban art."
Rebobinart's reach today is extensive. They are making intergenerational community murals where local citizens, young and old, create one unified piece – such as 'Face the City', where participants painted the faces of residents on the Can Vidalet market shutters. Rebobinart also puts on the festival Ús Barcelona, to revamp unused spaces. The last edition, in 2018, took place at the historic La Model prison with over 20,000 attendees. The festival has been one of Marc's greatest joys and challenges: "Generating an itinerant festival like Ús Barcelona for 5 years, in spaces without great visibility like Can Ricart or the Modelo prison, enriches me hugely, although inviting neighbours to enter a space and telling them its history through art is a challenge."
While working with an art form that some may describe as vandalism, social messaging and impact are at the heart of Rebobinart's mission. They've organised events and murals to raise awareness about mental illness, violence against women, and the plight of refugees. Womart is a project that acknowledges female talent in the visual arts, especially in urban art. "It makes me happy to see how the women of the Rebobinart team are leading this project", Marc adds. With the creation of legal walls, such as Murs Lliures, and spaces dedicated to women artists, participation from women has increased from one to ten percent over the nine years the project has been running.
Marc and his team show no signs of slowing down. For the future, they want to continue improving the situation for this art form in Barcelona and expand their projects across Spain. "What matters is not only the final picture, but for the project to speak with a very loud voice."
AtlasAction: Support local talent! Buy prints and art from small artists every month to create a sustainable culture. If you're an artist, check out your options for creativity at Wallspot. For project concepts and collaborations, contact Rebobinart.
Bio
Avid traveler, relentless reader and explorer. Freelance writer and filmmaker filled with curiosity and passion for the world around her. Often found trying to learn something new or creating projects.
Project leader
Marc Garcia, Founder
Support the Atlas
We want the Atlas of the Future media platform and our event to be available to everybody, everywhere for free – always. Fancy helping us spread stories of hope and optimism to create a better tomorrow? For those able, we'd be grateful for any donation.
Please support the Atlas here