Nigeria (Lagos)
These dolls outsell Barbie in Nigeria and so they should. The colourful Queens of Africa help young African girls embrace their heritage.
When Lagos-based entrepreneur and philanthropist Taofick Okoya (pictured below) couldn't find a doll that resembled his daughter, he decided to do something about it.
Taofick was inspired to create the Queens Of Africa dolls in 2007, after observing his daughter play with the fair and impossibly thin Barbies that dominate markets across the globe. It opened his eyes to the fact that all her dolls and favourite characters were white: "Looking in the mirror she didn't see the image she has as play tools or favourite characters.In a country as diverse as Nigeria, there wasn't a single doll that a Nigerian kid could relate to."
Today the extensive Queens of Africa range of body-confident role models come in various African ethnicities and with a vibrant variety of hairstyles from braids to afros. "It's a way of showing also that 'African' isn't just one look. We celebrate both skinny and curvaceous women."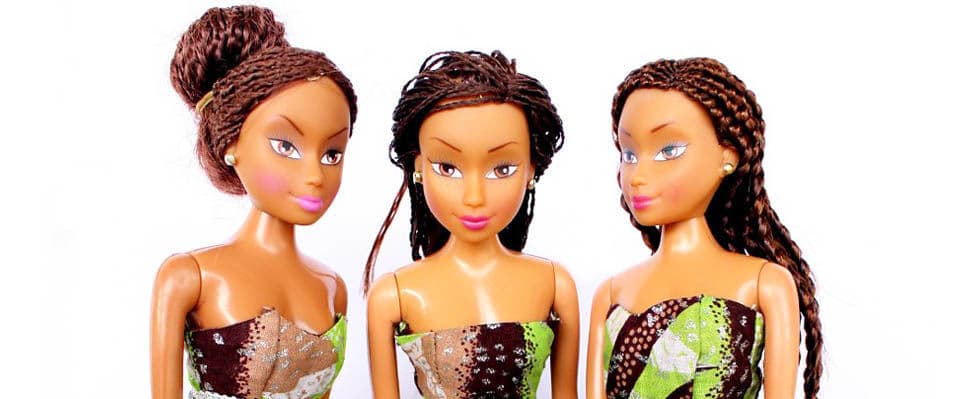 Some dolls represent the different tribes of Africa. There is Nneka (Igbo), Azeehah (Hausa) and Wuraola (Yoruba). The Ibo Princess, Chinyere is from the rich dense rainforest of the east; the Hausa Princess Aisha hails from the ancient palaces and kingdom of the Northern part of the Nigeria; and from the cocoa growing rich sun-kissed waters and beaches of the Southwest comes Yoruba Princess Temilola.
Taofick develops the looks every two years: "What is really frustrating is the generalisation that Africans all have to look a certain way or be a certain colour. That is stereotyping. There are slim Africans, plus-size Africans, dark Africans, fair skinned Africans, flat-nose Africans, and pointed-nose Africans. The responsibility to represent Africa in a doll or product is not an easy task. Our diversity and inclusion is one of our greatest attributes."
Taofick also empowers local communities by employing mothers, who braid the dolls' hair and create outfits for them.
With the motto, 'Empowering the African girl child', he has reached tens of thousands of children in Africa – through books, prints, dolls, comics, music and an animation series. The Queens have also rocked up in America, Europe and Australia.
AtlasAction: Own a Queen of Africa.
Project leader
Taofick Okoya, Founder
Support the Atlas
We want the Atlas of the Future media platform and our event to be available to everybody, everywhere for free – always. Fancy helping us spread stories of hope and optimism to create a better tomorrow? For those able, we'd be grateful for any donation.
Please support the Atlas here