Costa Rica (Amubri)
One face forward, another facing back: you're looking at Jirondai, the legendary shaman with two faces. He gives his name to the Jirondai Project, which brings together the past and future – by recording ancestral sounds with an 'electro-modern' twist.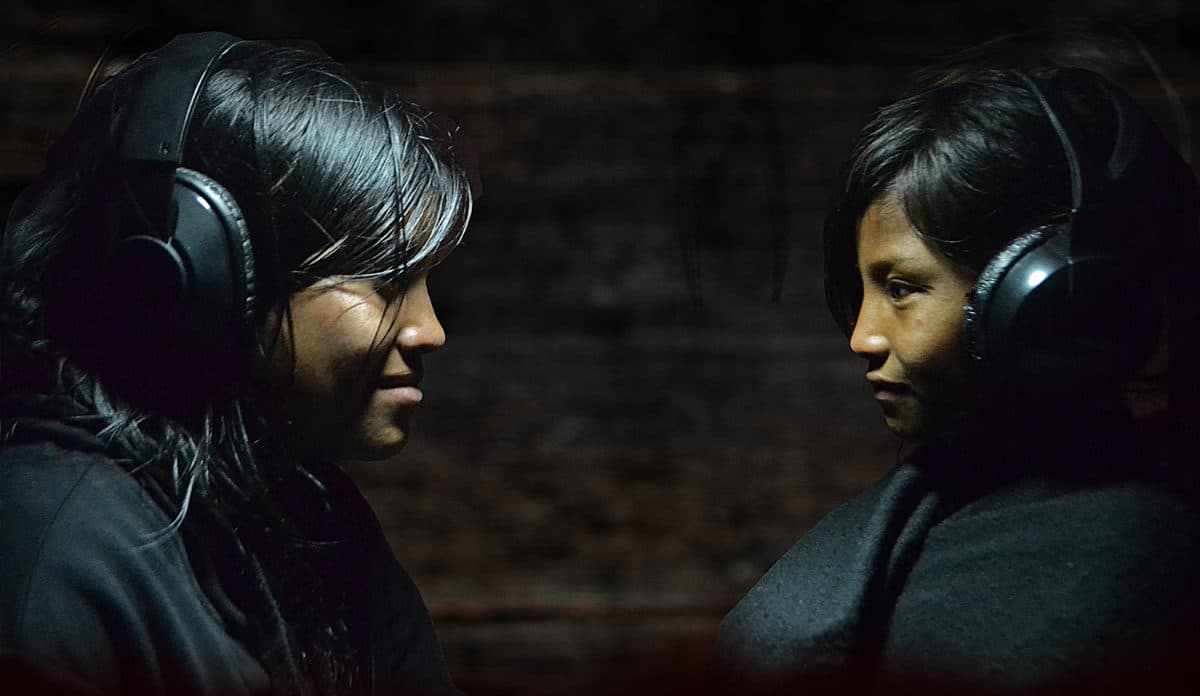 It's estimated that a native language is lost every two weeks. Jirondai Project exists to keep hold of languages – and the cultures they're part of – by preserving them in entrancing audiovisual recordings that ensure the sound of the present remains a thing of the future.
The project started in 2005 as a research study, after musician and journalist Luis Porras Mora left his home in Costa Rica to spend time in South Dakota. There, he met descendants of the Sioux and Pine Ridge community – prompting him to look more closely at his own heritage. He returned to his roots in Costa Rica to research the culture of indigenous communities whose future is under threat.
"Indigenous languages ​​will disappear in this century, according to UNESCO, if the people who know them cease to repeat them in the air every day. When a language disappears, we lose words and unique ideas – and with them, our potential success as a species. We need words to heal and understand."
Together with his friend Alexis Rodriguez, an indigenous Ngäbe-Buglé singer, he set out to find recordings, so they could be collected and compiled into a bank of cultural wisdom.
"We started visiting ethnologists, linguists and other researchers who had recorded audio from native languages – digitising, remastering and restoring audio clips, videos and photos that were analogue: open reel, cassette, slides, VHS and Hi8, etc. It was not easy to convince people of the urgency to preserve them. It took a lot of persistence."
But why dig out old recordings when new ones could be made? They quickly found that the speakers and singers from these cultures were keen to collaborate on brand new recordings with a different kind of sound. Luis and Alex worked with musicians and storytellers to blend traditional language and songs with synths and keyboards to create something altogether new and relevant.
"We wanted to create world fusion music. We knew it could open the sound and message from the ancient languages to contemporary audiences outside the anthropological or scientific communities."
Sourcing recording equipment from friends, Luis and Alex spent time with indigenous communities in the coastal areas of San Vito and Talamanca. They began recording their words and songs, their day-to-day life, and their natural environment, and mixed them with electronic sounds to create mesmerising immersive videos of traditional life and legend.
Watch ► "In the midst of this immense world, who dawns?" A Bribri song about women's pride:
With a growing network of musicians, sound technicians and cultural leaders, what was once a research project grew into its own cultural hub. Jirondai began putting on concerts and uploading their recordings to Bandcamp. So far, their hundreds of recordings and three albums capture eight different languages, and they have performed over 200 times. And thanks to a partnership with LEAF Community Arts – a nonprofit that works with teaching artists and culture keepers around the world – indigenous artists involved in Jirondai's work also perform at LEAF's biannual world music festival in North Carolina, USA.
Jirondai isn't only about protecting future cultural diversity, but about ecological biodiversity – because, Luis explains, they are one and the same:
"There is a relation between cultural diversity and biological diversity – several researchers have proven this. Usually the first nations to inhabit a territory develop rules to behave with their motherland, rules to preserve and keep balance, rules that come from their spiritual beliefs and have an impact on the way they see the planet as a living thing."
They now have three 'culture keepers' working with young people in communities across Costa Rica. A music school in Talamanca teaches children their Bribri heritage; a singer and researcher in the South works with children in public schools teaching Ngäbe music and mother tongue; and in the highlands of Chirripó a Cabécar elder teaches music and traditional medicine.
Also making strides across the generational divide is their newest partnership project, New Voices + Old Words (Nuevas Voces + Antiguas Palabras). Together with Cooperación Española, Jirondai are connecting young creators with their elders to create video, audio and photography from their encounters.
Watch ► New voices + old words = cool videos
With one of Jirondai's faces firmly on the future, it's no surprise that Luis and the team have big plans for what comes next. They're working on new ways for modern technology to unlock the richness of tradition – and their next stop will be a smartphone app that compiles recordings and teachings of languages, music and dance.
"Culture and creativity are the channels to build new opportunities to tell stories. We can use them as a strategy to build amps, or speakers, for different voices on several platforms. Indigenous people are born storytellers, and now we have the chance to see how important it is for these talented storytellers to use technology to amplify their voices."
AtlasAction: Buy the digital album, follow Jirondai on Facebook, or get in touch to volunteer with the project.
Bio
Nature-geek, urban forager and all-round wordy sort. Freelance strategist and copywriter for mission-driven organisations. Often found reading while walking.
Project leader
Luis Porras Mora
Support the Atlas
We want the Atlas of the Future media platform and our event to be available to everybody, everywhere for free – always. Fancy helping us spread stories of hope and optimism to create a better tomorrow? For those able, we'd be grateful for any donation.
Please support the Atlas here