United Kingdom (London)
Little Amal is a little girl on a BIG journey. The giant puppet of a nine-year-old Syrian girl is journeying across 8,000km across Europe to celebrate the contributions of refugees.
"Welcome refugees" or "Immigrants out": two polarised expressions in response to the movement of people in search of safety or opportunity, that form a backdrop to towns and cities across Europe and tell the tale of very different and highly politicised reactions to humanitarian need. 
But where politics often fails, art succeeds in connecting us with our shared humanity. One of the most profound examples of that is the work of Good Chance theatre company, started by British playwrights, Joe Robertson and Joe Murphy, who started by providing a space for connection, expression, creativity and love in 'The Jungle' unofficial refugee camp outside Calais, France. That 'Theatre of Hope', a dome erected in 2015 in the midst of the tents and makeshift shelters of the camp, brought together people across cultures to tell human stories through music, art and performance. 
Since then, Good Chance have erected domes from Coventry in the UK to Paris in France – and in 2021 a dome will be built in Tijuana, Mexico – and created multi-award winning productions, such as The Jungle, as well as forming a collective of artists for international collaboration, The Good Chance Ensemble. Now they're embarking on their most ambitious challenge yet.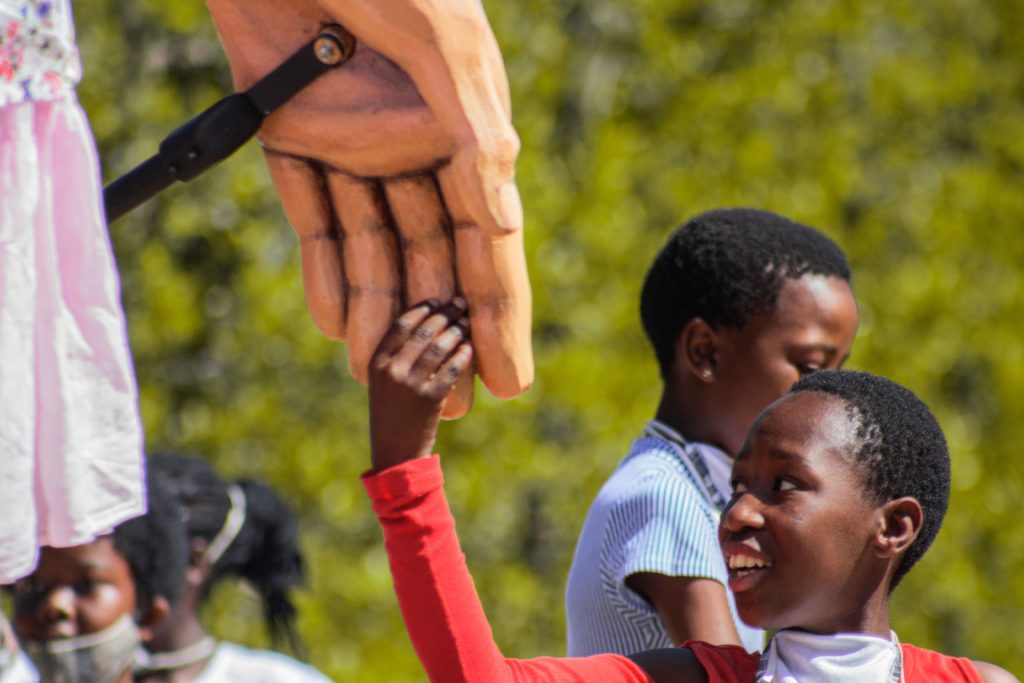 Meet Little Amal – a 9 year-old Syrian refugee, looking for her mother. She first appeared as a character in The Jungle, to represent the hundreds of unaccompanied minors in Calais. On her own in the camp and haphazardly looked after by other characters, she was a powerful presence in every scene she was in. She had just one line in the play: "School?", and now has a bigger story to tell. Naomi Webb, Good Chance's executive director explains more: "Only half of young refugees were in school before the Covid crisis, and the pandemic is threatening educational opportunities even further. We want to refocus attention on the urgent needs of young refugees, especially with regards to improving access to education, but also to highlight the potential of Little Amal and the millions like her". 
For a story that needed a larger stage and representation, what better, bolder or more beautiful way, therefore, to share Little Amal's story than with a 3.5m high puppet embarking on an 8,000 kilometre journey from the Syria-Turkey border to the UK. She sets off in Turkey on July 2021 and will arrive in the UK on November, passing through eight other countries en route. While her journey may be epic, and her voice represents all the world's displaced children, her message is simple: "Don't forget about us". Alongside this message, Little Amal (whose name means hope) is asking an urgent question: how would you welcome her? 
The Walk, as this vast artistic production and collaboration is called, is "an international arts festival meets endurance event" and a celebration of migration and cultural diversity that will tell the story of the contributions made by refugees and immigrants. As Little Amal passes through the cities, towns and villages on her route over the 12-week rolling festival, taking place between July and November 2021, more than 250 partners are taking part in over 100 events. On 8 August in Turkey, an installation by K2 Contemporary Art Center and young artists in Izmir, will weave a path of shoes through the city of Çeşme to the sea, to pay tribute to those who lost their lives crossing the Mediterranean. In Rome on 11 September, 'Amal's Night Visions' are imagined by Syrian artist Tammam Azzam, whose paintings of destroyed Syrian buildings will be projected onto local walls. On 24 October, in London, the Roundhouse will host a party for Amal's 10th birthday.
Her stops include Athens where she will leave a trail of red yarn as she explores the city's labyrinth of streets, and be joined by the people of Athens as they encounter and befriend the minotaur. In Paris, dozens of tents will form an outdoor art installation, each representing one of the many different places the world's refugees come from. From local primary schools and community groups to leading international artists and major cultural institutions, a vast panoply of activity will greet her arrival in each destination. The Walk represents the refugee story as one of potential, success, respect, hospitality and kindness. All these 'Events of Welcome' along her route are detailed on The Walk site, where you can sign up for updates for specific events or particular locations. 
The puppet itself (made three times over to cover all possibilities on the route) comes to life courtesy of the Handspring Puppet Company, the South African company founded by Adrian Kohler and Basil Jones and behind the globally recognised creations of the National Theatre's production of War Horse. Puppets are brilliant at creating empathy, connecting the imagination of audiences with the emotions of the puppet character. "Many children will make puppets of their own to welcome Little Amal when she arrives in town", explain Adrian and Brian, "creating a huge empathetic exchange between the giant puppet and the little puppets made across Europe."
In addition to the cultural activity, Step Forward is The Walk's cross-cultural, cross-community educational programme, open to people of all ages, genders, nationalities and languages, that accompanies Amal on her journey. The programme will support work in different art forms – from puppetry and theatre to dance and spoken word – to explore the themes that Little Amal encounters on her journey: migration, climate change, history and geography. There will be weekly workshops and packs for schools, alongside activities planned by and within different local communities, including performances of scenes from Homer's The Odyssey, which Amal will see along her route and will also be filmed and shared globally. 
"We envisage a huge network of friends of Amal, connecting people all across the route," adds Naomi. "Alongside our local partners, we will bring together people starting new lives in places along the route with local people and use this as an opportunity for people to meet, explore and share". The education programme has a massive digital arm, free to users, so that people can take part and learn about Little Amal's journey and meet new people in their community even if not living along the route. 
While we may know, intellectually, how thin the line is that separates our own life and circumstances from that of many refugees, art helps us to feel this. "The Walk is a joyous celebration, portraying people in their full cultural potential," says Amir Nizar Zuabi, Artistic Director of The Walk, "and if we can change one person, it's worth travelling 8,000km." 
AtlasAction: The Amal Fund helps school-age refugee children access education and achieve their potential wherever they find refuge: add your support here. 
Editor's update, December 2021
Amal made it to the UK. In November 2021, she was at COP26 in Glasgow to highlight the close link between migration and the climate crisis and plant seeds for a better future. In London, she received hundreds of birthday messages on the Piccadilly Lights. The Walk was awarded the 2021 Time Out London Best Public Artwork Award.
Project leader
Stephen Daldry, Naomi Webb & Amir Nizar Zuabi
Support the Atlas
We want the Atlas of the Future media platform and our event to be available to everybody, everywhere for free – always. Fancy helping us spread stories of hope and optimism to create a better tomorrow? For those able, we'd be grateful for any donation.
Please support the Atlas here