India (Ahmedabad)
On the banks of the Sabarmati River in Ahmedabad in western India, a small school is making a big noise in education. The Riverside School picks up award after award, yet doesn't focus on classic recognitions of excellence. It's more interested in wellbeing, new learning models and a groundbreaking method that's grounded in common sense.
At its centre, design guru Kiran Bir Sethi teaches kids life's most valuable lesson: "I can." A model for many educators around the world, and with an emphasis on being a good human being, Riverside is creating future changemakers.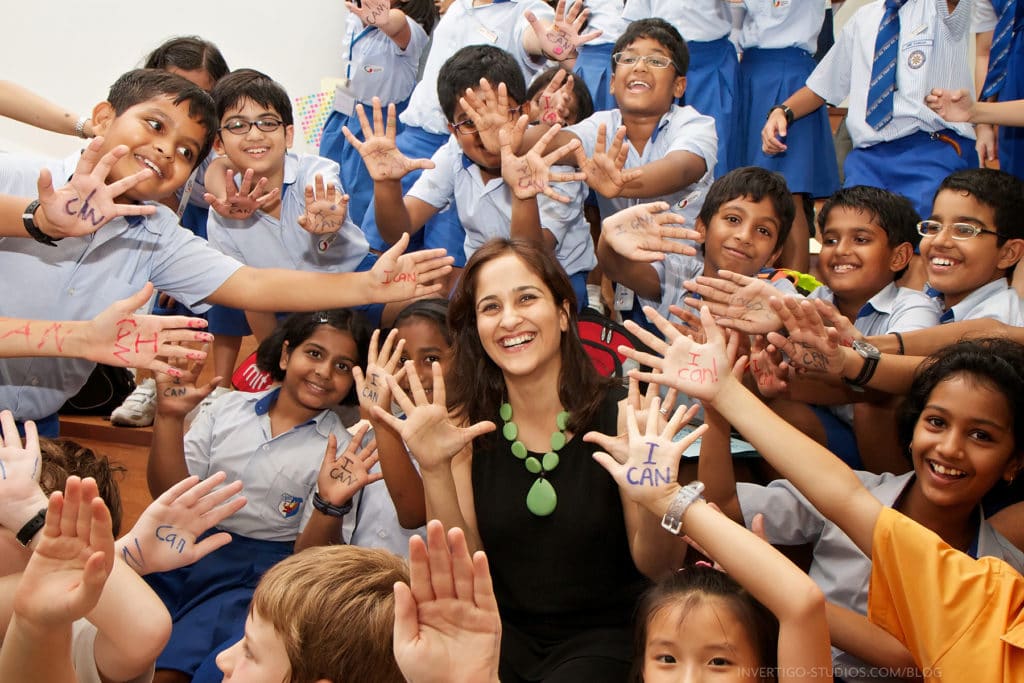 Established by the Indian interior designer in 2001, Riverside School isn't just a no-compromise school with a uniquely practical curriculum; it's a vibrant research centre for school education that functions on a daily basis to help children cultivate a mindset that is built on purpose and compassion. 
Kiran, who teaches full-time, believes education shouldn't be about grades and a degree, but about play and exploration in a safe community. Learning doesn't just happen in the school.
Staffed by more than 50 teachers, Riverside engages almost 400 students with real-world opportunities. Students spend nearly half of their time outside of its walls, perhaps rolling incense sticks for hours in to experience what it means to be a child labourer. 
Its passionate founder didn't start the school to be innovative at all. "I'm not a fan of describing Riverside as innovative because that is not the reason I started the school," the designer-turned-education reformer tells us. "It was really to be able to graduate children and citizens into the world whose deep purpose is about making a difference and to live out humane values."
 "Don't let anyone tell you that you aren't good enough. You can do anything." – Kiran Bir Sethi
Kiran stresses that education is the only way to democratise opportunities and understand freedom, equity, love and compassion – and how to action those ideas. "I don't necessarily believe schools are the only places for this. To educate yourself is to be self-aware and to understand the power that you have to shape a better world."
The Ashoka Fellowship-awarded social entrepreneur uses the language of design so pupils can creatively explore the world. The education framework is driven by design thinking and a lot of 'E': Empathy, Ethics, Excellence, Elevation from an 'abundance' mentality and collective Evolution. 
The results speak for themselves. For 20 years, Riverside has provided schools with an alternative model which focuses on quality of learning alongside student wellbeing. The practices have been recognised worldwide and the school has regularly been honoured for its academic achievement, as well as its unique philosophy of 'Doing Good AND Doing Well'. Riverside School's achievement stands as a testimonial of a true 21st century model with its students consistently outperforming the top ten schools in India.
Kiran clearly and distinctly remembers the moment she felt compelled to understand that there was a different way to educate children. It was because of her own son's experiences. "I realised we so easily reward compliance over conversation, so easily children learn how to say 'I can't'. I had gone and visited his school to speak to his teacher. And his teacher asked me what his roll number was, and she didn't even know his name."
That was when she knew she wanted to make a difference. "That moment of recognising that my child didn't even have an identity or a story prompted me to take him out of school and say there has to be a better way. And that's how Riverside started."
Even after 20 years, Kiran finds joy in knowing that she can learn every single day. "The joy comes from every day realising how little you know and then learning something about children or about how children learn – that's extremely invigorating and energising for me."
In 2009. Kiran launched Design for Change. Today the movement to encourage youth volunteerism is one of the world's largest movements for change, having impacted over 2.2 million children and 65,000 teachers. It's based on a simple but revolutionary model; asking kids to feel any problem that bothers them, imagine a way to make it better, do an act of change, and share their story of change with the world. The goal is to get children to drive change in their communities by unleashing what she calls their "I can superpower."
There's a reason nearly 1,700,000 people have watched the TED Talk star break down ways to teach kids life's most valuable lesson, "I can". 
As for the future, Kiran has never been a fan of plans. "I think plans are limiting because you never know how soon or how late it will take for you to achieve it. So I love responding to opportunities and having the confidence that as a team, we are now very equipped to be able to shape every opportunity, starting with empathy."
Kiran would love for everyone to become amplifiers for this idea of humane citizens. "We would love for you to look at just taking this approach to each of your schools as well," she adds. "And I think the greatest thing you can do is without anything to do with Riverside is really to listen to your children. I would say that's the biggest gift you can give your children." 
AtlasAction: Join the CANversation. Learn more about the 'I CAN Mindset' that equips every child to be aware of the world around them, enabled with the skills to take action and empowered to design a more desirable and sustainable future here.
Read more ► The Riverside School was mapped by Kiran Bir Sethi, the design guru who founded India's top school, in her AtlasChart Top 5: Around India in 5 social projects
AtlasEvent ► Kiran will be talking at 'Fixing the Future: Education edition' on 12 November 2020. Join us for the special, free online edition from 29 October-10 December. Find out more and register for tickets.
Project leader
Kiran Bir Sethi, Founder & Director
Support the Atlas
We want the Atlas of the Future media platform and our event to be available to everybody, everywhere for free – always. Fancy helping us spread stories of hope and optimism to create a better tomorrow? For those able, we'd be grateful for any donation.
Please support the Atlas here