Ireland (Dublin)
Have you heard of 'shredder workouts'? They're fast and furious exercises that shred the fat off your body. And they're hardcore. But if you're over–50, don't worry about getting shredded: it's time to get 'shedded'.
In Ireland, Siel Bleu's Exercise for Shedders gives older men access to professional physical training in a comfortable and safe environment. Meet Frank, 59, and Nicky, 69: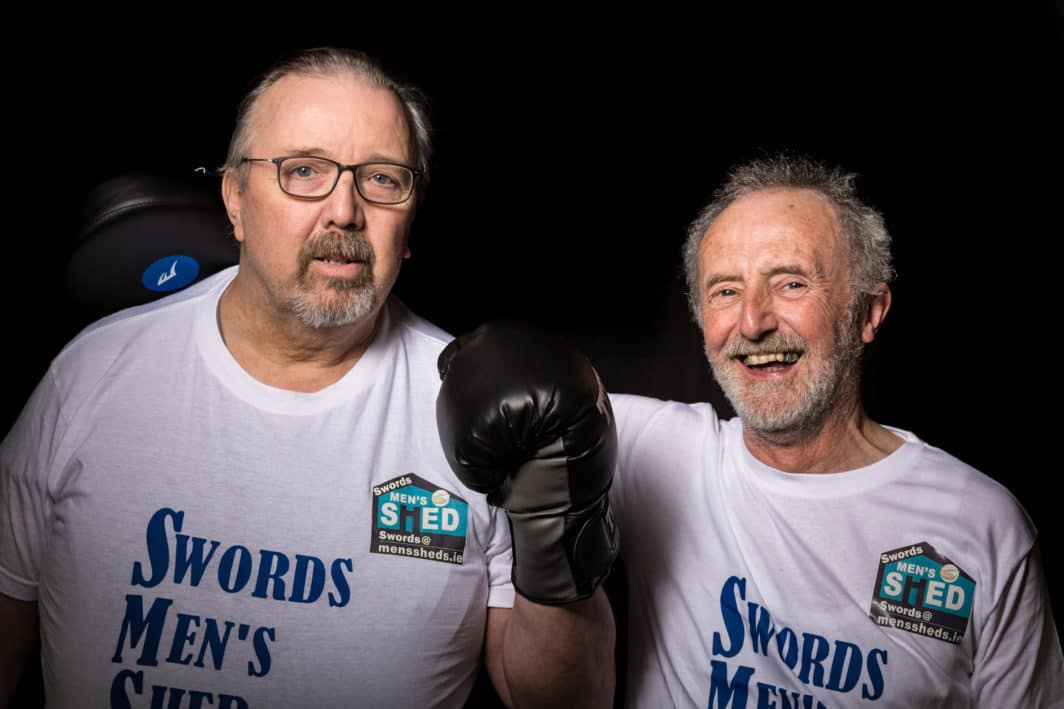 Back in the day, the idea of men's sheds would conjure up fixing lawnmowers at the bottom of the garden, or solitary women-free 'man cave' vibes with videogames and dartboards. But sheds have had a community aspect since the nineteenth century, with 'working men's clubs' providing recreational activities and health information.
Originally founded in Australia in the eighties, the 'Men's Shed movement' worked with former miners, people with dementia and Vietnam war veterans. Today, 'Men's Sheds' are considered community-based social spaces where the kettle is always on.
More than woodwork and gardening, they are friendly places where men can come together to find meaning and purpose, share skills and make long-lasting friendships. The movement has now become one of the most powerful tools in addressing isolation, health and wellbeing – with users being called 'Shedders'.
Today, our populations are ageing, with years lived in social isolation. The majority of older men do not reach the recommended weekly 150 minutes of effective exercise. Physical inactivity is directly linked to chronic diseases, hip fractures, dementia and is the fourth leading cause of death worldwide. 
There is a simple solution – exercise – but it can be difficult for older men to gain access to programmes, or even want to, with the majority available being female-focused. Plus, men can be resistant to participating in groups.
Siel Bleu Association was set up to meet that need for specially designed exercises for older adults (men and women) and people living with disease and disabilities. Originating in Strasbourg, France, in 1997, the social enterprise was started by Jean Michel Ricard and Jean Daniel Muller, two sports science students who wanted to create one-one-one exercise classes and group programmes.
"Instead of helping an elite level athlete run slightly faster, sports scientists are helping John, 73, be able to tie his shoelaces for the first time in four years." – Carla Piera FitzGerald, Siel Bleu Ireland
With 700+ physical trainers in France, Spain, Belgium and Ireland, today Siel Blue provides sports scientists and support in nursing homes, day care centres, community centres, patient groups and private homes. 
Carla Piera FitzGerald started working with Siel Bleu Ireland as a volunteer in 2011, while acting as a co-carer for her then-86 year old father: "I witnessed firsthand the impact of him not being able to keep up physically with everyone else while he was still mentally sharp." 
In 2014, she took over running the organisation with her colleague Thomas McCabe. They partnered with the Irish Men's Sheds Association, who share the belief that group activities can tackle isolation and that men's isolation is often particularly acute. Today they participate in their Sheds for Life ten-week wellness programme and 'Exercise for Shedders'.
Right now, there are 25 trainers working with 6,500 participants per week across 20 counties of Ireland. Carla wants nationwide coverage by 2022, working with over 10,000.
Simple but effective, classes can easily be replicated at home – but it's the group camaraderie and banter has a huge impact on the men's state of mind. "Physical trainers love delivering this class because of the craic, as we say in Ireland!," Carla tells us. "There was a class in County Meath that took part in a portacabin with twenty men. On a bad weather day they would be shoulder to shoulder, but on a good bright day they could go out to the soccer pitch and do their class there." 
There is nothing that motivates trainers more than seeing the dramatic improvements in physical ability the men make. "An 80 year old man, who is still able to live at home, in his own home surrounded by his family and his grandchildren, who can still go out and walk his dog and get the newspaper in the local shop every morning, who can still dance with his wife, and who can still kick a football around with his grandkids is ageing well."
Siel Bleu is one of many community initiatives that has been forced to instantly and radically switch frequency after lockdown took hold. Now its online classes attract some 2,000 people to each session, twice a day.
"We are using tins of beans, rows of cling films, a sweeping brush and utilising household items so you don't have to rush out and get dumbbells and kettle bells and these kinds of things," – Thomas McCabe, national manager, Siel Bleu
They are also sending out food packs to households, called 'Grow It Forward', and plan to train older people in how to use social tools like Facetime or Skype. This helps create virtual communities, so they can stay in touch with family and with one another.
AtlasAction: Join the Siel Bleu newsletter to receive classes you can do from the comfort of your home.
Project leader
Jean Michel Ricard and Jean Daniel Muller, Siel Bleu/ Carla Piera FitzGerald & Thomas McCabe, Siel Bleu Ireland
Partners
This project has been selected as part of AgeFutures, a new storytelling project that maps the innovations transforming the lives of older people, and the designers, entrepreneurs and community leaders – across all generations – behind them. Atlas of the Future is excited to partner with Independent Age.
Support the Atlas
We want the Atlas of the Future media platform and our event to be available to everybody, everywhere for free – always. Fancy helping us spread stories of hope and optimism to create a better tomorrow? For those able, we'd be grateful for any donation.
Please support the Atlas here