United Kingdom (London)
Millennials may or may not save the world; only time will tell. But forget labelling Gen Y as saviours or slackers, there's one fact that can't be denied: it's the generation that gives. In 2018, tech-savvy millennials provided 30% of total charitable donations in the UK. Yes, the community-minded younger generation are the ones donating most to good causes – not only money, but their time. 
Many older people struggle with common household tasks that were once easy and often families need help to manage care. That's why onHand wants to make giving and getting help simple. Focused on living assistance, the mobile app and on-demand marketplace provides a low cost alternative to care agencies in London. The intergenerational matchmaking 'tech for good' was created by The Good Lab to revolutionise care by using technology to connect and mobilise a unique community of volunteers.
Put simply, young professionals (who have been interviewed and DBS checked) are matched with older adults who need help with everyday tasks and errands – like preparing meals, taking the bins out or running to the shops – as well as tech lessons, and all usually accompanied by a cup of tea and a chat. 
In exchange for help, they've agreed to pay £10 per hour, of which £8 goes to charity and £2 to cover central costs: "You volunteer, they donate."
Experienced in scaling tech companies, founder and 'Chief onHander' Sanjay Lobo created onHand as he lives in Brighton, miles away from his father in Vauxhall, who has Parkinson's: "When he couldn't do his weekly shop any more, it was eye opening for me that the professional carer who stepped in more than doubled the cost. Plus, a high staff turnover means a relationship is rarely established between carer and elder." 
onHand went live in February 2019, with Sanjay's dad as customer number one. He now gets help weekly with shopping and company, and the relationship is reciprocal – as social isolation is a well documented issue for younger age groups too. 
Typically female and 24-36 years old, the majority of volunteers are young professionals who are often new to London, which can be a lonely place. "Helping an older adult helps them feel more connected to the families they now live many miles from," Sanjay tells us. "Many grew up with strong relationships with their older relatives and simply miss them. We hear that almost every day from our volunteers and we think we can help address the loneliness gap experienced by many in our society."
"I've only just moved to London, so I know how it feels to feel a bit isolated. I signed up to onHand because I hate the thought of anyone feeling alone." – Rachel, 26
Sanjay often hears that people have tried to volunteer before, but found the commitment too difficult. "We are tapping into a vast pool of volunteers who want to give their time, but don't have a way to do that in a way that's on-demand and flexible. That's what makes us attractive." 
As for the fees, £8 from each £10 is a real donation that goes to charities such as the British Heart Foundation and British Red Cross – who all helped onHand with initial funding. Together, they formed The Good Lab, an organisation looking to solve some of society's biggest issues, who conceived the onHand concept after spotting a clear opportunity to leverage the emerging sharing economy – and the desire of young people to give more than just money to help our ageing population.
Charity is not the primary motive for the volunteers, but does change something for some older adults: Jackie in Twickenham told us"I don't feel like I'm asking for charity from a neighbour or a friend. Instead I'm helping charity."
The small commission pays for the social enterprise's community outreach, meeting older adults and volunteers, and app developers. "We are also looking at whether the donation could help pay for those who can't afford the fee," Sanjay adds. "In future, we'd love to find out where our community wants the money to go – this could be a great way to raise money for the causes you care about… and much easier than running a marathon!" 
Something to note: older users of the service don't need to have a tablet or smartphone. onHand are literally 'on hand' on the phone too to help make arrangements. Also note that onHand are not a care company – volunteers assist with simple tasks and can offer professional carers a break.
In developing the matching process further, onHand don't intend to lose the human touch. Today, they meet all of the older adults and volunteers: "If we wouldn't let a volunteer look after our own parents, they can't join onHand. And we call the older adults after each session to see how their matches are going. Trust between them builds from starting with really simple interactions and could end up with the volunteer taking their older adult for a shave at a local barbers or shopping at Westfield. We also signpost to other people like Good Gym, where the help needed is bigger than we can manage."
"It helps me manage my life. It's a huge help for simple jobs that I couldn't do otherwise." Penny, Clapham, 72
He has been surprised by the demand on both sides, with over 250 customers and almost 4,000 volunteer sign ups in London alone. "The Samaritans have 20,000 nationally. So if we have this in just one city, I feel like the mass of volunteers we can access just by being flexible is there." Currently working in London, onHand plans to pilot other cities in 2020 – and possibly go international.
"In terms of impact and emotional wellbeing, I want to see if by addressing the loneliness gap we can have an impact on the amount of times someone goes to see their GP or the time it takes before people are readmitted to hospital."
If giving and getting help can also help charity, then caring across generations is the new cool.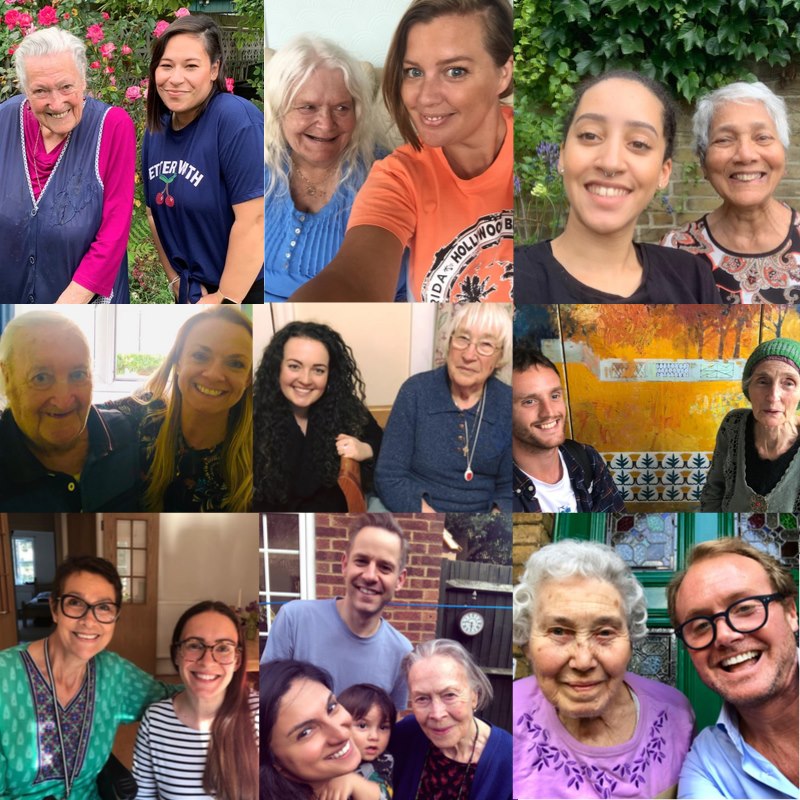 AtlasAction: London-based? Could you spare an hour to help an older person in your local area get out and about; maybe take them to a cafe for a cuppa and chat? Download the onHand app.
Project leader
Sanjay Lobo, Founder and Chief onHander
Partners
This project has been selected as part of AgeFutures, a new storytelling project that maps the innovations transforming the lives of older people, and the designers, entrepreneurs and community leaders – across all generations – behind them. Atlas of the Future is excited to partner with Independent Age.
Support the Atlas
We want the Atlas of the Future media platform and our event to be available to everybody, everywhere for free – always. Fancy helping us spread stories of hope and optimism to create a better tomorrow? For those able, we'd be grateful for any donation.
Please support the Atlas here