United Kingdom (London)
Created BY 3D computational artist, geneticist and 'data-friendly Elvis' Peter Crnokrak and visionary director GMUNK, HALO is a data visualisation software that represents you as a physical being, a multi-dimensional creature that moves and changes shape based on your data. Using sensors like those on an Apple watch you can be represented digitally. Instead of using a bar graph to show how many steps you've gone in a day, you have your HALO growing over time – like a sea anemone Tamagotchi.
This "intelligent object for a post-data world" is the first product of Peter Crnokrak's 3D visualisation systems that allow users to explore complex personal data in an intuitive and actionable way. It combines different data sets into a fluid multi-dimensional band of light as architectural dimensions of size, colour, speed, complexity, brightness and movement – signalling a new type of visual data language.
Unique combinations of data values create distinct data-pictures. For example, Halos being developed for the Apple Watch allow users to see changes in activity levels, calories burned and variable heart rate patterns over time as comprehensive pictures of health. Where athletes have large bright and fast moving HALOs, sedentary individuals' HALOs are small, dim and slow moving.  It is fed off heart rate, blood pressure, even perspiration, and is engineered so you have an empathic connection to this digital representation of self. It could be based on anything – like sex.
Peter is one of the leading data visualisation designers in the world. Emerging from a doctorate in quantitative genetics, his work takes complex systems and renders them into symbolic and intuitive graphical representations. He has been recognised by National Science Foundation and is a Fellow of the Royal Society of the Arts.
Currently developing HALOs that represent patient health status, gaming performance and stock fluctuations, his list of potential uses are virtually endless – anywhere users need to monitor and interpret massive quantities of complex data in real time.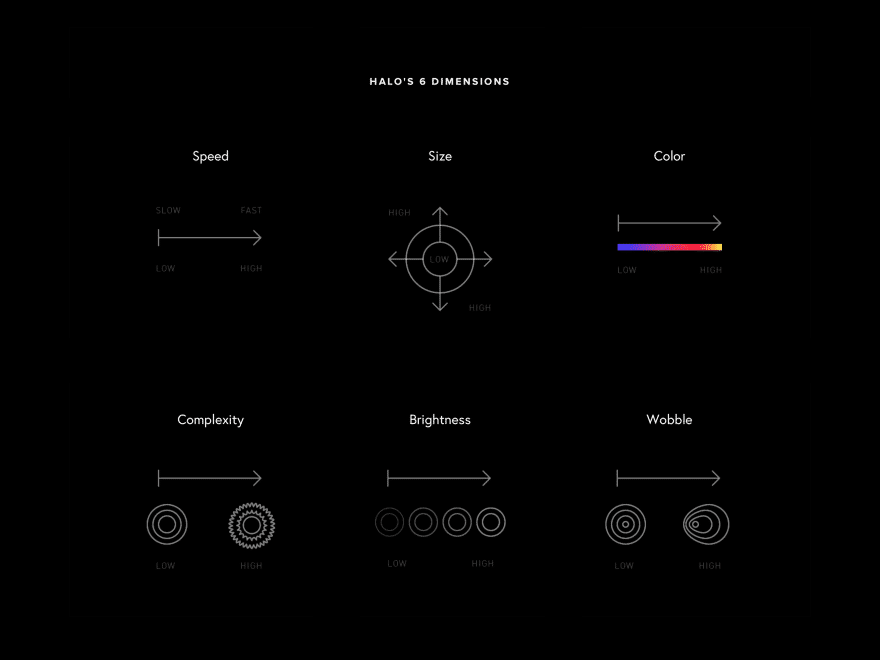 For example, Mayo Clinic is developing an at home health assessment platform called Remote Stress Test that uses the HALO. Stress testing gives your doctor information about how your heart works during physical stress. Some heart problems are easier to diagnose when your heart is working hard and beating fast. During a stress test, you exercise (walk or run on a treadmill or pedal a bicycle) to make your heart work hard and beat fast. Tests are done on your heart while you exercise.
Traditionally the 'tests' involved the patient being attached to machines that monitor heart rate, blood pressure, blood oxygenation, but with new technology, these measures can be taken remotely – your phone camera can accurately measure blood oxygenation (which is a measure of the efficiency of which your heart is operating) by measuring the colour of your skin. Essentially, the HALO will visualise the results of the home tests and allow users and their doctor's to get an easy and understandable assessment of their status.
The more active you are in a day, the larger and faster your HALO grows. As you exercise and elevate your heart rate, your HALO transforms from cool to warm colours and approaches yellow if your HR has reached the Mayo prescribed threshold for your age. A smooth and slow moving HALO indicates your heart rate at that moment is relatively low, while a spiky and fast moving HALO indicates a high heart rate. If you've exercised the minimum recommend 30 minutes per day, your HALO fills up to a solid bright colour. Your HALO is symmetrical if you move regularly throughout the day, and decays into a wobble motion if you are sedentary for long periods at a time.
Bio
Peter Crnokrak is a London based computational artist whose practice utilises design language to communicate meaning in complex systems with work integrating research, analysis and experimental technologies.
Project leader
Peter Crnokrak, Stephen Marshall and Bradley Munkowitz (GMUNK), Co-founders
Support the Atlas
We want the Atlas of the Future media platform and our event to be available to everybody, everywhere for free – always. Fancy helping us spread stories of hope and optimism to create a better tomorrow? For those able, we'd be grateful for any donation.
Please support the Atlas here