Indonesia (Lombok)
"Pablo Picasso once said: 'Every child is an artist. But the problem is how to remain an artist once we grow up'."
Indonesian school children are collaborating with leading artists on an ongoing project to aid their recovery from the tragic earthquake that hit the island of Lombok, Indonesia on 5 August 2018.
The disaster created widespread damage and, owing to a succession of further earthquakes throughout the month, a loss of 563 lives. Countless survivors lost their homes, businesses their offices and children their schools.
One such school, SDN 1 Senggigi, remains a pile of rubble, with students gathering for classes inside a tent underneath the intense sun, making for pretty dire conditions and hampering the children's ability to move on from the traumatic experiences already caused by an earthquake of such magnitude.
In a bid to rebuild their elementary school and their lives, nine pupils decided to take action via the power of art, the children setting about creating drawings of the places they love the most, despite the fact that many of these wait to be rebuilt or renovated.
On hand to help their plight, Dutch charity, the Face This foundation, took the kids' drawings to the studios of nine international and renowned artists – including Jon Burgerman, Mike Perry and Supermundane – who would collaborate on a range of T-shirts ready to be shipped worldwide. Sold for 29,95 euros, the proceeds from sales will be used to renovate the school.
Together with the head of the school and the school's teachers, Face This discuss the needs of the school. "We don't want to donate only, we really want to work together with the school." Then they head to the classrooms for drawing sessions with the kids. "This is great fun as the kids give a glimpse of their daily lives through their drawings. When the drawings are finished we take them with us to the Netherlands and from there we distribute the drawings to awesome artists from all over the world."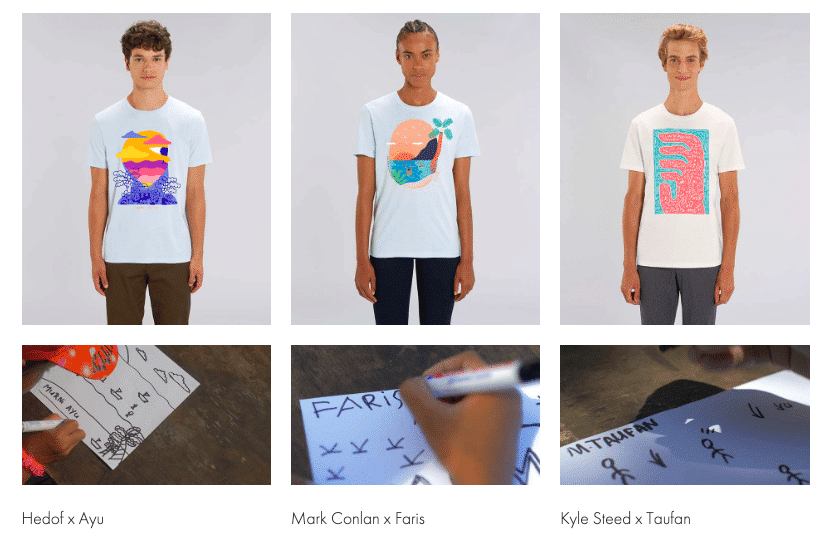 Co- founder Jos van der Hoek sees the way they work is a win-win for all collaborators. "The kids will provide themselves with better education, but also the artists are challenged creatively. Pablo Picasso once said: 'Every child is an artist. But the problem is how to remain an artist once we grow up'."
Usually in remote areas where education is quite basic, art classes are neglected due to a lack of budgets. Only maths, writing and reading are being taught. "At Face This we want to turn this around – using art to raise funds for the school, so the kids can learn maths, writing, reading and drawing."
British-born New York-based illustrator Jon Burgerman is well-known for his doodle illustrations and a big name in the illustration scene. Face This linked Jon to nine-year old Kartini, a pupil from Lombok Island, Indonesia. Jon was touched by her drawings and he was adamant to retain much of Kartini's style in their design for the Face This 2019 collection:
From Jon's doodles to Mike Perry's colourful dreamscapes – the Emmy-winning artist using a drawing made by eight-year-old Lombok resident Shafa – and Supermundane's bold lettering, the line of T-shirts are both refreshing and inspiring. Also collaborating on this colourful initiative were artists Tyler Spangler, Bodil Jane, Mark Conlan, Hedof, Kyle Steed and Jamie Browne.
Jos sees creativity at the core of the organisation. "At first Face This is supported by the artists who we are collaborating with. And that's absolutely true. But when you look at a deeper level, with the Picasso quote in mind, you will see that the artists are inspired by the collaboration with the kids as well. Therefore, we think that creativity is at the core of being a human being. If you have nothing left, you still have your creativity."
And in the case of the Indonesian kids Face This work with, their creativity helps them to build a better future.
AtlasAction: All pieces are available to buy online.
Project leader
Jelka Priem and Jos van der Hoek
Support the Atlas
We want the Atlas of the Future media platform and our event to be available to everybody, everywhere for free – always. Fancy helping us spread stories of hope and optimism to create a better tomorrow? For those able, we'd be grateful for any donation.
Please support the Atlas here