Netherlands (The Hague)
"Without a healthy ocean, life as we know it would not exist."
For Farah Obaidullah of Women4Oceans, gender equality and ocean conservation go hand-in-hand. By unifying, inspiring and empowering women to take action for our oceans, we might just turn the tide on the crises facing our planet.
Technically speaking, Farah Obaidullah lives in the Netherlands, but really the ocean is her home. Drawn to its magic and force from early childhood, she has dedicated her life to protecting it by campaigning against destructive industries and lobbying the corridors of power for better regulations. In her previous role as Senior Oceans Campaigner for Greenpeace, she stopped the international transfers of highly destructive fisheries (hydraulic dredging) and exposed illegal fish crimes (IUU) around the world, among a long list of conservation successes.
Farah has travelled the world (and the seven seas), meeting people in power as well as those with none – and in doing so, she noticed a pattern emerge: while many women work in the 'blue space', it is mainly men who hold the seats of power within it. It is men who are held up as role models in the conservation industry, and usually (white) men who make the decisions that affect us all. According to Farah, this lack of diversity seriously hampers the future of our planet.
"For too long we have followed the same path of economic growth determined by a handful of people and perspectives," explains the ocean-defending warrior. "Women make up half the world's population and in order to harness the full potential of our species, we need to increase the participation of women in shaping our future."
And so Farah set up Women4Oceans (W4O) to cultivate a shift in the current approach to environmental issues, first and foremost by creating an international community of females united in advocating for healthy oceans. In the spirit of diversity, all women working in the blue space can join – no matter their ethnicity, nationality, or job position – by adding themselves to the Women4Oceans directory.
The platform not only allows members to connect and share stories, but also supports ocean conservation projects around the world by providing resources for free and speaking at events. With new projects in the horizon, Farah hopes her nonprofit organisation will continue to facilitate more constructive ways of thinking, bring female role models into the public eye, and ultimately inspire people across the world to help protect our oceans.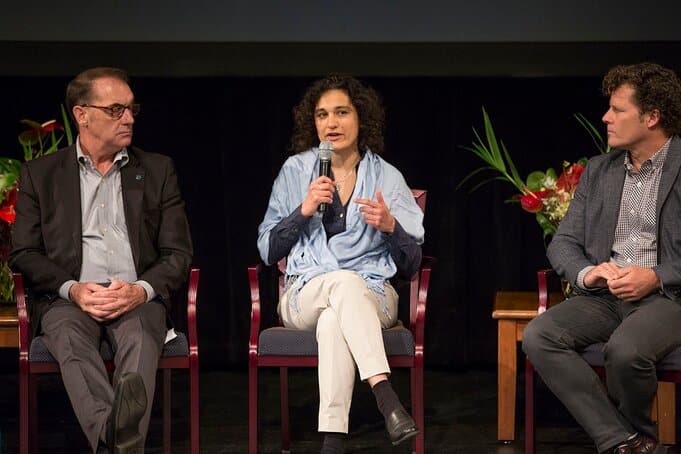 For Farah, it is personal too. Being mixed race, diversity has always been a relevant issue: "As a woman of colour I know I do not have the same opportunity as others. No matter how talented, sharp or physically fit I might consider myself, the world has not been ready to equally embrace people of different backgrounds. This is a challenge but it is also a driving force behind Women4Oceans. If we want to mobilise people around the world for the ocean then we must celebrate role models across the spectrum of humanity."
Crucially, though, change has to happen quickly. The ocean and the world's natural systems are in crisis due to overfishing, destructive legal and illegal fishing, climate change, pollution, poaching of endangered species and many other deplorable practices that threaten food security and coastal communities around the world, states Farah on the W4O website. "Without a healthy ocean, life as we know it would not exist."
But the good news is, it's not all bad news: "I get much joy out of the testimonies of women that have shared experiences – and hope from the people that are speaking up. For example, seeing children everywhere demand change from our elected leaders on the unfolding disaster that is climate change" Farah says. "It's a scary time but it is also a pivotal time in our history, and that makes the journey exciting."
Project leader
Farah Obaidullah
Partners
This project has been selected as part of
JustFutures
, a new storytelling channel that maps the work of people transforming our relationship with the planet and each other and bringing hope, justice, and systemic change into our collective response to the climate emergency.
Support the Atlas
We want the Atlas of the Future media platform and our event to be available to everybody, everywhere for free – always. Fancy helping us spread stories of hope and optimism to create a better tomorrow? For those able, we'd be grateful for any donation.
Please support the Atlas here