We're overjoyed to announce that 'Fixing the future' is back. And this year it's bigger, better and faster – because the future can't wait. 
After 2018's sold out event in Barcelona, we're returning to the CCCB – in partnership with Holaluz – with TWO full days and 40+ FutureHeroes from around the world. This time they're helping fix biodiversity, our oceans, food and farming, cities and the climate crisis.
Watch the highlights of Fixing the Future 2018:
Future curious? From rockstar chefs and a big wave surfer to visionary architects and the youth sparking a worldwide movement, expect stories of people doing things very differently… 
⚡Brazil's top chef-philanthropist: Alex Atala
South American's number one chef, the Netflix 'Chef's Table' star was named one of TIME Magazine's 100 most influential people. Beyond his São Paulo restaurant D.O.M., (one of 'The World's 50 Best Restaurants' for 13+ years), the culinary punk-superstar prioritises the research and promotion of Brazilian indigenous ingredients with his ATÁ Institute.
⚡ Global women's rights leader and climate activist: Winnie Byanyima
The Executive Director of Oxfam International is a women's rights leader and authority on tackling climate change. Winnie previously led the directorates on gender and development at the UN Development Program and the African Union Commission, and served eleven years in the Ugandan Parliament. She co-founded the 60-member Global Gender and Climate Alliance.
⚡Green energy executive: Carlotta Pi
Named by Forbes as one of the world's top 100 most creative people, the highly-awarded co-founder and President of Spain's first independent energy company, Holaluz, is among the few entrepreneurs who have gone through an acceleration program for women founders of companies driven by Google. With the 100% renewable electricity and gas trading company, Carlota is leading the transformation of the energy sector in Spain, thanks to innovation and honesty.   
⚡ Celebrated celebrity chef: Jock Zonfrillo
The multi-award-winning rock'n'roll Scottish/Italian chef – who recently won the 2018 Basque Culinary World Prize – is focused on bringing back native Australian ingredients and the preservation of Indigenous knowledge with Restaurant Orana and The Orana Foundation.
⚡ Environmental activists: Cécile Duflot and Camille Etienne
This eco-intergenerational pairing sees Cécile, the Executive Director of Oxfam France joined by 20-year-old young activist and TEDx speaker Camille, who is raising environmental awareness by coordinating On Est Prêt: an independent movement for personal and collective action on the climate crisis, creating viral impact on the issues that really matter.
A former politician, Cécile was the Minister of Territorial Equality and Housing in France, the National Secretary of The Greens ecological party and member of parliament and board member at the French Agency for Development. The two connected though L'Affaire du Siecle, a mass campaign led by Oxfam France in partnership On Est Prêtt and other NGOs, to force the government to take action on climate targets.
⚡ Politician changemaker: Marta Subirà
The Secretary for the Environment and Sustainability of the Government of Catalonia has been involved in politics since a young age. Convinced of the transformative capacity of politics to make the world a better place, she seeks to make citizens understand that we are all part of 'nature' and that only with a real, accelerated and disruptive change will we be able to reverse the current climate and environmental crisis.
⚡UK's most influential food writer: Bee Wilson
Author of six best-selling books, including 'The Way We Eat Now', and regular writer for The Wall Street Journal and The Guardian, Bee is the chair of TastEd, which offers sensory food education to UK schools to help children build wider tastes – especially for vegetables. Ever sniffed a tomato?
⚡ Surfer-scientist: Dr Easkey Britton
A marine social scientist at the National University of Ireland Galway with over ten years expertise as an ocean and human health expert, Easkey connects people and oceans to create social change. The award-winning surfer and founding member of Ocean Collectiv founded Like Water and the Wavemaker Collective as creative passion projects to celebrate the sea's power. The first person to ride the waves in Iran, she also pioneered women's big wave surfing in Ireland.
⚡ Mallorca's zero km chef: Maria Solivellas
Michelle Obama loves celebrated Mallorcan restaurant Ca na Toneta, named by Conde Nast Traveler magazine as one of the world's greatest restaurants. Maria and sister Teresa revive and protect Mallorcan culture and heritage – with everything sourced from the island.
⚡ Radical voice of small farmers: Abby Rose
Selected by The Observer newspaper and Nesta as one of 2018's New Radicals, the soil obsessed physicist-farmer uses tech to help smaller scale farmers build ecology, profitability and beauty on farms around the world – also sharing their voices as co-host of award-winning podcast Farmerama.  
⚡ Cameroon's recycling revolutionary: Ismaël Essome Ebone
Winner of the UN Clean Marine Award, Ismaël Essome Ebone is the young entrepreneur behind Cameroonian nonprofit Madiba&Nature, which uses plastic waste to build ecological canoes that support fishing communities. Find out why fishermen laughed when Ismaël first ventured out in his 'ecoboat' made of recycled plastic bottles – and how he shut them up. This is the circular economy in action. 
⚡ Urban visionary: Carolyn Steel
A leading thinker on food and cities, Carolyn was profiled by The Ecologist magazine as a "21st Century Visionary". With reason. The London-based architect, lecturer, BBC presenter and TEDGlobal speaker coined 'Sitopia' – now a widely-recognised way of seeing the world through the lens of food – and her 'Hungry City: How Food Shapes Our Lives' was BBC Food Programme book of the year. What lessons can we learn from the past?
⚡ Young school climate strikers: Fridays for Future
Around the world, teenagers inspired by Greta Thunberg have been joining forces in an army of environmental protest. Meet the teen activists behind Fridays for Future BCN – who are demanding action on the climate crisis.
⚡ Big mind in innovation: Geoff Mulgan
Global innovation, policy and social enterprise expert, and Chief Executive of UK innovation foundation Nesta, Geoff backs new ideas to tackle big challenges. UK government roles include director of the Strategy Unit and head of policy in the Prime Minister's office. His most recent book is 'Big Mind: how collective intelligence can change our world'.
⚡ Godfather of modern sustainability: John Elkington
As a pioneer of the global sustainability movement for over 30 years (before the concept was even born), the prolific author and founder of corporate advisors Volans created the well-loved 'Triple bottom line' (People, planet, profit) strategy for responsible business. His next step: launching an exponential call to arms.
⚡ Leading fair farmer: Jyoti Fernandes
Passionate about regenerative farming and peasant agriculture, this agro-ecological smallholder, campaigner with La Via Campesina and founding member of the Landworkers Alliance has helped create a cooperative of farms who work together to defend small-scale sustainable agriculture to promote social justice and dignity.
⚡ Future city prototyper: Vicente Guallart
Former Chief Architect of Barcelona City Council, Vicente uses the principles of global connectivity and local self-sufficiency to invent the city of the future – and build it in the present. Director of Guallart Architects, he also co-founded and directed the Institute of Advanced Architecture of Catalonia.
⚡ Best UK food producer: Kimberley Bell
Within an open plan kitchen in an old school-turned-arts centre in inner city Nottingham, UK, a celebration of biodiversity, flavour and farmer-miller-baker partnerships is being baked – in the form of sourdough loaves, pizza, crisp breads, cakes and naturally leavened pastries. Winner of the BBC Food and Farming Award 2018 for best food producer, its founder Kimberley Bell creates breads that taste radically different and connects farms to the end result. She advocates for change in the way we grow, produce, trade, cook, eat, think about food.
⚡ Biodiversity conservationist: Dr Lin Li
Sir David Attenborough has called for a new deal for nature and people to recognise the link between the health of nature, the wellbeing of people and the future of our planet – and Lin Li, WWF International's global policy and advocacy lead on nature, biodiversity and the SDGs will be helping to make it a reality, drawing on her expertise of biodiversity drivers in China and worldwide.
⚡ Climate rebels: Extinction Rebellion
Recently thousands of protesters have been taking to the streets using roadblocks – and glue – to paralyse London. An Extinction Rebellion is happening, with climate action and arrests in cities all over the world – from Auckland to Accra, Mexico City to Vancouver.
This exciting new global movement of environmental activists is calling for peaceful (and fun) acts of civil disobedience, with serious reason. 'XR' demands that governments tell the truth about the escalating ecological crisis – by declaring a climate emergency. Rebel·lió o Extinció, XR Barcelona is committed to the non-violent fight. 
⚡ Women farmers' advocate: Prudence Ayebare
Farmers in at least 22 African countries are using the simple set of actions set up by farmer-led movement FMNR to regreen their land, tackling the effects of the climate crisis using regenerative techniques. As Chair of the Ugandan network, Prudence is a leading advocate for women farmers.
⚡ Barcelona's culinary research expert: Toni Massanés
Director of Fundación Alícia (Food and Science), the culinary research lab he created with Ferran Adrià – and winner of numerous awards including Barcelona's Gastronomy Prize and Spain's National Award (RAGE) for Healthy Eating  – Toni has inspired through promotion of food heritage, agroalimentary biodiversity, healthy eating and technological innovation for over 15+ years.
⚡ Honoured climate geekess: Kirsty Schneeberger 
Honoured at just 25-years-old for services to environmental conservation by the Queen of England, the climate campaigner worked with Christiana Figueres on COP21 and the Paris Agreement and now uses the law to change things at ClientEarth as Head of Strategic Partnerships.
⚡ Chef's champion: Sasha Correa
The Venezuelan food journalist, innovator and leading influencer manages projects for Basque Culinary Center – including the World Prize, which celebrates chefs who use gastronomy as a powerful force for change. Their impact can be felt beyond the kitchen. Among her most recent books is '50 Glimpses, A Creative Journey Through Contemporary Gastronomy'.
⚡ DIY plastic recycler: Joseph Klatt
Precious Plastic is on a mission to get people in every corner of the world starting their own recycling kitchens. As their official 'business guy', Joseph is helping scale their open source global community of over 500 local recycling workspaces into a network of financially sustainable businesses – turning plastic waste into beautifully crafted products.
⚡ Sustainability guru: Ed Gillespie 
Greenpeace UK board director, serial green entrepreneur and co-founder of change agency Futerra, Ed is involved in numerous exciting and disruptive sustainable businesses and environmental campaigns. The slow traveller, marine biology MSc and regular Guardian and BBC contributor wrote 'Only Planet' about his flight-free circumnavigation of the world.
⚡ Materials chef of the future: Liz Corbin
With Materiom – nature's recipe book of the future – circular design expert Liz uses locally abundant natural ingredients and life-friendly chemistry to create materials that are useful, natural and simple. Materiom is a key part of Liz's role as Research Director of Metabolic, a consultancy and think tank firm tacking global sustainability challenges.
⚡ Edible water entrepreneur: Lise Honsinger
The business and finance mind behind London-based materials startup Notpla wants to make packaging disappear by pioneering waste-free alternatives to plastic. The company is developing a range of fully compostable solutions made from seaweed extract. Their natural solutions include Ooho! – biodegradable water bottles you can eat.
⚡ Rural winemaker on a mission: Pau Moragas 
Holistic wine and olive oils producer L'Olivera Cooperativa is one of Catalonia's leading social mission driven farming cooperatives. Pau looks after the land using traditional and restorative techniques and offers opportunities to people with psychiatric disabilities. They practice 'retro-innovation' using old techniques to open up new work opportunities.
⚡ Tatarstan's Presidential advisor: Natalia Fishman  
Working with the head of culture at Moscow City Hall at just 19, now 27, Natalia is one of the best-known names in Kazan – the capital and largest city of the Republic of Tatarstan, Russia. As an Aide to the President, she has overseen the construction and restoration of all Tatarstan's public spaces and organised the first-ever Russian Youth Architectural Biennale.
⚡ Marine biologist: Manel Gazo
The marine mammal-loving co-founder and director of SUBMON, an NGO promoting a change in the relationship between society and the ocean, will co-chair the first World Marine Mammal Conference in Barcelona in 2019. With 25 years working on conservation and marine biodiversity research, Manel is committed to ocean literacy.
⚡ Blue planet advocate: Farah Obaidullah 
The biracial, bicultural marine conservationist founded Women4Oceans, a platform with perspectives that are unique to women. As Greenpeace's Senior Oceans Campaigner for over a decade, Farah worked to end destructive fishing, expose fish crimes, and believes we can turn the tide for our blue planet – by embracing our human diversity.
⚡ Off-grid sanitation expert: Jochen Scheerer 
Jochen is the creator of the largest 'green living wall' in Spain (La Tabacalera, Tarragona). The horizontal park is an urban biodiversity solution that turns sewage into drinking water with solar energy. 
⚡ Plant-pollinator researcher: Ignasi Bartomeus
What's happening to the bees? Ignasi can tell you. Today the pollination of our plants worldwide is critical. The ecologist is concerned with understanding how global change, like climate breakdown, affects biodiversity and ecosystems.
⚡ Food and drink editor: Ricard Martín
Time Out Barcelona's Food & Drink editor since 2008, the comic-book and music-lover has worked at Guia del Ocio and published a book on Barcelona's oldest eateries, 'Barcelona a Peu de Porc'.
⚡ Gender justice and resilience campaigner: Sandra Sotelo Reyes
Sandra highlights how women and men are exposed to different risks – and differently to risks – even in the same household. As part of Oxfam's Resilience Knowledge Hub, her focus is on gender justice and humanitarian and development work – which has taken her from the Democratic Republic of Congo to Chechnya. As an active performing arts' maker, she claims (as Donella Meadows stated) that "resilience is like dancing with the system".
⚡ Fish protector: Rebecca Hubbard
Sprouting forth from the forests and seas of Australia, Bec has campaigned on environmental issues from the local to international level, with the pillars of creativity, community mobilisation and alliances central to her work. After securing a ban on super trawlers in Australia, she started the European campaign Our Fish, to end overfishing and restore the oceans.
⚡ Earth-loving writer: Zakiya Mckenzie
Shaking up the worlds of conservation and British nature writing, while working closely with African-Caribbean communities, Zakiya started her working life as a journalist in NYC, Jamaica and Johannesburg. The writer and cultural agent has a radio show with Bristol's Ujima Radio, is the city's first 'Green & Black Ambassador', encouraging a better natural and built environment for all – and is Forestry England's Writer in the Forest.
⚡ The city reinventor: Areti Markopoulou
Urban technologist Areti Markopoulou is a Greek architect working on the intersection between architecture and digital technologies. The Academic Director of IAAC Barcelona is also co-editor of global network Urban Next and her revolutionary work on urban technologies has been exhibited around the world.
⚡ Circular innovator: Miquel Ballester
Lead of circular innovation at Fairphone, Miquel graduated in Industrial Design Engineering, specialising in technologies for sustainable development. As part of Fairphone's founding team, he has been involved in the organisational product strategy since the very beginning of the fair smartphone. Suddenly, our mobiles are no longer quite so throwaway.
⚡Amazon eco-cultural activists: Dan Baron Cohen and Elisa Dias Neves
The Amazon has never been so vulnerable. One of the epicenters of unconstitutional, environmental violence is the community of Cabelo Seco, Marabá, where community arts educator Dan has worked for 21+ years to create an arts-rich, performance-based approach to education for sustainability rooted in popular culture: Rios do Encontro.
Elisa, a 22-year-old Afro-Indigenous LGBTQ+ eco-cultural activist and mother of two sons has transformed herself from a shy, silent background percussionist into a lucid, outspoken community activist – who leads the region's social movements through her powerful African drumming, singing, personal courage and collective vision. Plagued by poverty and violence, this region was once considered a 'no-go favela'. But not any more.
⚡Renewables dynamos: Agamemnon Otero and Wilhelmina Stewart
Wilhelmina is a mother of five, grandmother of eight, teacher, runs an Energy Garden in East London and is director of energy co-operative Banister House Solar. It all started in 2015 when co-founder Agamemnon's Repowering London trained 30 young people from the estate to install and maintain solar panels on the roof. Agamemnon – a Uruguayan-born, New York-raised community entrepreneur and artist – is tackling fuel poverty with renewables while catalysing the true democratisation of the energy system through people power.
⚡Bird conservationist: Júlia Alcaraz Capsada
Passionate about nature, ornithology, plant biodiversity and art in all its forms, the biologist is a member of the Board of Directors of the Institut Català d'Ornitologia (Catalan Ornithological Institute). A scholarship student at University of Barcelona, Júlia is studying a Master in Terrestrial Ecology and Biodiversity Management and is all about fauna and flora  and data.
⚡Dairy queen: Cristina Kenz
Proving that major corporations can be a force for good, food giant Danone is the largest B Corp In the world, measured on sustainability and how it treats its employees. An international executive with more than 20 years of experience in top global companies (like Pepsi), Cristina is their Vice President Marketing and member of its European Council.
⚡ Wildlife citizen scientist: Bernat Claramunt López
Bernat believes in the magic of citizen science and its ability to increase our knowledge of our planet. For the last ten years he has worked with people from all around the world – from the individual level to corporates or school groups. As a lead scientist of the Earthwatch Institute, founder of Natusfera, iNaturalist collaborator, CREAF researcher and lecturer at the Ecology Unit of the Autonomous University of Barcelona, he works with many taxonomic groups, from lichens and large mammals, to protected and invasive species.
⚡ Water and sustainability leader: Maria Salamero
The Aigües de Barcelona's Director of Sustainability and Communication Strategy has been devoted to the water and environment sector for over 20 years. The industrial engineer's world revolves around technology, research, innovation and sustainable development. She lead the creation of the Water Technology Centre (CETaqua) and the School of Water.
⚡ Aquawoman: Dulcinea Meijide Vidal
An advocate of the circular economy and corporate responsibility, the Director of Sustainability Development of SUEZ Spain promotes concrete global initiatives that reduce the effects of climate change – and is committed to the conservation of water and contributing to a better world.
⚡ Professor of the sea: Begoña Vendrell
Marine researcher with one foot in the sea and the other firmly on the ground – in the classroom. As we only know about 10% of our ocean, 'Bego' wants to change that through education and outreach projects, such as El Mar a Fons. Having worked at ICM-CSIC on benthic ecology topics, she has developed educational materials to bring the ocean nearer and is creating a Forest School programme.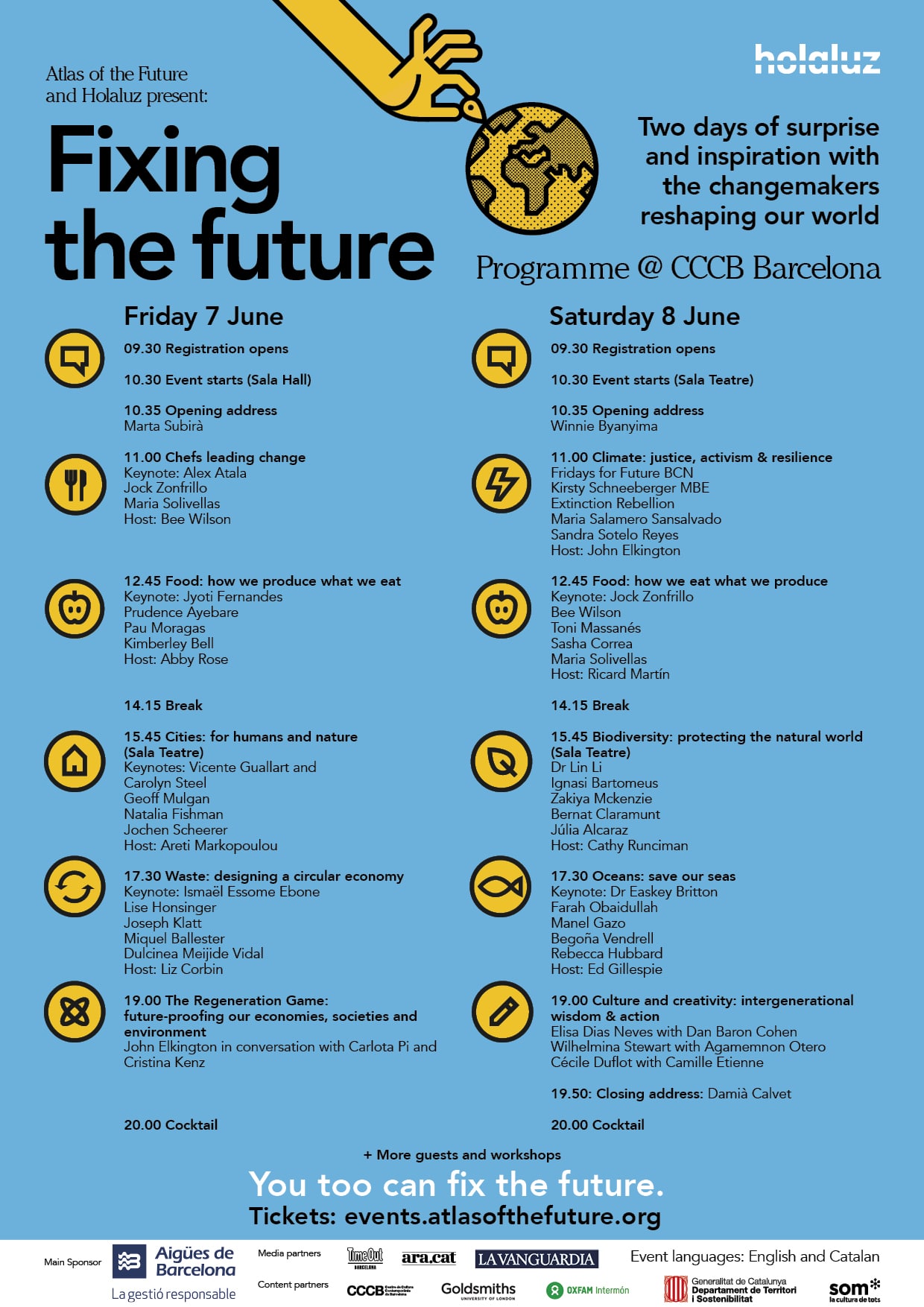 As if all this isn't enough, we're also offering eight screenings and workshops ► More info here
Interested? Join the Facebook event here